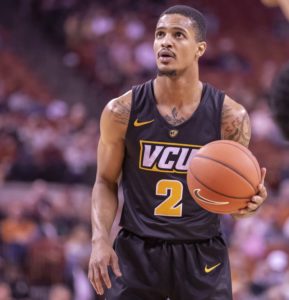 By CHUCKIE MAGGIO
Every conference tournament needs a good backstory, or five. College basketball's championship week would not be as riveting, or attract as many eyeballs, without improbable upsets and legacy-shaping moments all across America.
The Atlantic 10 Tournament begins on Wednesday afternoon, building from bottom-four battles to Sunday's title fight on CBS.
Even in a down year, maybe even because of it, the A-10 has these intriguing storylines to follow.
1. Two bids? The Atlantic 10 will almost certainly have fewer than three NCAA Tournament teams for the first time since 2007, but it can still send two schools to the dance if someone knocks off VCU for the automatic bid. No mid-major conference is better at making bubble teams sweat on Selection Sunday; the No. 1 seed hasn't won since 2013 and has made the championship game just one since then, opening the window of opportunity for "bid-stealers" who otherwise wouldn't have made it.
VCU is a near-lock to receive an invite to the NCAAs if it doesn't punch the ticket in Brooklyn. The league's chance of avoiding the dreaded "one-bid league" tag is for Davidson, Dayton, St. Bonaventure or a surprise team to upset the Rams. More often than not, the conference gets what it secretly wants.
2. Anarchy Saturday? All bets are off if St. Bonaventure and VCU get past their quarterfinal matchups and meet on Semifinal Saturday. The A-10's most boisterous fan bases would make the Barclays an electric environment, especially since they happen to absolutely despise each other.
Bona would relish the opportunity to redeem itself from an unsightly 85-55 blowout loss to the Rams on Feb. 9. VCU outrebounded the Bonnies 50-35 while holding SBU to 26.6 percent shooting from the field (17 of 64) and 5.6 percent shooting from three-point land (1 of 18).
Bonaventure has won seven of its last eight games, regrouping nicely on the offensive end after that nightmarish Duquesne-VCU shooting week. VCU is riding a 12-game win streak, undefeated since a Jan. 23 loss at Rhode Island. Mike Rhoades's squad will face Rhody again if URI can get past La Salle on Thursday. Bona will play George Mason, a team it split a two-game season series with itself, if the Patriots beat the winner of Wednesday's George Washington-UMass contest.
This anticipated semifinal is not guaranteed but will be exciting to watch if the Bonnies and Rams take care of business.
3. Tournament MVP? The regular season's top player won't always be the weekend's standout. After all, Jaylen Adams was a 2018 Co-Player of the Year but Matt Mobley was the Bonnie who set an A-10 Tournament single-game threes record in the quarterfinal against Richmond. Peyton Aldridge was the other Co-Player of the Year but Kellan Grady was Davidson's leading scorer in the conference title game. On the flip side you have years like 2012, when Andrew Nicholson was Player of the Year and continued to be the most dominant force in Atlantic City.
Four frontrunners for MVP: Marcus Evans, VCU; Kellan Grady, Davidson; Obi Toppin, Dayton; Courtney Stockard, St. Bonaventure. Five sleepers for MVP: Issac Vann, VCU; Josh Cunningham, Dayton; Kyle Lofton, St. Bonaventure; Luka Brajkovic, Davidson; Otis Livingston II, George Mason.
4. Teams outside the top four with the best chance to win four games in four days? The George Mason Patriots beat St. Bonaventure and Dayton this season and have quality role players like Ian "Big Shot" Boyd, Greg Calixte and Goanar Mar to complement Livingston, Justin Kier and Jordan Miller. Saint Louis did not live up to its preseason favorite status but was a half away from the No. 4 seed and features red-hot guard Tramaine Isabell Jr. (20-plus points in four of the last six games) as well as Defensive Player of the Year Javon Bess.
5. Best game before Friday? St. Joe's lost five of its last seven games and has never dug its way out of an 0-4 start to conference play. Hawks coach Phil Martelli admitted on his weekly radio show after losing the first two league games that he left the locker room to find his wife in tears. The Hawks have muddled through a lost season despite being picked to finish second in the preseason poll.
The Joe's-Duquesne game (Thursday, 6 p.m., NBC Sports Network) still has the potential to be one of the best games in the tournament. The Dukes, thanks in large part to six double-figure scorers, beat SJU by a point at the Palumbo Center on Jan. 12. Phil Martelli's team answered that defeat with a one-point win over Davidson three days later. The Hawks also thumped Saint Louis 91-61 on Feb. 8, bowed to Davidson by just eight in the return trip to Belk Arena on Feb. 15 and dropped 85 on Rhode Island in a one-point loss on March 5.
SJU has conference points leader Charlie Brown leading the way while sidekick Lamarr Kimble has two 31-point nights and has compiled seven straight double-digit games. The Hawks' defense is not going to win a title, but when their offense is running smoothly, they are dangerous. That could spell trouble for a Duquesne defense that ranked in the bottom four during A-10 play.
Prediction?: On paper, the VCU Rams should roll through the bracket with relative ease. But they won't, because this tournament doesn't work that way. In Brooklyn, you expect the unexpected. If Rhody doesn't beat them for the second time this season, either St. Bonaventure, Dayton or Davidson will.
The Bonnies ratcheted up the toughness against Saint Louis and are better equipped to go to war with the Rams than they were a month ago. Dayton got swept in the season series by a combined six points but has lost just once since, in an overtime game. Obi Toppin has averaged almost 18 points in that stretch. The Davidson Wildcats, who haven't played VCU in two months, have a litany of shooters and the experience of winning a title a year ago.
With a second bid on the line, another team will join VCU in the dance. We've seen this movie a couple times too many to Sharpie the Rams through the bracket.