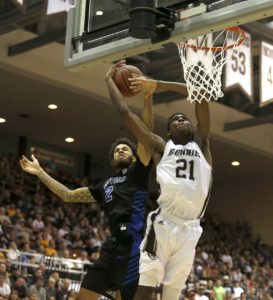 By CHUCKIE MAGGIO
An interesting aspect of the Atlantic 10's end-of-season basketball awards is the exclusive voting panel: head coaches only.
While the preseason poll includes both coaches and select media members, the award winners on Tuesday afternoon will give us a unique point of view on how the game planners judge the conference's top performers.
The media may not have a say in the process, but we certainly have opinions. Here's how I would pick the awards if I had a vote.
Player of the Year: Jon Axel Gudmundsson, Davidson. VCU guard Marcus Evans would have garnered more consideration had this been a Most Valuable Player award, as he is the leading scorer and assist-getter on the league's best team. But Gudmundsson has been the best all-around player, ranking third in scoring, fifth in assists and rebounding and first in free throws per game. He also recorded the A-10's first triple-double since T.J. Cline in 2017.
Gudmundsson was the best player on a team with future NBA player Kellan Grady and grabbed just eight fewer boards than Bona center Osun Osunniyi. The Iceland native will be Davidson's third A-10 Player of the Year in the program's five seasons of A-10 membership.
Defensive Player of the Year: Osun Osunniyi, St. Bonaventure. No freshman or Bonnie has ever won Defensive Player of the Year, but there's a first time for everything. Osunniyi is seventh in the nation in blocked shots per game and sent away 17 more field goal tries than A-10 runner-up Michael Hughes. He also tied for third in the conference in rebounds. A 22-board, six-block outing at Duquesne was the Putnam Science Academy product's best defensive performance, setting off a run of six double-doubles in the last 10 games.
The Bonnies are 9-1 when Osunniyi grabs double-digit rebounds this season. They are 5-2 when he blocks four or more shots. Bona would not have the conference's second-best defense without its freshman standout. He has become indispensable to the team's success.
Rookie of the Year and Sixth Man of the Year: Obi Toppin, Dayton. Toppin just won his seventh A-10 Rookie of the Week honor and is primed to be Dayton's first A-10 Rookie of the Year. The Ossining, N.Y. native tied Evans for eighth in scoring in conference, tied Grant Golden for 13th in league-only rebounding and was second overall in field goal percentage.
Toppin had six 20-point games and posted six double-doubles despite starting just 13 of Dayton's 31 games and playing 30-plus minutes just nine times. He is not only the Rookie of the Year favorite, he's an all-conference contender as well.
Assuming Toppin qualifies after coming off the bench in more than half the year, he should be the clear choice for Sixth Man of the Year as well; no other reserve on an A-10 title chaser averaged double-digits.
Most Improved Player: Nate Cayo, Richmond. Cayo finished 25th in the league in points per game a year after he contributed two a contest. The 6-foot-7 sophomore started all 31 Spiders games, logged almost 19 more minutes than he did in his freshman campaign and sunk five field goals a night. Cayo scored in double figures in 13 of the final 16 regular season games.
Coach of the Year: Mike Rhodes, VCU. I've long believed that a regular season champ should receive this honor, especially if they exceeded expectations. This was Mark Schmidt's best coaching job at St. Bonaventure, while Anthony Grant outperformed his Dayton debut, but the Rams lost just twice after finals week after being picked seventh in preseason (which might be why they don't let the media vote again in March).
All-Conference First Team (notable season stats in parentheses):
Jon Axel Gudmundsson, Davidson (17.2 points per game, 7.3 rebounds per game, 4.7 assists per game)
Marcus Evans, VCU (14.3 points per game, 3.3 assists per game, 3.1 rebounds per game, two steals per game)
Charlie Brown, St. Joseph's (18.8 points per game, 5.9 rebounds per game)
Kellan Grady, Davidson (17.1 points per game, 4.3 rebounds per game, 46 percent shooting)
Courtney Stockard, St. Bonaventure (15.4 points per game, 5.6 rebounds per game, 1.3 steals per game)
All-Conference Second Team
Grant Golden, Richmond (17.4 points per game, 7.1 rebounds per game, 51 percent shooting)
Cyril Langevine, Rhode Island (14.6 points per game, 9.9 rebounds per game, 1.5 blocks per game)
Javon Bess, Saint Louis (15.2 points per game, 6.7 rebounds per game)
Jacob Gilyard, Richmond (16.8 points per game, 5.1 assists per game, 2.9 steals per game, 48.7 percent shooting)
Luwane Pipkins, UMass (16 points per game, 5.2 assists per game, 4.9 rebounds per game)
All-Conference Third Team
Justin Kier, George Mason (13.9 points per game, 6.5 rebounds per game, 46 percent shooting)
Obi Toppin, Dayton (14.4 points per game, 5.6 rebounds per game, 67 percent shooting)
Eric Williams Jr., Duquesne (13.7 points per game, 7.5 rebounds per game)
Josh Cunningham, Dayton (13.8 points per game, 6.4 rebounds per game)
Kyle Lofton, St. Bonaventure (14.2 points per game, 3.6 assists per game, 45 percent shooting)
All-Defensive Team
Osun Osunniyi, St. Bonaventure (7.5 rebounds per game, 2.6 blocks per game)
Cyril Langevine, Rhode Island (9.9 rebounds per game, 1.5 blocks per game)
Jon Axel Gudmundsson, Davidson (7.3 rebounds per game, 1.3 steals per game)
Jacob Gilyard, Richmond (2.9 steals per game)
Hasahn French, Saint Louis (8.4 rebounds per game, 1.8 blocks per game)
All-Rookie Team 
Obi Toppin, Dayton (14.4 points per game, 5.6 rebounds per game, 67.3 percent shooting)
Kyle Lofton, St. Bonaventure (14.2 points per game, 3.6 assists per game, 45 percent shooting)
Osun Osunniyi, St. Bonaventure (7.6 points per game, 7.5 rebounds per game, 2.6 blocks per game, 57 percent shooting)
Sincere Carry, Duquesne (12.3 points per game, 5.8 assists per game, 3.6 rebounds per game, 2.5 steals per game, 44 percent shooting)
Nick Honor, Fordham (15.4 points per game, three assists per game)