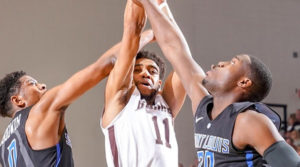 By CHUCKIE MAGGIO
ST. BONAVENTURE — LaDarien Griffin and Courtney Stockard embraced at half court, celebrating one last triumph at the place they became fan favorites.
"That's my bro," Griffin said. "We've been through a lot together, on and off the court. Everyone was kind of doubting if us two and Nelly and the freshmen, could we do it again? Could we get top four, could we win games? I think at the end it was just like, 'We did it. We showed everybody that we're legit."
The veteran duo played the entire game together, guiding younger teammates through one of the most important games of the season.
With the last double bye in next week's Atlantic 10 Tournament on the line, the Bonnies recovered from a poor first half that featured as much as an eight-point deficit. They controlled the second half and defeated Saint Louis 66-57 in front of 4,819 fans at the Reilly Center.
The Bonnies (16-15, 12-6 A-10) closed out the regular season with eight wins in its last 10 games. After a 4-10 start to the season, they went 12-5 the rest of the way and ensured a seventh straight year without a losing record.
Stockard responded to a one-point game at Davidson on Wednesday by leading the Bonnies with 21 points, with 11 in the second half. The St. Louis native thrived against the hometown team, going on a personal 8-0 run to stretch Bona's lead from 47-45 with 5:38 left to 55-47 with 3:48 remaining.
The Billikens committed their eighth foul of the second half with 7:23 to play, giving Bona time to do damage in the bonus. SBU made 10 free throws after that point, more than the seven SLU attempted in the second half.
The momentum shift in the final 20 minutes was significant, because Saint Louis bullied Bonaventure on the boards in the first. Bonnies freshman Osun Osunniyi was charged with his second foul ten minutes into the game and sat the rest of the half. After Osunniyi was relegated to the bench, the Billikens outrebounded the Bonnies 16-6 until the break. The overall first half rebounding advantage: Saint Louis 26 (10 offensive rebounds), St. Bonaventure 12 (one offensive rebound).
Neither side had a notable shooting edge to open the game, as SLU shot 35.7 percent and SBU was a notch better at 36.4. But the second-chance opportunities gave the Billikens a 27-22 lead at the half, with Tramaine Isabell Jr. recording 13 points and eight rebounds.
"The first half, we didn't play great," St. Bonaventure coach Mark Schmidt said. "Give Saint Louis credit. They annihilated us on the backboard, they were the more physical team."
Osunniyi stayed in foul trouble for much of the contest, committing three more fouls in an 11-minute second half, but Bonaventure was the more aggressive rebounding squad in that period. Bona outrebounded SLU 21-15 and cut the Billikens' offensive rebounds from 10 to six. Osunniyi was still the team's leading rebounder with six boards, but Stockard and Griffin each grabbed five.
Isabell led all scorers with 21 points but was held to 2-of-8 shooting in the second half. Hasahn French made five of his seven field goals but the rest of the team made just six of 27. Talented scorers like Jordan Goodwin (seven points), Javon Bess (seven points) and Dion Wiley (two points) were held below their season averages.
While Osunniyi sat, junior center Amadi Ikpeze produced. Ikpeze only scored two points, but those came on a go-ahead jump hook 10 seconds after he re-entered the game to put Bona up 41-40 with 8:25 left. He also grabbed three rebounds and blocked a shot in 14 minutes of action.
"As I told those guys in the locker room, it's a great life lesson," Schmidt commented. "(Amadi) struggled. He struggled for a month and a half. But he's always in the gym, and I would think that his confidence was shaken, but he never stopped believing and he was a big force… Hopefully this will jump start him into Barclays Center and hopefully it jump starts him into next season."
The Bonnies' offense caught up, making 12 of its 22 shots (54.5 percent), four of its seven three-point attempts (57.1 percent) and 16 of its 20 free throws (80 percent) to close the game. Kyle Lofton scored 14 points, including a three to put Bona up five with 6:15 left.
Freshman Dominick Welch was the Bonnies' three-point threat for a second straight game, hitting three important shots from behind the arc. The first triple came with 27 seconds left in the first half, cutting SLU's lead from eight to five. The second brought Bona within two just 44 seconds into the second, while the third extended SBU's lead to nine with 3:19 left.
Welch closed his regular season by making at least two threes in four of his last five games. He also corralled four rebounds on Saturday, his seventh game with at least four boards in the last eight games. Schmidt praised his first year player's all-around impact.
"You always need shooters. You can't have enough shooters; look at Davidson," Schmidt remarked. "The thing that Dom has brought, he wasn't the best defensive player, he wasn't committed; most high school kids aren't. But he's gotten it. He's playing harder, he's playing much better defensively, moving his feet. And he's really caught on. We run a lot of stuff, and Dom has done a tremendous job both offensively and defensively of learning our stuff. All the credit goes to him.
"He missed eight games, and as a freshman, missing eight games is like missing a whole season. But to me, he's one of the keys. (Stockard and Griffin) and Kyle and Shoon, but Dom, he's like the X-factor. When he got healthy and started playing with confidence and finally got it, we became a much better team."
That much-improved team will start A-10 Tournament play at 2:30 p.m. on Friday, as the No. 4 seed. No matter what the Bonnies do in Brooklyn, Schmidt was prideful after Saturday's "W."
"You're gonna hit a lot of adversity when you leave here and get into the real world," Schmidt recalled telling the team. "It's how you deal with it. There was a lot of noise going on (that) we weren't very good, we're not gonna win 10 games. Those guys didn't listen to it. They kept on fighting, kept on working. And if you do that, good things will happen.
"I'm really proud of what they've done this year and hopefully we can go into Barclays Center and play well."