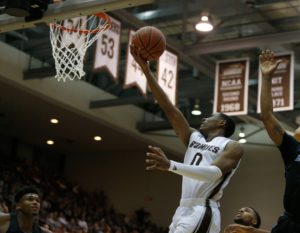 By CHUCKIE MAGGIO
St. Bonaventure's recent men's basketball dominance over the University of Massachusetts was almost unfathomable two decades ago, when the Bonnies suffered a 20-game losing streak against the Minutemen from 1989 to 1998. A skid that futile seems like ancient history now, as Bona's win streak over its New England rival is now seven.
SBU didn't play well offensively on Wednesday in a game that was a far cry from last December, when Jaylen Adams and Matt Mobley combined for 60 points and the team dropped 98. Bonaventure had to battle to break 60 this time. Neither team reached 45 percent shooting in a defensive struggle.
But these Bonnies hadn't won away from the Reilly Center all year; a 65-51 win was sweet enough. The brown and white made an unenthusiastic Mullins Center feel like home, earning their first road win in seven tries to improve to 7-12 and 3-3 in the Atlantic 10.
Takeaways from the victory:
Player of the Game: Kyle Lofton, St. Bonaventure. Lofton scored 10 of Bona's first 15 points and finished with an uber-efficient 23 points on 8-of-13 shooting (three of six from three). The Bonnies are now 5-6 when he shoots 50 percent or better, 2-6 otherwise. Wednesday was actually their first win when he scored 20 or more points.
Honorable mention: Dominick Welch, St. Bonaventure (11 points, three three-pointers), Kieran Hayward, UMass (12 points on four three-pointers in 16 minutes)
Stat of the Game: Foul trouble wasn't even on the Bonnies' radar tonight- they committed just 11 and UMass shot a total of five free throws, the fewest amount of free throws a Bona opponent has attempted this decade.
As SBU coach Mark Schmidt said after the Fordham game, "You always want to make more foul shots than the opponent shoots." Bonaventure made 12 of its 13 free throws.
Co-Stretches of the Game: Two runs warrant mentioning here. First, the Bonnies ripped off a 10-0 run in just 2:50 at the end of the first half to turn an eight-point deficit into a two-point lead going into the locker rooms. Five different players (Courtney Stockard, Dom Welch, Amadi Ikpeze, LaDarien Griffin and Kyle Lofton) scored on that run, awaking a Bona offense that had made just six field goals prior.
One of the Bonnies' biggest problem on the road has been finishing games; they closed this time. After a Luwane Pipkins layup cut St. Bonaventure's lead to 39-34 with 10:15 remaining, Bona scored on its next three possessions: a Lofton layup, Welch three-pointer and Lofton free throws. With time on their side the Bonnies outscored the Minutemen 19-15 the rest of the night, highlighted by Osun Osunniyi's putback dunk with 3:05 remaining to make it a 17-point lead and unofficially end the game.
Quote of the Game: UMass coach Matt McCall yelled "Call one foul! Call one foul!" at the officials before he was charged with a technical foul, according to UMass Daily Collegian beat writer Amin Touri.
Miscellaneous Notes: With Nelson Kaputo and Jalen Poyser sidelined for a second straight game due to concussions, six players played more than 10 minutes; Ikpeze was the only non-starter to see significant time… St. Bonaventure has now won seven straight games over UMass.