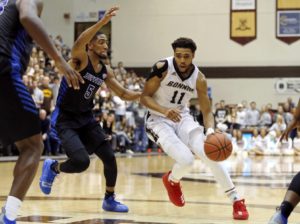 By CHUCKIE MAGGIO
ROCHESTER, N.Y. — There's something notable about the game officially known as the Roc City Hoops Classic, something that distinguishes it from the run-of-the-mill neutral site college basketball game.
Maybe, as a born-and-raised Rochesterian, attaching extra importance to St. Bonaventure's annual game in my city is a bit biased. I prefer to view my background as added perspective when it comes to this contest.
You see, before "Soccer Town USA" became a futbol-less wasteland and outdoor lacrosse was shipped to Frisco, the city was a small pro sports wonderland. Rochester has 12 pro sports championships since 2011, even though many of the teams that won them no longer play in the 585.
Growing up here meant no shortage of sporting events to attend. There was, and still is, only one hole: a university with more than one Division I sport. RIT Hockey joined the big-time in 2005, but every other school in the area competes in Division II or Division III. Neither RIT nor the University of Rochester have made the jump to a full D-I offering despite each boasting over 10,000 students.
The city's default college basketball team, therefore, is the Syracuse Orange. With the Carrier Dome a swift hour-and-a-half drive from downtown and Jim Boeheim's team a perennial success, SU's fanbase extends far outside of Central New York.
The Bonnies' chances of ever surpassing the Orange as the city's favorite sons are virtually non-existent. After all, how many Syracuse fans do you know who never enrolled there, and how many Bonaventure fans do you know who have never taken a class in Plassmann?
But Bona continually does one thing Syracuse does not: it fills Rochester's hoops void for a day and hosts the only D-I basketball game in the city all year. And the basketball, more often than not, has been brilliant.
Since 2000, the Bonnies have played 12 games at the Blue Cross Arena. More games have been decided by three points or fewer (five) than by double-digits (two). At least one player has scored 20 or more points in nine of the last 10. The moments the games have produced-Marcus Posley's 47-point masterpiece against St. Joe's and Matt Mobley's buzzer-beater to top Vermont are the most recent-have gone down in Bona lore, 105 miles away from campus.
The on-court action is the main event, but the admissions tool the day has become is even more important to SBU's success. For years, prospective students have been invited to the game free of charge and met admissions staff at a reception beforehand. Perhaps some students have even moved Bona to the top of their lists after attending. Either way, the school saw a 28 percent spike in enrollment from the Rochester area in 2018.
More Rochester-area freshmen means more future Rochester-area alumni, which means more Rochester-area fans. SBU may remain a cult favorite compared to the Syracuse monolith, but the Bonnies are slowly closing the gap.
"Buffalo might have more alums; Rochester has more passion, and it shows in this arena every game," Bona athletic director Tim Kenney told fans at the Rochester Coaches Caravan event in 2017. "It's a great game and we're hoping that as we keep moving forward, we just keep making this thing a bigger and bigger event, where this annual event is a really must-come-to event in Rochester."