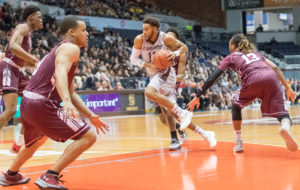 By CHUCKIE MAGGIO
ROCHESTER, N.Y. — Osun Osunniyi and his teammates implored the crowd of 4,914 to get on its feet and increase the volume. St. Bonaventure led Fordham by as much as 21 in the middle of the second half, but the Rams clawed their way back and cut the lead to four points with three minutes to play.
Once the fans complied, Osunniyi did his part on both ends. Defensively, he unleashed a savage swat on a Nick Honor layup attempt with 32 seconds left to keep the Bonnies up seven. Offensively, he made two free throws to extend the lead to nine with 20 seconds left, then raced down the court for a fast break dunk with two seconds left to close out the 71-64 victory.
"Coach asked me to be active at all times on the court, every possession," Osunniyi said, "so I kind of just used my timing and saw it, took the opportunity to block it. And on the dunk I noticed they were gonna foul so I didn't want to give them the chance to foul again, so I just dunked the ball."
Bona coach Mark Schmidt always says his team is only as good as its seniors. His seniors were good on Saturday, as LaDarien Griffin and Courtney Stockard each scored 17 points to lead the team. But Schmidt's freshmen, especially Osunniyi and point guard Kyle Lofton (12 points on six shots), didn't play like freshmen during the win.
Osunniyi scored 16 points and grabbed 12 rebounds, becoming the first Bonnie to record back-to-back double-doubles since Jaylen Adams in February 2017. The 6-foot-10 Atlantic 10 Rookie of the Year candidate played 32 minutes, the most he has played all season. He also dished out three assists, a career high, and blocked three shots. His plus-minus was a plus-19, leading all players.
"(Osun) is getting better and better," Schmidt said. "He plays the game the right way, he plays it unselfishly. He had 16 and 12, but he's more from a defensive standpoint, blocking shots and just being a presence inside, which is critical for our defense. When he's out on the floor, we're that much better."
Bonaventure's win improved its A-10 record to 2-1 and overall record to 6-10. The team is now on a two-game win streak, its first win streak since a three-game stretch against Canisius, Delaware State and Siena.
For much of the second half it looked like the Bonnies were going to cruise to another blowout, just like they did against St. Joseph's and in their four prior wins this season. Bona held Fordham scoreless for the first seven minutes of the game and went on a 31-14 run from the 5:22 mark of the first half to the 11:40 mark of the second. If the Joe's win was the best basketball the Bonnies have played all year, this performance was threatening to be in the conversation.
But Jeff Neubauer's Ram squad was pesky, hitting eight second half three-pointers and holding SBU to 10-of-25 shooting over the final 20 minutes. Honor drilled six of those treys, making all but one three-point attempt, and scored all 23 of his points in the second half. Jalen Cobb added 10 points of his 14 points that half while Erten Gazi and Antwon Portley made two baskets each.
"We missed some shots, we got a little bit impatient. Their zone affected us a little bit," Schmidt said. "And then they made some tough shots; they made some really tough shots. Give Honor (credit), he's gonna be a really good player in this league. But they made some shots. We made some errors, missed some shots and they made us pay for it. But at the same time, we got it back.
"If you want to take a positive from it, they made a run at us and we were able to answer it; we didn't crumble all the way. We made our foul shots… foul shots were made by both the freshmen. So that's big for us too. But I guess if you want to spin it that way, hopefully it's gonna help us down the road. I'd rather keep a 20-point lead and play everybody on the bench."
As Schmidt mentioned, Bonaventure's afternoon at the free throw line was a key factor that has been missing for most of the year. The Bonnies were 22 for 27 from the line, their second-highest total of the season. SBU is tied for 315th in the country in free throws attempted per contest (15.4).
Fordham only took six shots from the charity stripe, making three of them. The Bonnies benefited from making more free throws than they normally attempt, putting them in a rhythm by intentional foul time.
"It was really important," Schmidt said. "You look at it, we outscored them by 19 from the foul line. Any coach will talk, you always want to make more foul shots than the opponent shoots, and we did that by 19. Getting to the line has been an Achilles Heel for us, but today was good. It's a little bit skewed because they fouled at the end, but at the same time we were more aggressive, and that's what we need to be."
Bona extended its win streak at the Blue Cross Arena to six games. The old barn on Exchange Boulevard has served the program well during school breaks.
"I'd like to thank the alums from Rochester. I thought they did a great job," Schmidt said. "When I first got the job here I wasn't too thrilled about coming up to Rochester, but it's been terrific not just for our players but for the alums, for the school, admissions, all that stuff. It's been terrific and my hat goes off to the alums and the crowd that we had today."