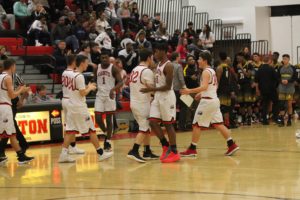 By JOHN LIKANJE
ROCHESTER — After playing their first four games of the season in thirteen days, the Hilton Cadets hosted the Holiday Hall Of Fame Tournament this past weekend featuring the Bishop Kearney Kings, Greece Athena Trojans, and Eastridge Lancers. The tournament would be a good test for coach Troy Prince's squad. The Kings had won three of their previous four games and are led by Kidtrell Blocker, Miles Monchecourt, and Miles Rose. The Trojans were on a six-game winning streak and featured the "Kelvin And Melvin Show." Although the Lancers had a .500 record, three of their defeats came at the hands of teams ranked in the state (NE Douglass, Greece Odyssey, and Pittsford Mendon)
However, the Cadets had home-court advantage, eight returning players from last season's sectional semifinal squad, and solid play on both ends of the floor. Coming into Friday's match up with the Kings, the Cadets were scoring 68.5 points per game while allowing 51.8. They poured in a season-high 89 to come away with the victory over Kearney. Junior guard Tah'Jae Hill dropped 31 points and picked up his second D1 offer from Saint Bonaventure University later that night (previous offer from the University of Buffalo), dropped 31 points. On Saturday night against the Trojans, Hill followed up that performance with 35 in a 71-60 win. This season, Hill has two 40-point games and three 30-point games. Overall, he is averaging 33.5 points. Senior forward Mitchell Carr scored 21 and 20, respectively, and was named to the All-Tournament Team. This upcoming week, the Cadets (6-0) travel to Canandaigua Friday night to play against the Braves. Game time set for 7:15 PM.
WE DIDN'T FORGET ABOUT….
Northstar Christian Knights – Senior forward Miles Brown was a man on a mission this weekend in Geneva, New York. Not only did he break the Section V all-time scoring record, he also led the Knights (7-0/No. 19 NYSSWA Class A) to two comeback victories. On Friday night against Lyons (No. 3 NYSSWA Class C), Brown poured in 40 points and grabbed seven rebounds in an 88-84 win. On Saturday night against the host Geneva Panthers, even after breaking the record in the beginning of the fourth quarter, he stayed focused and finished the game with 31 along with eight steals as the Knights pulled away for a 68-59 victory. Brown was named the Tournament MVP. He is averaging 35 points per game, has scored 30 or more in four games, and 40 in two, including a season-high 48 against Leadership Academy on December 15 (W: 83-74). Sophomore guard Sean Smith contributed 14 against Lyons and 20 against Geneva. He dished out 13 assists in the two games as well. This upcoming week, the Knights play at Aquinas, Thursday night at 7:00 PM before hosting Meekel Christian Friday at 6:30 PM.
Avoca Tigers – Although the Tigers (10-0/No. 2 NYSSWA Class D) only played at Palmyra-Macedon Friday night, they emerged with a 67-55 victory to secure their 10th win of the season. Junior guard Brady Brandow dropped 29 points and senior forward Nathan Nunn contributed 15. Nunn continues to lead the team in scoring at 23.1 per game. As a reward, the Tigers get a two-week break as they do not play until January 9th at Hammondsport. Game set to tip off at 7:15 PM.
Caledonia-Mumford Raiders – In the 2015 Major League Baseball season, the New York Mets and Detroit Tigers both reached double-digit victories on the same day. In the 2018-19 Section V Boys Varsity Basketball season, the Cal-Mum Raiders and Avoca Tigers accomplished the same feat. However, the Raiders (10-0/No. 10 NYSSWA Class C) needed two games this past week to do it compared to one for the Tigers. Junior forward Vin Molisani scored 16 points in a 73-63 win over Alexander, Thursday night. On Friday night against York, he contributed 13 while dishing out five assists in a 56-47 victory. The Raiders will also get a two-week break off before hosting Letchworth on January 9th at 7:00 PM.
Rush-Henrietta Royal Comets – The Comets won both of their tournament games this past weekend to run their winning streak to six. On Thursday night, senior guard Jevonte Williams scored a season-high 20 points as they dispatched the Edison Tech Inventors. On Friday night, the Comets outlasted the Pittsford Sutherland Knights, Over the past six games, the Comets are averaging 59.5 points per game while allowing 52.7. This upcoming week, they travel to Irondequoit Friday night to take on the Eagles. Game time set for 7:15 PM.
| | | | | | | | | |
| --- | --- | --- | --- | --- | --- | --- | --- | --- |
| | | | | Overall | | | | |
| Monroe County I | CL | W | L | W | L | PF Avg | PA Avg | Strk |
| Hilton | AA | 3 | 0 | 6 | 0 | 72.33 | 55.67 | W6 |
| Fairport | AA | 3 | 0 | 6 | 3 | 64.33 | 56.89 | L2 |
| Rush-Henrietta | AA | 2 | 1 | 6 | 2 | 58.38 | 55.75 | W6 |
| Webster Schroeder | AA | 1 | 2 | 2 | 5 | 60.86 | 68.29 | L4 |
| Victor | AA | 0 | 3 | 2 | 5 | 57.86 | 61.14 | W1 |
| Penfield | AA | 0 | 3 | 2 | 6 | 52.88 | 59.50 | W1 |
| | | | | |
| --- | --- | --- | --- | --- |
| Scoring Leaders | School | Grade | PPG | GP |
| Hill, T. | Hilton | Jr. | 33.5 | 6 |
| Piampiano, P. | Penfield | Sr. | 17.3 | 8 |
| Caggiano, M. | Victor | Jr. | 15.4 | 7 |
| Plummer, J. | Schroeder | Jr. | 15.2 | 7 |
| Carr, M. | Hilton | Sr. | 15.2 | 6 |
| | | | | | | | | |
| --- | --- | --- | --- | --- | --- | --- | --- | --- |
| | | | | Overall | | | | |
| Monroe County II | CL | W | L | W | L | PF Avg | PA Avg | Strk |
| Webster Thomas | AA | 3 | 0 | 5 | 3 | 63.75 | 61.63 | L1 |
| Gates-Chili | AA | 2 | 1 | 7 | 2 | 62.67 | 55.56 | W1 |
| Irondequoit | A1 | 2 | 1 | 5 | 1 | 64.50 | 48.83 | W1 |
| Churchville-Chili | A1 | 1 | 1 | 3 | 3 | 68.67 | 59.67 | L1 |
| Spencerport | A1 | 0 | 3 | 2 | 6 | 50.25 | 59.00 | L4 |
| Canandaigua | A1 | 0 | 2 | 0 | 9 | 52.22 | 70.78 | L9 |
| | | | | |
| --- | --- | --- | --- | --- |
| Scoring Leaders | School | Grade | PPG | GP |
| Mason, A. | Thomas | Jr. | 25.6 | 8 |
| Thomas, P. | Iron. | Sr. | 18.8 | 6 |
| Slack, K. | G-C | Sr. | 18.1 | 9 |
| Stella, G. | C-C | Jr. | 14.5 | 6 |
| Williams, A. | G-C | So. | 14.3 | 9 |
| | | | | | | | | |
| --- | --- | --- | --- | --- | --- | --- | --- | --- |
| | | | | Overall | | | | |
| Monroe County III | CL | W | L | W | L | PF Avg | PA Avg | Strk |
| Pittsford-Mendon | A1 | 3 | 0 | 5 | 0 | 78.80 | 57.80 | W5 |
| Brockport | A1 | 3 | 1 | 6 | 2 | 65.25 | 58.00 | W4 |
| Greece Athena | A1 | 2 | 1 | 7 | 2 | 64.67 | 55.00 | L1 |
| Pittsford Sutherland | A2 | 1 | 2 | 4 | 4 | 58.50 | 52.13 | L1 |
| Brighton | A1 | 1 | 3 | 2 | 4 | 59.50 | 67.50 | W1 |
| Greece Arcadia | A1 | 0 | 3 | 0 | 8 | 39.75 | 67.13 | L8 |
| | | | | |
| --- | --- | --- | --- | --- |
| Scoring Leaders | School | Grade | PPG | GP |
| Council, M. | Athena | Jr. | 18.9 | 9 |
| Ryan, K. | Sutherland | Sr. | 18.4 | 8 |
| Harrington, M. | Mendon | Sr. | 17.8 | 5 |
| Falter, J. | Brighton | | 17.3 | 4 |
| Reaves, K. | Athena | Sr. | 16.7 | 9 |
| | | | | | | | | |
| --- | --- | --- | --- | --- | --- | --- | --- | --- |
| | | | | Overall | | | | |
| Monroe County IV | CL | W | L | W | L | PF Avg | PA Avg | Strk |
| Greece Odyssey | B1 | 3 | 0 | 7 | 1 | 69.00 | 51.88 | W3 |
| Honeoye Falls-Lima | A2 | 2 | 1 | 5 | 3 | 56.38 | 56.25 | L2 |
| Eastridge | A1 | 1 | 1 | 4 | 4 | 68.25 | 67.75 | W1 |
| Batavia | B1 | 0 | 2 | 2 | 4 | 52.67 | 52.17 | W2 |
| Greece Olympia | B1 | 0 | 2 | 3 | 2 | 76.60 | 61.00 | W1 |
| | | | | |
| --- | --- | --- | --- | --- |
| Scoring Leaders | School | Grade | PPG | GP |
| Jung, J. | Olympia | Sr. | 22.6 | 5 |
| James, C. | Olympia | So. | 19 | 5 |
| McFollins, M. | Batavia | Sr. | 17.6 | 3 |
| Arnold, T. | Eastridge | Jr. | 16.3 | 8 |
| Chamberlain, T. | HF-L | Sr. | 16.3 | 8 |
| | | | | | | | | |
| --- | --- | --- | --- | --- | --- | --- | --- | --- |
| | | | | Overall | | | | |
| RCAC Upper | CL | W | L | W | L | PF Avg | PA Avg | Strk |
| McQuaid | AA | 3 | 0 | 6 | 1 | 80.57 | 64.29 | W3 |
| Leadership Academy | A2 | 2 | 1 | 4 | 4 | 83.63 | 71.25 | L3 |
| Wllson Magnet | A2 | 2 | 1 | 3 | 5 | 70.75 | 66.88 | L1 |
| Edison Tech | AA | 1 | 2 | 1 | 9 | 52.40 | 67.10 | L8 |
| Franklin | A1 | 0 | 4 | 3 | 6 | 63.56 | 67.67 | W1 |
| | | | | |
| --- | --- | --- | --- | --- |
| Scoring Leaders | School | Grade | PPG | GP |
| Long, K. | McQuaid | Jr. | 26 | 7 |
| Watson, R. | Leadership | Sr. | 25.4 | 8 |
| Taggart, J. | McQuaid | Jr. | 20.3 | 7 |
| Davis, R. | Wilson | Sr. | 19.3 | 8 |
| Moore, B. | Franklin | Fr. | 18.3 | 8 |
| | | | | | | | | |
| --- | --- | --- | --- | --- | --- | --- | --- | --- |
| | | | | Overall | | | | |
| RCAC Lower | CL | W | L | W | L | PF Avg | PA Avg | Strk |
| East | A2 | 4 | 0 | 9 | 0 | 84.67 | 66.33 | W9 |
| NE Douglass | A2 | 3 | 1 | 7 | 2 | 76.56 | 60.89 | L1 |
| Monroe | A2 | 3 | 1 | 6 | 2 | 79.00 | 65.88 | W5 |
| School of the Arts | A2 | 1 | 3 | 4 | 4 | 65.75 | 63.75 | L1 |
| World of Inquiry | B2 | 1 | 3 | 2 | 5 | 61.57 | 66.29 | L1 |
| Early College | B2 | 0 | 4 | 1 | 7 | 46.13 | 76.25 | W1 |
| | | | | |
| --- | --- | --- | --- | --- |
| Scoring Leaders | School | Grade | PPG | GP |
| Dollar, T. | WOI | Sr. | 30.3 | 6 |
| Mateo, D. | Monroe | Sr. | 24.3 | 8 |
| Harris-Scott, Z. | East | Jr. | 20 | 9 |
| Glasgow, T. | Monroe | Sr. | 19.4 | 8 |
| Mitchell, J. | NE Douglass | Sr. | 19 | 8 |
| | | | | | | | | |
| --- | --- | --- | --- | --- | --- | --- | --- | --- |
| | | | | Overall | | | | |
| Priv Parochial/Ind. | CL | W | L | W | L | PF Avg | PA Avg | Strk |
| Northstar Christian | A2 | – | – | 7 | 0 | 86.71 | 68.29 | W7 |
| C.G. Finney | C1 | – | – | 10 | 1 | 60.18 | 43.09 | W8 |
| Wellsville | B2 | – | – | 6 | 1 | | | W4 |
| Bishop Kearney | AA | – | – | 4 | 4 | 68.00 | 69.13 | L2 |
| University Prep | AA | – | – | 4 | 6 | 57.90 | 58.40 | L1 |
| Rochester Prep | B2 | – | – | 2 | 7 | 54.78 | 75.89 | L4 |
| Rochester Academy | C2 | | | 2 | 7 | 57.33 | 66.44 | W1 |
| Aquinas | A1 | – | – | 1 | 6 | 63.00 | 67.00 | L4 |
| Lima Christian | D2 | – | – | 1 | 6 | 21.86 | 61.00 | L4 |
| Destiny Christian | D2 | – | – | 0 | 5 | 45.20 | 77.00 | L5 |
| Vertus | A2 | – | – | 0 | 6 | 50.50 | 64.67 | L6 |
| | | | | |
| --- | --- | --- | --- | --- |
| Scoring Leaders | School | Grade | PPG | GP |
| Brown, Miles | Northstar | Sr. | 35 | 7 |
| Lucas, J. | UPrep | Sr. | 26.8 | 10 |
| Ocorr, K. | Finney | Sr. | 21.7 | 11 |
| Blocker, K. | Kearney | Jr. | 21.2 | 8 |
| Robinson, M. | Finney | 8th | 21 | 11 |