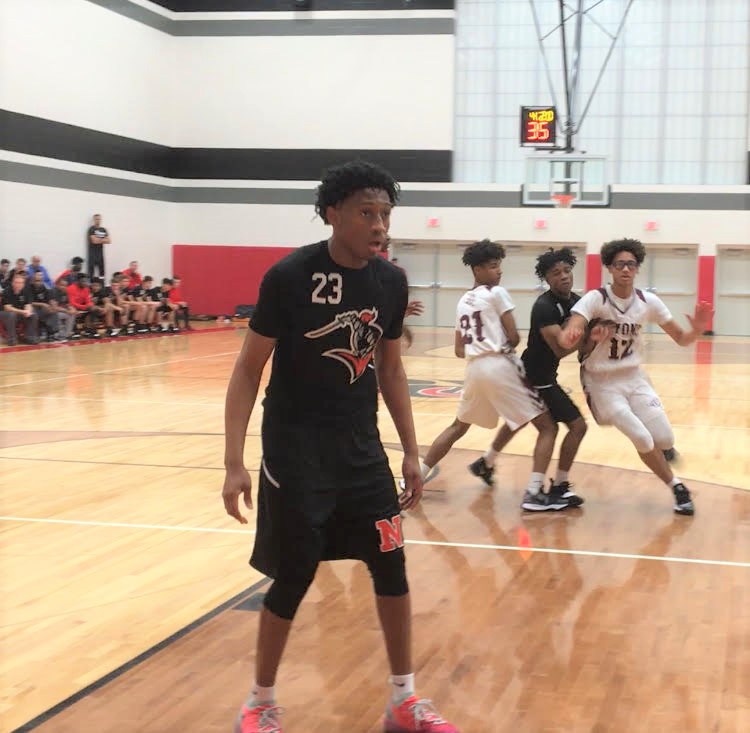 By BILLY HEYEN
GENEVA, N.Y. — Lyons' Justice Smith slid along the baseline, ready for a pass, but Northstar's Miles Brown didn't let it get there. He swiped the ball from the dribbler and took off the other way, eventually being fouled and sent to the line for two.
Brown and Smith dueled back-and-forth the whole game, but in the end, it was a defensive denial of Smith by Brown that sealed the deal for the Knights.
"Big players come alive in big games," Northstar head coach JJ Garwood said.
And @milesballers steals the ball with 1.1 on the clock, will shoot two, up 86-84. @PickinSplinters @jml5798 @NCA1972 pic.twitter.com/DObNra6BdY

— Billy Heyen (@Wheyen3) December 29, 2018
Brown's two made free throws to finish the game gave him 40 points and Northstar (6-0) an 88-84 win over Lyons (7-1) to remain undefeated on Friday at Geneva High School. Brown put himself 24 points away from setting the all-time Section V scoring mark, and he'll get a chance to set it on Saturday in the Geneva holiday tournament championship game. But for one night, Brown was just glad to remain undefeated.
"Our goal is just to win every game," Brown said. "We fought through adversity, and of course it's a great feeling to win, especially against a great team like Lyons."
Brown and Smith mirrored each other even in pregame warmups. Both threw down impressive dunks before the referees took the floor. Both made sure to make their last shot before heading in to huddle with their teams. And when they met for the opening tip-off at center court, the battle was on.
The first point of the game came after Brown grabbed a rebound, dribbled the length of the court and got to the foul line. He scored nine of Northstar's first 20 as the Knights got out to an early nine-point lead. But then Smith and David Weaver began answering for Lyons, cutting the lead to two about a minute and a half later.
At the end of the first, Brown was fouled and made both free throws to take an eight-point lead. The second quarter saw Lyons take control, though, as Smith pulled up for a deep wing 3 as part of a 12-point advantage in the frame for the Lions. The final bucket of the half came courtesy of Lyons' Benji Kemp, who worked his way inside to finish strong and take a four-point lead at the break.
"Going in we knew it was gonna be loud fans, everybody going against us," Brown said. "We kept our composure."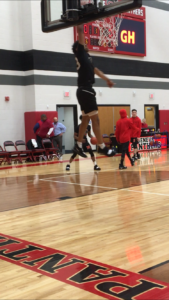 At halftime, Brown decided to change his sneakers. Even with 21 points in the first half, he "just wasn't feeling it." He felt better in the second half, he said, and his scoring didn't slow down.
After Northstar took the lead back to open the second half, Smith answered with a two-handed slam and finished a righty layup strong to bring the Lions within one. But then it was Brown, now with pink stripes along the side of his shoes, finishing two buckets inside in the last minute of the third to take a 68-61 lead.
And as the fourth quarter opened, the defensive focus on Brown cost Lyons. Twice, Josh Pickett received the ball near the block in space, and as defenders tried to recover, Pickett went up strong and finished. That set Brown up for a euro-step finger roll basket to go up five.
"The guys all know Miles obviously gets a lot of the limelight," Garwood said, "but we're all about team, and they just all do their job."
Pickett wasn't the only secondary piece to come up big for the Knights. Sean Smith finished with 14 points, including four 3-pointers. Smith, in a game that Brown described as practically a home game for Lyons, kept the crowd at bay.
"It's really like silencing," Smith said of what his 3s do to the crowd. "It's just a great feeling."
But the fans increased their volume as midway through the fourth, Lyons pulled within three again. That's when Brown once more decided the Knights simply weren't going to lose.
He knocked down a 3 from the left wing with a hand in his face. After that, Brown said, "I knew I was just hot, was just feeling it," and proceeded to fire up a second-consecutive 3, this time from the right wing.
Swish. Nine-point lead. Dagger.
"Coaches just teach to have amnesia," Brown said. "Go to the next play, and that's what happened."
This is the second of two @milesballers 3s in as many trips. Swish, Lyons timeout, @nca1972 up 84-75 with 3:38 to go. @PickinSplinters @jml5798 pic.twitter.com/aR8pBtWm9q

— Billy Heyen (@Wheyen3) December 29, 2018
Smith led one last Lyons charge, hitting a 3 with under two minutes to go to bring the Lions within three and finish with 36 points. But then Brown cut off a passing lane and knocked down his free throws to keep the Knights unscathed.
After the game, Brown said it wasn't about answering Smith, just about making the right play. But at the same time Brown was on the court, a sign sat in the bleachers with his face on it, counting down the number of points until he breaks the Section V scoring record. Monmouth assistant coaches sat in the bleachers watching him play. A standing-room only crowd couldn't take its eyes off him.
Brown didn't care about his highlights, just the win. But in pulling out the tight victory, Brown naturally stood out.
"We had the pleasure of seeing two of the best in Section V go at it, Justice and Miles," Garwood said. "It was quite a show."