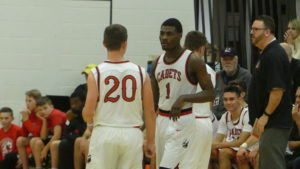 By PAUL GOTHAM
HILTON, N.Y. — Tah'Jae Hill found himself on the wrong side of a dunk.
Midway through the second quarter Friday night, Bishop Kearney's Miles Monchecourt blasted through the lane and rose up for a one-handed slam.
There was Hill caught in a posture of surrender underneath the basket. Local photographer Christopher Cecere (RochesterCCPhotography) captured the image.
Cecere might as well file the photograph in his rarities section because it's not often that the Hilton junior submits to anyone on the hardwood.
Friday was no different.
For the fourth time this season Hill topped 30 points, and Hilton (5-0) cruised to an 89-67 victory in the opening round of the 2018 Hilton Holiday Hall of Fame Tournament.
"It feels great," said Hill who converted on 10 of 12 free throw attempts to finish with a game-high 31 points. "We knew what we had to do to get a win against a tough team, a great team. We came up and we just showed them that we're better. We just executed down the stretch, got stops and we came out with the win."
Unlike his season-opening performance when he scored more than 60 percent of the Cadets points in a 61-47 win over Rush-Henrietta, Hill led an attack which saw nine different players add to the production.
Tahj Hill connects on the baseline pull-up. @Hiltonhoops leads @KearneyBoys 59-46 after 3. pic.twitter.com/tiSVqNacz3

— Paul Gotham (@PickinSplinters) December 29, 2018
Mitch Carr scored five points during a 12-3 pivotal run early in the second quarter as Hilton turned a two-point edge into a double-digit advantage going into halftime.
"We just started figuring it out," Carr said. "We knew that we had to attack the basket, and we knew that we had to make shots. We were getting certain players open. We just stretched it as much as we could."
Ryan Kurtz kickstarted the Cadets offense with a 3-pointer. Carr followed four possessions later with a pull-up jumper. Hill converted a pair of free throws, and Carr completed a traditional 3-point play for a 28-17 Hilton lead with 3:59 to go in the half.
"It was definitely rolling," Carr said of the offense. "We just got a ton of guys that can find each other. It doesn't really matter whose scoring for us."
The Cadets led by 10 at half. Hill and Carr combined to score on three straight possessions early in the fourth to give Hilton its largest lead of the game at 70-54.
"Stops was the difference for us," Hill said. "Coach said if we put together three or four stops, then their offense will kinda slow down. Kearney has a fast offense and likes to get up and down. We had to get stops and get it done."
The junior came into the game averaging 33.8 points per game. He connected 10 times from the floor including one 3-pointer and grabbed 10 rebounds.
More Tahj Hill to enjoy. @Hiltonhoops up 70-54 with 4:38 to go. pic.twitter.com/8EKoaE9cTU

— Paul Gotham (@PickinSplinters) December 29, 2018
"They were giving me the shot, so I was taking it, Hill said. "I really wasn't even thinking about scoring.  I was just trying to get my other teammates involved first."
Hilton dropped Kearney to 4-3 on the season.
"All our pieces contributed tonight where they haven't necessarily done that all season," Hilton head coach Troy Prince said. "When we get all our guys contributing the way they're capable of, then we are able to build on a lead. That's a good sign for sure."
With the win, Hilton advances to meet Greece Athena in Saturday's tournament final.
"It's like we're taking final exams because we got another one tomorrow," Prince said laughing. "They're athletic. They're tough. They're disciplined. We have to answer that bell again and come back with another solid effort to be competitive with them. I think it should be fun."
Carr finished with 21 points and 12 rebounds. Noah Malta added seven points and 11 assists. Najier Daniels added nine. Jack Gombatto scored seven. Colin Burkis had six points. Jason Story (2) and Jackson DiPalma (3) rounded out the scoring for Hilton.
Monchecourt paced Kearney with 17 points. Kidtrell Blocker scored 15, and Michael Gentile had 14. Jamal Williams (9), Miles Rose (7), Deiontray Dixon (4) and Antwan Williams (1) also scored for Kearney.
BK will play Eastridge in the consolation match.