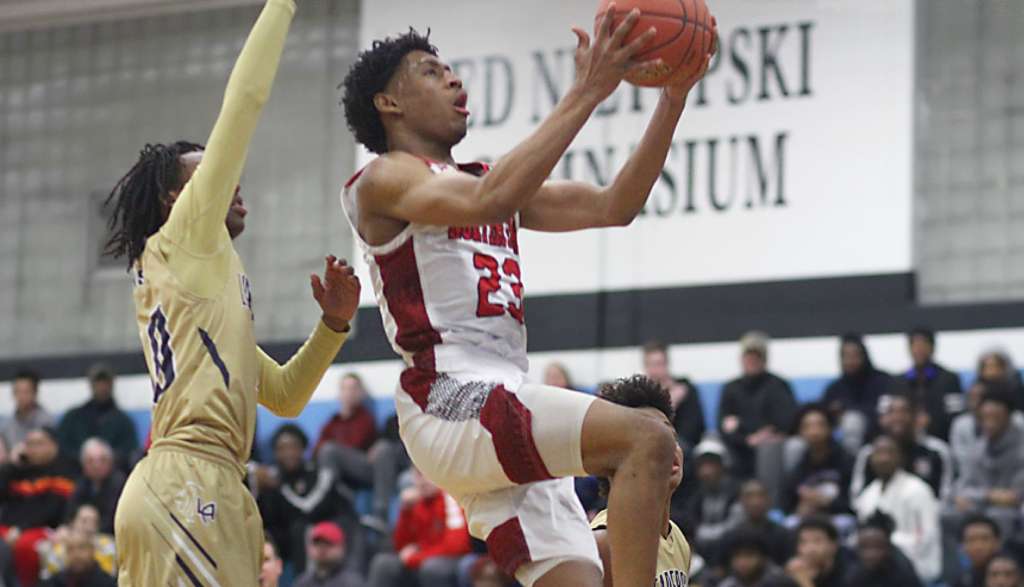 By BILLY HEYEN
GENEVA, N.Y. — To open the fourth quarter Saturday, Northstar ran a double-screen play for Miles Brown. He caught the ball on the left wing and faced two defenders in front of him, with two more awaiting near the paint. He'd tied the all-time Section V scoring record on a bucket to end the third.
After that prior bucket, Miles' brother Michael Jr. told him he was a point away from setting the new mark.
"To be honest, I didn't even know how many points I had until my brother came and told me 'You're one point away from breaking the record,' Brown said. "And I kind of got a little bit nervous."
The nerves didn't show, though, as he drove toward the basket, euro stepped and rolled the ball in off the rim. Northstar head coach JJ Garwood called a timeout. There was a new scoring king in Section V basketball.
https://twitter.com/Wheyen3/status/1079196365786439681
Brown entered the night 24 points away from breaking Dansville's Neil Weidman's old mark of 2,441. And in scoring 31 points, that's exactly what the senior guard did as Northstar (7-0) defeated Geneva (5-4) 68-59 to win the Geneva holiday tournament. In five years as a varsity player for the Knights, Brown has reshaped the program and put himself atop a list of Section V greats.
"I call him 'The Franchise,'" Garwood said. "He's just a unique player, a once-in-a-lifetime player to coach."
From an early age, Brown showed an ability to score, his father and Northstar assistant Michael Brown Sr. said. The willingness to pass was always there, too, Michael Sr. said, making his son what he called a "playmaking point guard" from the start.
And he made memories because of that ability, too many for Michael Sr. to recall a specific one. But for about 13 years, Brown and his twin, Michael Jr., have been lighting up basketball courts around Rochester.
"Lot of big memories, lot of big moments, too many for me to name, man," Michael Sr. said. "But I think they all kind of help contribute to what he is and what has come today."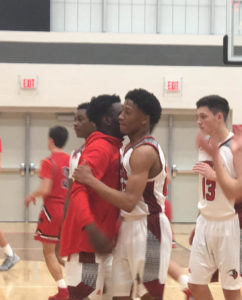 That talent led to a varsity spot as an eighth-grader at Northstar Christian Academy. From the beginning, Brown was special, Garwood said.
It took a step up in physique from Brown's eighth grade to ninth grade year to really solidify his spot as one of Section V's best, Garwood said. Brown grew a few inches and put on muscle. But the potential had shone through the year prior.
"I could tell right away though he was just special because he's naturally gifted, but he's also a tremendously hard worker," Garwood said.
Those abilities kept manifesting further each year of Brown's Northstar career. Brown averaged 10 points as an eighth grader, 18.3 as a freshman, 27.2 as a sophomore and 29.8 as a junior. By the shift between Brown's sophomore and junior years, his father and Garwood began to discuss that the record might be in reach, Michael Sr. said. After Saturday's win, Brown's senior season average is 35 points per game.
The points didn't flow as easily as they sometimes do for Brown on Saturday night, though. Geneva used different defensive schemes focused on shutting Brown down, most notably a box-and-one with one man shadowing the Northstar star. But Brown didn't force shots. Instead, he let his teammates score early and allowed the game to come to him.
"I'm used to going against two players guarding me at a time," Brown said. "When this happened, my teammates found ways to score, and when I'm open, they found me the ball."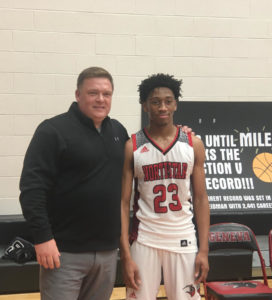 Eventually, Brown found his groove and had reached 16 points by halftime. His euro-step bucket to end the third tied him up with Weidman's record, and that's when Michael Jr. told his twin it would only take one more point.
Brown wanted the record-setter out of the way, he said. His father and Garwood echoed that sentiment. So the opening play of the fourth was meant to get Brown a bucket, and he delivered. As he went to the timeout huddle after the basket, he embraced a few of his teammates, but then he was all business. He wanted to focus on getting the win and what would happen next, Garwood said.
The Knights did win, coming back from a halftime deficit for the second night in-a-row to beat the Panthers on their home court. But after the game, Brown couldn't quite get the record out of the way fully. First meeting him near the Northstar bench was Weidman, the man whose record Brown had just passed. They posed for a picture as Brown held a basketball made especially for the occasion.
Then, Brown received his tournament MVP trophy and the Knights' received their tournament championship trophy. More pictures. And of course Brown had to pose with each and every one of his family members and friends at the game, still taking pictures with the record-commemorating ball in his hand about 20 minutes after the game had ended.
"That's what it's all about, man," Michael Sr. said. "It's about the family. It's about the team. Because without the family, without the team, it wouldn't be possible."
As Brown posed for photos, Garwood discussed the Knights' next opponents and championship aspirations. Michael Sr. did the same. And that made clear what Brown's nonchalance moments after the final buzzer sounded had implied.
Brown's layup to open the fourth quarter was a historic two points. But it was also, to him and his team with their eyes on something bigger, just another basket.