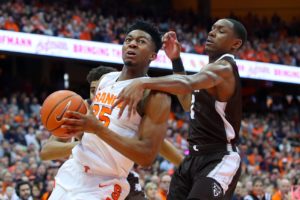 By CHUCKIE MAGGIO
SYRACUSE — Tyus Battle laughed at the exchange, laughed at the technical foul, perhaps laughed at how easily his team handled its de facto "revenge game." The junior, who scored 10 points in less than five minutes on Saturday, seemed to enjoy watching Jalen Poyser receive punishment for the frustration he helped orchestrate.
St. Bonaventure's only holdovers from last year's overtime victory over Syracuse were five scholarship players, the team's brown road uniforms and Mark Schmidt's tie.
The bigger, more experienced Orange (9-4) featured eight players from last year's roster and pounced on a turnover-prone Bonaventure squad, jetting off to a 17-2 start over the first six and a half minutes. The Bonnies responded for a blip and cut the lead to single-digits with 10 minutes left in the first, but the moment was fleeting and Syracuse outscored Bona 54-33 the rest of the way. Jim Boeheim's team emerged with an 81-48 rout in front of 21,968 fans at the Carrier Dome.
The defeat was St. Bonaventure's worst by margin since a 105-53 loss at Mississippi State in 2009. The Bonnies committed 25 turnovers, the most they have committed in a game this decade. They finished the non-conference schedule with a 4-9 record, the worst non-league mark since they went 3-10 in Anthony Solomon's last year at the helm.
A Syracuse zone that was eviscerated in the first 20 minutes of the 2017 meeting was impenetrable on Saturday. The Orange scored 32 points off turnovers, 17 of them on the fast break, helping aid an offense that had reached the 80-point plateau just twice all season. Courtney Stockard, SBU's top returning zone-buster, was charged with two fouls before the first media timeout and picked up a third just 7:24 into the first that planted him on the bench for the rest of the period.
Stockard's foul trouble left Bona with just three players who had game experience against the zone. The inexperience showed, resulting in a 46-25 halftime hole. The brown and white couldn't even get to 50 points in garbage time, scoring fewer points (22) than they did in the first.
As Bonnies coach Mark Schmidt remarked in his postgame comments, you can't simulate the 2-3 in practice. "You can put your scout team out (and say) 'Here's the 2-3 zone. Play the wings high,'" he said, "but when you have 6-5 guards up top with great length, it's hard to get that ball… you think there's a window, but that window closes so quickly.
"We didn't have any answers from the perimeter, we didn't have any answers inside," Schmidt continued. "Courtney getting those three fouls, two fouls early, didn't help. But to play against a Syracuse zone and turn it over 25 times, you're not gonna win. So that's the bottom line: We didn't play well, we didn't take care of the basketball. And that was the number one key going in; we needed to get shots against Syracuse's zone and we turned it over too many times."
Freshman point guard Kyle Lofton, who ended up leading the team in scoring with 12 points on 5-of-10 shooting but committed four turnovers, concurred with his coach.
"Everything just looked different than what it really was," Lofton said. "Spots looked open but try to force it in there and they're long, athletic. It was just harder to find certain spots in the zone." The Hillside, N.J. native called Bonaventure's start "flat," saying, "We're supposed to give the first punch. We took the first punch and we looked like we didn't come out ready and prepared."
The only shot Battle missed was a free throw; he made all eight field goal attempts and finished with 21 points and six steals. Fellow starter Elijah Hughes posted 16 points, including three three-pointers. Buddy Boeheim, the coach's son, was the third Orange player in double figures, with 12 points on a 4-of-8 clip. Besides Lofton, Poyser was the only Bonnie to score double-digit points. Poyser had 11, on 13 shots.
The fouls, 20 personals in total for Bonaventure, surely limited some of what could happen offensively. Not only did Stockard find success in the middle of the defense last year, he's a team leader and is relied on to guide them through trouble. But Schmidt wasn't making excuses; he said the senior, and the class as a whole, simply did not meet expectations.
"You look at Courtney and he had zero assists and seven turnovers. If he played more maybe he'd have more turnovers. Who knows?" Schmidt commented. "But last year we had Courtney in the high post, so you want a guy who can handle it and shoot it, can make decisions. Those other guys aren't ready for that. But at the same time, Courtney didn't play the way he was capable of playing… You're only as good as your seniors and our seniors didn't play up to their capabilities. They had an off day."
There is no guarantee, at least publicly, that St. Bonaventure and Syracuse will play for a third consecutive year next season. Offseason negotiations will determine if a rubber match, however loosely that is termed, will take place. If the Bonnies visit the Dome again next year (Boeheim has said on numerous occasions he is never going back to the Reilly Center), Lofton will be looking forward to it.
"Definitely," he said when the topic was broached. "I think next year I'll be better, my team will be better and we'll just come ready and hungry."