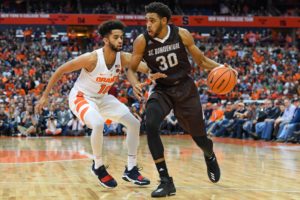 By CHUCKIE MAGGIO
For Courtney Stockard and the St. Bonaventure offense, last year's game against Syracuse's vaunted 2-3 zone was all about positioning.
SU coach Jim Boeheim has implemented a strict zone defense since 1996. That year, he had 6-foot-5 guard Lazarus Sims and 6-foot-6 guard Jason Cipolla in his lineup.
"Neither was a lock-down man-to-man defender," Syracuse Post-Standard beat writer Mike Waters wrote in an October story. "But they were both tall and long and very instinctive defensive players. That's when Boeheim fully committed to the 2-3 zone defense."
Since then, the Orange have had a top 50 defense (in terms of points allowed) seven times, including a 10th place ranking last season. Boeheim and his staff perennially recruit the long, athletic players that fit such a system, resulting in crooked shooting performances like the one Michigan State (17 for 66 from the field) had during last year's Round of 32 or Marquette (12 for 53) turned in during the 2013 Elite Eight.
To win against Syracuse, you have to shoot the ball well at some point in the contest. As the Bonnies showed in their first-ever win at the Carrier Dome last season, you don't have to be hot the entire game; they were held scoreless for the last 7:17 of regulation. But they were hot during a 40-point first half, making six of 11 three-point attempts and shooting a passable 40 percent (12 for 30) from the floor overall. Everyone cooled down in the second half, as the teams combined to make just 11 of their 46 field goals, but SBU figured out the zone enough to give itself a chance.
Syracuse has held the opposition under 35 percent shooting from the field 80 times since 2010. Bona, which shot a shade under 33 percent for the entire game last year, was one of just five teams to win despite those circumstances.
Jaylen Adams was the unquestioned star that night, scoring 23 points on 6-of-10 shooting from the field, including four three-pointers, and making all seven of his free throws. Stockard's role in that performance, however, was pivotal.
A piece of Bonaventure's strategy to combat the 2-3 was to place Stockard in the middle of it, allowing him to either set screens or receive the ball and move it where he saw fit. Two of Adams's three-pointers came off Stockard passes from the free throw line, while a drawn foul on a three-point attempt resulted from a Stockard screen that forced a quick and over-aggressive recovery from Syracuse guard Frank Howard.
Stockard led the Bonnies with five assists in the eye of the zone, the only time in his career he has led the team outright in that category. As the go-to scorer on this season's squad he will be expected to score more than seven points and will certainly attempt more than five field goals. An improved three-point shot provides more of an arsenal to beat a defense that forces you to hit outside shots.
But in that accessible piece of real estate around the Atlantic Coast Conference logo, Stockard can truly dissect the zone and make another noticeable imprint at the Dome.
His teammates will need to make shots, of course, like Adams did for a torrid 20 minutes last Christmas Eve-Eve-Eve. Bonaventure's defense, which ranks 79th in the country against two-pointers, will need to take advantage of one of the least imposing Syracuse offenses in recent memory. If the Bonnies get a lead, they will have to hold onto it, something they haven't done this holiday season.
But if the Bonnies find their spots, recent history says their leader will find them. If they need a big bucket, their senior is likely to go get one. If they play well enough to be in position to win, their captain will give them a chance. That goes a long way against Jim Boeheim and his Orange.