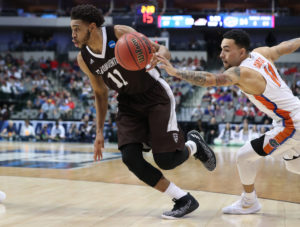 By CHUCKIE MAGGIO
In the midst of a St. Bonaventure non-conference slate that has been decidedly more rebuild than reload, the stunting injury factor was a legitimate rationale for many of the team's defeats. When seniors Courtney Stockard and LaDarien Griffin returned to the court, Bona fans had reason to believe the wins were going to pile up.
As the Bonnies found out against Northeastern on Friday, improved health is not an instant cure to the team's win-loss column. Griffin made his first appearance since injuring his knee in the season opener but was not in top form offensively and scored just three points in 26 minutes.
Bonaventure, despite shooting 40 percent from the floor, still gave itself a chance to win and was in a tie game with the Huskies with three and a half minutes to play. For the second straight contest, however, the Bonnies couldn't finish the game. They lost 64-59, dropping to 4-8 on the season with the Syracuse Orange looming in eight days.
Some takeaways from SBU's third straight defeat:
Player of the Game: Vasa Pusica, Northeastern. Pusica's return from a wrist injury that sidelined him for six games was timely for Northeastern. The senior scored 10 of his 16 points over the last 12:15 of the game, recording three of his seven assists in that span as well. The first of those buckets was an and-one layup to give Northeastern a 40-38 lead. The last three points were made free throws after Pusica drew a foul from behind the arc on Courtney Stockard and gave the Huskies a 58-55 advantage with three minutes to play.
Honorable mention: Courtney Stockard, St. Bonaventure (17 points, six rebounds), Anthony Green, Northeastern (11 points, six rebounds)
Stat of the Game: St. Bonaventure shot 40 percent (20 of 50) for the game and allowed Northeastern to shoot 52 percent (22 of 42). Since 2010, the Bonnies are 1-28 when they shoot under 45 percent and their opponent shoots over 50 percent. The lone win was a double overtime victory over St. Joseph's on Feb. 29, 2012.
Stretch of the Game: After a Kyle Lofton three-pointer tied the game with 3:33 to play, Northeastern went on an 8-0 run, starting with Stockard's three-point foul on Pusica. Bona made just two of its eight shot attempts over the last 2:50, one of which was a Jalen Poyser tip-in as time expired that could be narrated by Scott Van Pelt tonight.
Quote of the Game: "We're not good enough yet to deal with those mental breakdowns," Schmidt said on the WPIG postgame show. "We're gonna miss some shots, we missed a number of layups, but those are physical mistakes that as a coach you can accept. It's the mental mistakes, it's not rotating right, stuff that we know what to do. I think sometimes we get caught up in the moment and we just break down; we forget what we're doing…
"It's not just the young guys… one time Murphy was posting our guard up and our big guy didn't go down to double. That's something that we work on all the time. It's like, 'Hey, my bad.' But if you have nine guys who are playing and each guy does one or two 'My bads,' that's 18 'My bads.' That's way too many, and they make you pay for it."
Miscellaneous Notes: St. Bonaventure's 4-8 record is its worst 12-game start since starting 3-9 in 2006-07… Melkisedek Moreaux, who made his Bonnies debut last game, did not play.