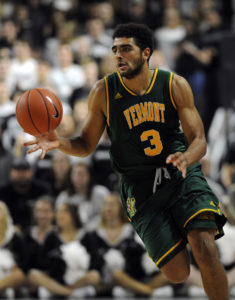 By CHUCKIE MAGGIO
Every St. Bonaventure season, whether it is fruitfully successful like 2017-18 or full of growing pains like the current outfit, has games like Tuesday's contest at Vermont.
The Bonnies have played some palpitation-inducing, nail-biting games over the years. They played another one at Patrick Gym when a 14-point lead dissolved, Courtney Stockard fouled out and their young squad tried to overcome one too many mistakes. SBU couldn't pull it off, dropping an 83-76 decision to the Catamounts and falling to 4-7.
Some takeaways from the first leg of Bona's New England road trip:
Player of the Game: Anthony Lamb, Vermont. His teammates eventually got involved, but Lamb scored 16 of Vermont's 22 first-half points to keep them in the game. He then dropped 20 more in the second half and hit the crucial three in the second overtime. The result: a career-high 42 point game and a measure of "revenge" for Bona's buzzer-beater to spoil his Rochester homecoming last year.
Honorable mention: Courtney Stockard (27 points, nine rebounds), Kyle Lofton (23 points, four assists, played all 50 minutes)
Stat of the Game: Vermont recorded 18 offensive rebounds (12 in the second half and overtime periods) and scored 14 second-chance points. The most important second chance bucket was Robin Duncan's layup off Ben Shungu's missed free throw to tie the game at 64 at the end of regulation.
Stretch of the Game: The Catamounts' 20-5 run to take the lead with 7:16 to play got them back in the game and deserves a very honorable mention. However, the Bonnies had a 64-62 lead and the ball with seven seconds left before committing a turnover on the inbound pass, followed by a foul on Shungu. The missed foul shot bailed them out for a moment until Duncan took advantage of poor rebounding and gave his team new life.
Miscellaneous Notes: Melkisedek Moreaux made his Bonnies debut, grabbing two rebounds but committing three turnovers in 10 minutes of play. He missed his only field goal attempt… Vermont is 37-3 in its last 40 home games.