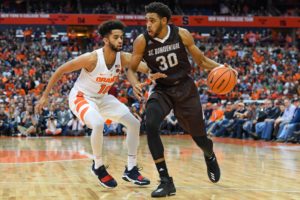 By CHUCKIE MAGGIO
Courtney Stockard has joined exclusive company two games into his senior season.
After his 19-point outing jolted the St. Bonaventure men's basketball team to a win over Canisius last week, Stockard became the latest player to give the Bonnies courage, according to coach Mark Schmidt.
"I thought it was nice to have Courtney back," Schmidt remarked. "I thought he gave our players courage and confidence. He gave us a good lift. It's comforting for a coach to have a guy out there that's done it."
The 12th year coach employs a trusty arsenal of lines to use in media availability, but he doesn't bestow the "courage" line on just anybody. In fact, a search of articles during his tenure shows he has used it to describe just five players including Stockard.
The five Bonaventure players would make for a small but formidable lineup. Here's the rundown of Schmidt's "All-Courage Team."
Jaylen Adams: From his 31-point performance in the traditional house of horrors they call UD Arena in 2016 to Bona's 22-6 record with him in the lineup in 2017-18, Adams was one of the best floor generals in America during his Bonaventure career. He dished out 590 assists in his four years, third in program history.
"He gives our guys, our players, his teammates great courage," Schmidt said after a 2016 win over Duquesne.
Marcus Posley: Posley never met a game-winner he didn't like; he beat the buzzer twice in a week in February 2016. In just two years together, he and Adams formed a daunting one-two punch that launched the latter's All-American career. A notable exemplification of Posley's talent and leadership was the 2015 Duquesne win, when he scored 12 points in the final 2:36 of regulation to send the game to overtime and snatch victory from the jaws of defeat.
"Some guys run into the weeds. They hide. Some guys step up and want the ball," Schmidt said after Posley's game-winners against Davidson and VCU. "He's very confident in his ability. He really gives us courage. He's got a knack. He wants the ball in those situations."
Jonathan Hall: Before victory became an expectation at Bonaventure, Hall was one of the first players added to Schmidt's first major recruiting class and the first impact junior college transfer. The Miami native had career averages of 13 points and six rebounds, shooting over 50 percent and logging 33 minutes a game.
"He's been everything for us," Schmidt told the Olean Times Herald. "He gives us strength, he gives us courage with how he plays. He brings that toughness every night. To me, being able to sign him gave us some credibility."
Maurice Thomas: The UTEP transfer is the most interesting addition to this list. Thomas only played at Bona for the 2008-09 season, a season in which he was suspended twice for violating team rules, before being released from his scholarship. When the 6-foot-8, 210-pound Philly native did play, he recorded six double-doubles and made 20 starts. He ranked 11th in the Atlantic 10 in rebounding with a little over six boards per contest.
"Just watching him play in practice last year, he brings courage to the other guys," Schmidt told the Times Herald in October 2008. "He doesn't back down, he's physical. When you have a physical player, it's almost like a bully. If you have a bully and he's your buddy, you know you can stick your chest out a little more."