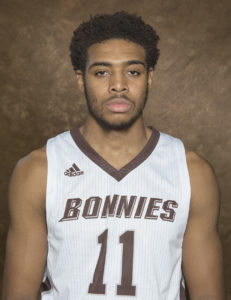 By CHUCKIE MAGGIO
He drove, shot from distance, found the open man and even raised the roof. Courtney Stockard looked every bit the production machine he was last season, and the St. Bonaventure Bonnies were much better for it.
Stockard scored 19 points in 20 minutes of play, grabbed seven rebounds and dished out three assists in his first game action of the 2018-19 season on Wednesday. St. Bonaventure, visibly energized by its leader's return from offseason knee surgery, defeated Canisius 70-55 to snap a four-game losing streak and improve to 2-5.
Bonaventure has now defeated Canisius in five of the last six meetings and seven of the last 10 times in the Reilly Center. Here are some takeaways from the latest triumph:
Player of the Game: Courtney Stockard, St. Bonaventure. Stockard, on a minutes limit, played like the star he became in February and March. He entered the game after the second media timeout, with Bona trailing 11-9. After missing a three-point try and being whistled for an offensive foul, he scored nine points in 51 seconds, capped by an and-one layup. The Bonnies never trailed again.
Overall, the senior made five of his seven field goal attempts as well as all eight free throws. He has scored double-figure points in his last 13 games, dating back to last season.
Honorable mention: Kyle Lofton (13 points, nine assists, no turnovers), Osun Osunniyi (12 points, 11 rebounds; first career double-double), Nelson Kaputo (12 points, five rebounds)
Stat of the Game: St. Bonaventure held Canisius to seven made three-pointers. Canisius drained 15 threes in its last visit to the Reilly Center in December 2016, a 106-101 Griffins overtime win. The Griffs had 50 points in the first half of that matchup, five fewer than their total on Wednesday.
Stretch of the Game: Stockard's masterful minute keyed a 21-3 run in which six of the eight Bonnies scored or recorded an assist. The St. Louis native's burst was somewhat reminiscent of his performance in last year's Davidson triple overtime game, when he scored SBU's first 17 points. In that run, he scored nine points in a 54-second span.
Quotes of the Game: "I thought Courtney gave us courage," Bonnies coach Mark Schmidt said on the WPIG postgame show. "He's out there, he knows what he's doing. I think the guys look up to him and they look to him. He came in, had that little spurt, it's good to see. Hopefully we can get more minutes out of him."
Regarding Stockard's minutes limit: "It's not my decision, it's the doctor's decision, and today was 20 minutes. The plan going in was six minutes in the first half, 14 in the second half. We did that, so we came out with a victory."