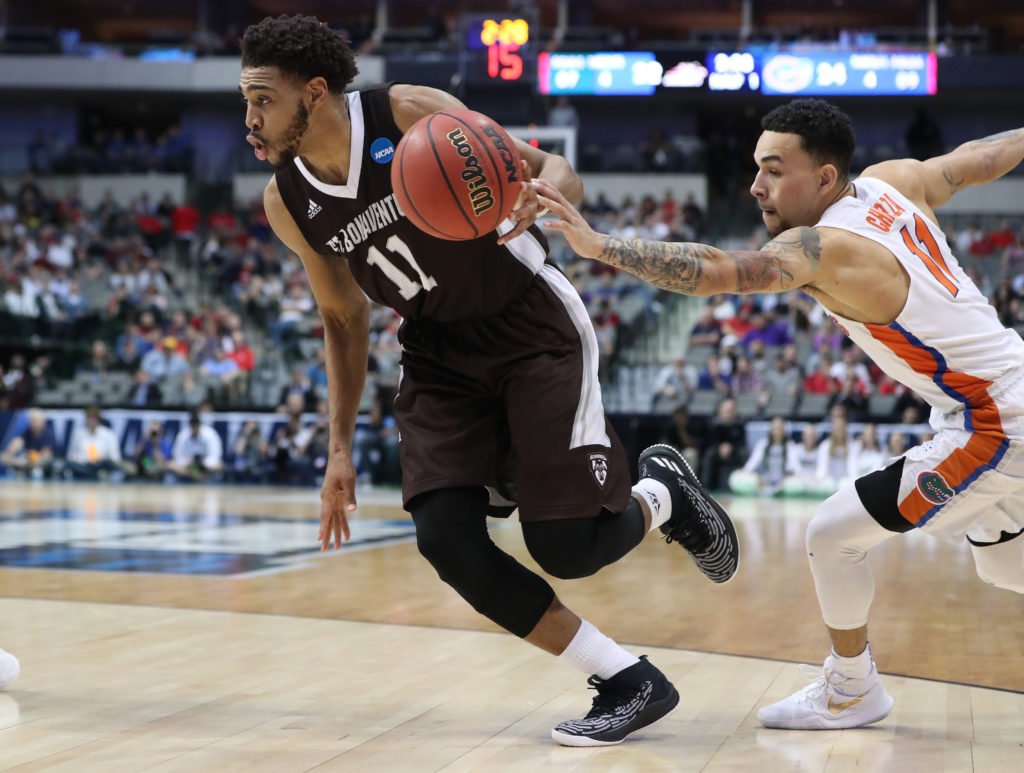 By CHUCKIE MAGGIO
The court storm made little to no sense, a far less justified invasion than the ones that followed over the next three years.
St. Bonaventure had defeated Little Three rival Canisius 86-64 at the Reilly Center to open the 2013-14 season 3-0. The game was figuratively over with 12 minutes to play, when chants of "Storm the court!" rustled through the student section and common sense was thrown out of the top-row windows.
Who cared that Canisius had merely defeated South Dakota the game before and Bonaventure was the favorite in the first place? It was Saturday night and SBU had stomped on its biggest rival. Party time in Olean.
Fans would be wise to resist the temptation to bolt onto Bob Lanier Court on Wednesday, when the 1-5 Bonnies host the 1-5 Golden Griffins at 7 p.m. What the game could provide, however, is an end to Bona's four-game losing streak and some momentum as it approaches a challenging December slate.
Bonnies radio announcer Gary Nease added intrigue to this contest last week, when he said before the Boise State game that senior forward Courtney Stockard could appear for the first time all season against the Griffs. Sources tell Pickin Splinters a return against Siena next week is more likely, but that Stockard has performed well in practice since his knee was cleared for full-contact drills.
If Stockard is sidelined yet again, the Bonnies will likely play with seven scholarship players for the third straight game. Sources called freshman guard Dominick Welch's foot injury "serious," while Melkisedek Moreaux didn't even travel to the Cayman Islands Classic with his hyperextended knee and LaDarien Griffin is still out indefinitely with his knee injury.
The laundry list injury report is reminiscent of last year's Bonaventure women's basketball team. The challenge is the same: win with limited help.
Like Bona, Canisius went 0-3 in its holiday weekend tournament. The Griffins were routed by Villanova before dropping close games against Memphis and UAB. They also have losses to Florida State and Albany but won by nine against common opponent Bucknell, which SBU lost to in overtime.
Metro Atlantic Athletic Conference Preseason Player of the Year Isaiah Reese is a junior NBA prospect who Bonaventure knows well. Reese dropped a career-high 31 points on the Bonnies in a losing effort last December but hasn't regained that form this year, producing just 12.5 points a game on 34.5 percent shooting this season.
Reese is clearly frustrated with his slow start to the season. "Hooping ain't never been so hard in my life," he tweeted on Sunday. St. Bonaventure, which scored just 166 points in the three-day Caymans tournament including just 49 against Akron, may agree.
Despite the winter weather warning and 60-degree drop in temperature, the Bonnies will be happy to return home for the first time since Nov. 10. The program is notorious for stemming skids in the friendly confines of the Reilly Center. Each of the 2018 NCAA Tournament team's two-game losing streaks with snapped with a home victory. A three-game losing streak in January 2016 ended with a 26-point win over Richmond in front of 5,263 Reilly rooters.
There is no better place, and no better rivalry game, to close the book on a forgettable November with a favorable last chapter.