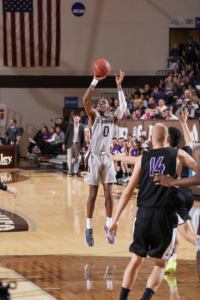 By CHUCKIE MAGGIO
Georgia State men's basketball coach Ron Hunter participated in an entertaining pre-taped interview that aired at halftime of his team's game against St. Bonaventure in the opening round of the Cayman Islands Classic.
"If we win, we go to the beach," Hunter quipped. "If we lose, we watch a lot of tape."
Hunter's Panthers would be spending some quality time in the sand on Monday night. St. Bonaventure coach Mark Schmidt and the Bonnies had to hit the film room after GSU's 75-65 victory.
Bonaventure guard Dominick Welch missed the entire second half with an apparent ankle injury, leaving the already-shorthanded Bonnies with seven scholarship players. The experienced Panthers feasted, answering every semblance of an SBU run with one of their own to improve to 3-1. The Bonnies fell to 1-3 and will play the loser of the Creighton-Boise State game on Tuesday at 5 p.m.
Some takeaways from Monday's game:
Player of the Game: D'Marcus Simonds, Georgia State. Simonds, an NBA hopeful, scored 25 points on 11-of-20 shooting and grabbed seven rebounds to lead the Panthers. He has scored at least 20 points in three of his four games. Two of his field goals were three-pointers.
Honorable mention: Jalen Poyser, St. Bonaventure (23 points on 7-of-15 shooting, four rebounds)
Stat of the Game: St. Bonaventure committed 18 turnovers and Georgia State scored 23 points off those miscues. Every Bonnie turned the ball over at least once. The Panthers swiped 13 steals, with guard Kane Williams recording four of them.
Stat to Pay Less Attention To: Georgia State had a 44-16 advantage in points in the paint, but Tshiefu Ngalakulondi and Osun Osunniyi made an impact down low despite failing to score a point. Ngalakulondi blocked three shots and corralled five rebounds, while Osunniyi grabbed four rebounds and sent back two shots in just 15 minutes of play.
Stretch of the Game: Even with the untidy, undisciplined play, a Kyle Lofton jumper found the Bonnies within eight points with 9:35 remaining. Georgia State missed a three-pointer on the ensuing possession, giving Bonaventure an opportunity to make it a two-possession game.
The following sequence ensued: Osun Osunniyi missed layup, Alpha Okoli offensive rebound, Alpha Okoli missed tip-in, Georgia State dunk. The teams traded baskets the rest of the way and the Bonnies spent just 30 more seconds with a single-digit deficit.
Miscellaneous Notes: After scoring just 13 points against Bucknell, Poyser has scored 20 or more points in each of the last three games.