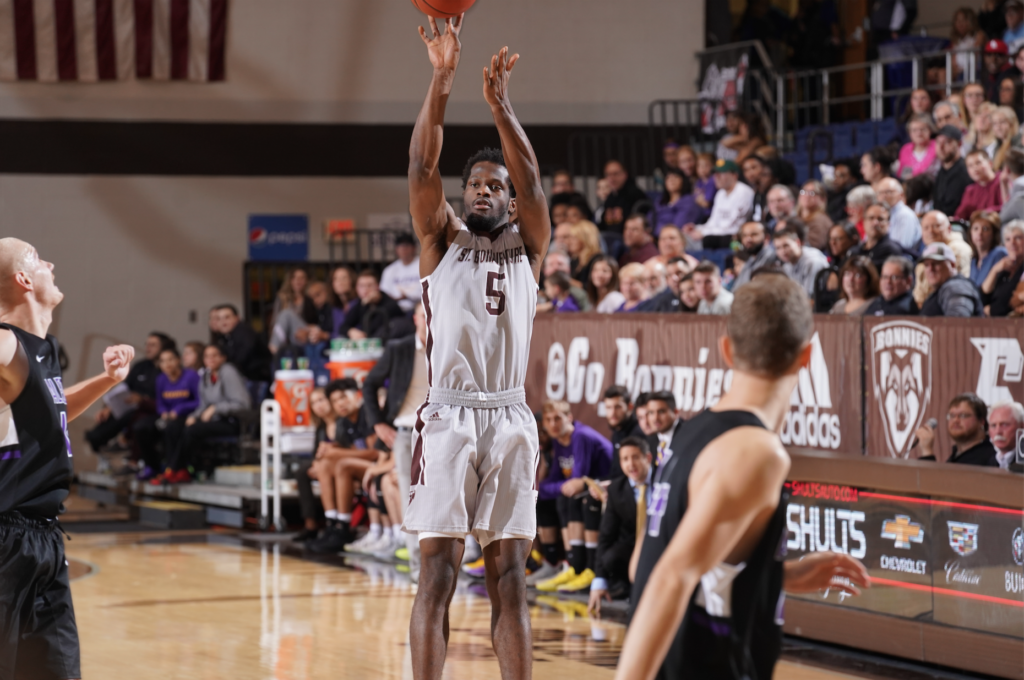 By CHUCKIE MAGGIO
ST. BONAVENTURE — Alpha Okoli might have been the least discussed St. Bonaventure men's basketball freshman this offseason. Kyle Lofton, Osun Osunniyi and Dominick Welch had high-profile announcements captured on video. Okoli opted for a tweet and was out of the limelight for the rest of the summer.
Bonnies fans who needed an introduction to their California kid got a proper one in Bona's exhibition triumph over Alfred at the Reilly Center on Friday night.
Okoli led all scorers with 20 points on 7-of-11 shooting from the field, including four makes on five three-point attempts. He also led all guards in rebounding, snagging seven boards. After his first two plays of record were a missed layup and a turnover, he shot 70 percent from the field and committed just one more turnover in the 90-42 win.
Lofton and Welch each started and each scored in double figures, posting 15 and 12, respectively. Osunniyi, limited to just three minutes in the first half due to fouls, made both field goal attempts and a free throw, posting five points.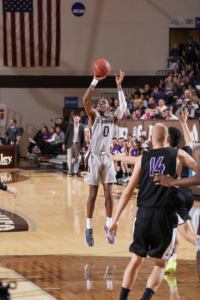 With Courtney Stockard, Nelson Kaputo and Melkisedek Moreaux sitting due to injury (the latter two had undisclosed ailments), LaDarien Griffin and Amadi Ikpeze combined for 24 points to represent the upperclassmen. Make no mistake, however: this one was about the young guys.
"You could tell they were a little bit nervous at the beginning," Schmidt said about the freshmen. "And as I told them, if they weren't nervous, they don't belong at the Reilly Center…
"Alpha played well offensively. He shot the ball, hit shots. It was a good night for him offensively… Kyle, even though he scored 15, I thought he controlled the whole game for us. He didn't play like a freshman, and that point guard is such a critical position for us, especially how we play, and I thought he did really well.
"I thought Dom, especially in the second half, made some shots and was aggressive, Alpha the same way. And I thought Osun, you see how gifted he is off his feet. He got in foul trouble, got a few cheap ones. But the way he can get off his feet is something that will really help us, help our defense, blocking shots and so forth."
The Bonnies feasted on an undersized Alfred squad, outrebounding the Saxons 46-24 and outscoring them 38-14 in the paint. Griffin corralled 14 rebounds while Ikpeze brought in 13 boards.
The halftime score read 44-10 home team; Alfred shot 10 percent in the period. Besides Tshiefu Ngalakulondi (2-of-5) and Jalen Poyser (3-of-10), every scholarship player shot over 50 percent. The Bonnies recorded 19 assists and committed just nine turnovers.
And unlike last year, no All-Americans were injured in the making of this victory.
The statistics are flowery and optimistic, but as Schmidt said, the Bonnies "weren't playing the Lakers." A Division III opponent does not have enough talent or size to provide a serious test before Wednesday's regular season opener against Bucknell; the only thing it provides is experience.
"It makes it a little bit easier when you're bigger (and) faster than the opponent," Schmidt acknowledged. "Those looks, you're gonna have more time to shoot the ball against an Alfred than you are against Bucknell; that's just a fact. So if you don't shoot the ball well against a Division III opponent, you're gonna have some big problems shooting against Division I opponents. But I thought we shared the ball, we did a good job on the ball-screen stuff, we got stuff off of transition.
"It was a good offensive night… gives us an opportunity to have our guys play under the lights and that's what the game was for."