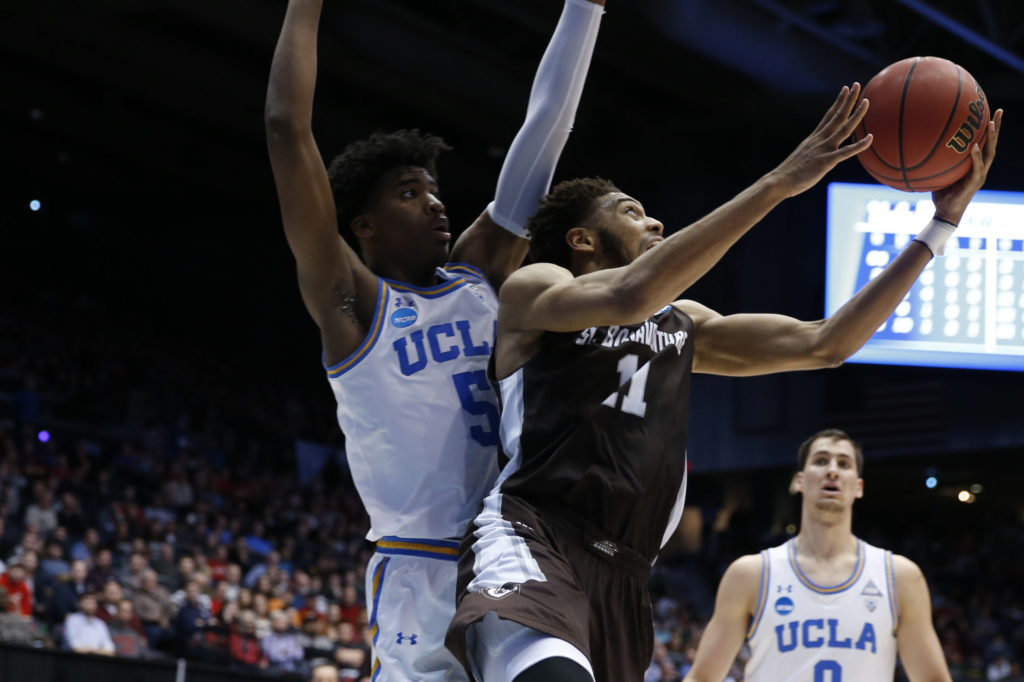 By CHUCKIE MAGGIO
The basic narrative surrounding Courtney Stockard is as tired as he is of college classes. If you follow the team with any regularity, you can recollect it with ease.
The St. Bonaventure forward, a junior college transfer, missed two full seasons (2015-16 and 2016-17) due to foot injuries. He finally suited up in 2017-18, recording Bonaventure's third-highest scoring average and dropping 26 on UCLA in the program's first NCAA Tournament victory in 48 years. Highlight packages of the Bonnies' win over the Bruins were not complete without Stockard's coast-to-coast, go-ahead layup with six minutes to play.
You can make the argument that even before the winningest class in school history graduated, Stockard was the team's most important player; those statistics, along with the backstory, give you a sense of his burgeoning value. But to get to the good stuff and get to know him as a person, you have to find his friends, learn about his city and learn about TruVision.
TruVision, a nonprofit organization established by Stockard and some friends from St. Louis, is on a mission to "unite the basketball talent across St. Louis," according to founder Deshaun Cooper.
Not only have TruVision members created all kinds of apparel, from t-shirts to socks, they have also led workout sessions, summer camps as well as youth mentoring and outings for the homeless. The brand's logo, which features an eye inside the letter V, is emblazoned on much of Stockard's warmup gear before Bonaventure tips off. "We've got guys with TruVision tattoos," remarked member and basketball trainer Darien Spears.
Stockard was still in high school when he met Cooper, who was in the last year of an All-American career at Northwest Missouri State. They started working out together four days a week during the summer and became fast friends.
"He fell in love with the process and the rest was history," Cooper said. "We trained together every summer from that point on. I was there for him if he needed advice or help with anything pertaining to basketball or school."
Eventually, a five-man friend group formed what they called "the hand": Stockard, Cooper, Spears, former TCU forward Connell Crossland and former South Florida guard Corey Allen Jr.
Stockard lived down the street from Spears's grandmother for most of his life and grew up with his younger cousins, but the two didn't get to know each other personally until 2014. Since then, however, they have taken care of each other like brothers; Spears mentioned that when he was homeless, he slept over at Stockard's house.
"Our relationship is pure, man; since day one we have been brothers," Spears said. "TruVision is so real and meant to be for us… just a group of guys trying to give back to a better cause."
"It feels good, just to know that we're able to have an impact on our community, especially the youth" Stockard said. "Basing it out of St. Louis, there's a lot of trouble these kids can get into. For instance with me, if I had people to come back and show us the way, maybe I'd be in a different spot.
"Not saying that I'm in a bad spot right now, but just trying to have an impact on the youth and show them that this is the way and there's something more out there than this environment that you're living in. That's what TruVision is based on."
St. Louis's basketball community is not only tight-knit but uber talented as well. Current NBA players from "The Lou" include Kings guard Ben McLemore, NBA champion Patrick McCaw, 2018 All-Star Bradley Beal and 2018 First Team All-Rookie selection Jayson Tatum.
Stockard's Jennings High team played Tatum's Chaminade squad on Jan. 10, 2013. Stockard, Jennings's senior leader, was the game's leading scorer with 24 points, including four three-pointers. Tatum, a freshman who would be named the Metro Catholic Conference Player of the Year at season's end, posted 20.
After Jennings erased a 10-point fourth quarter deficit to force overtime, Chaminade ran away in the extra period to earn the 68-57 win.
"Going back to that game, it was definitely a competitive game," Stockard said of the high school matchup. "I think it was then when I realized how good he actually was. He just had a certain swagger about himself. Mind you, he's only a freshman and the team I was on, we were mostly seniors and juniors. He just carried himself so well and was so calm, so poised. Like I said, that's when I realized he was going to be doing special things in no time."
Tatum showed appreciation of Stockard's talent on social media after the UCLA game, tweeting, "Way to hoop boay!!" Stockard returned the favor during Game Seven of last season's Eastern Conference Finals, tweeting, "Nah you different kid!!"
"Any time we see each other when he's back home, we always chop it up and I ask him how things are going," Stockard said. "We hoop a lot together whenever he gets the chance. And that's how it is back in St. Louis, especially if you're on the hoop scene: everybody pretty much knows everybody… we're trying to get that camaraderie and bring the city together."
Tatum went one-and-done at Duke and was picked third overall in the 2017 NBA Draft, the polar opposite of Stockard's collegiate odyssey. A sixth year of school is usually reserved for a medical or law school candidate, not a pro-caliber ballplayer.
What if Stockard had never broken his foot? The alternate history of him having a completely healthy career creates a deep rabbit hole. If he plays in the 2015-16 season, the Bonnies likely win a couple more games and make it more difficult for the NCAA selection committee to exclude them. If he plays in 2016-17, he's the third scorer that didn't always make an appearance and gives Bona a good shot at another postseason berth.
The other side of this "What If?" scenario, of course, is that Stockard graduates after that season and takes his March wizardry with him. Does someone replace the 31 he dropped against Davidson to help keep pace with Peyton Aldridge, or pour in 26 in Dayton to overcome a rough night for the guard group?
There are no sure answers to those questions, but Stockard had an immediate answer for the question a sixth-year senior can expect to hear multiple times a year: "You tired of school yet?"
"Man, tired is not the word," he said. "At this point I'm just doing what I need to do to exhaust my last year of eligibility, so that's just basically what I'm going through right now. Like I said, tired really isn't the word."
Until he signs his first pro contract and closes the textbooks for good, the next candidate to score 1,000 points in just two seasons as a Bonnie is majoring in business accounting. With an SBU degree already in hand after completing his sports studies program last fall, Stockard is a veteran in every sense of the word. Using that veteran's perspective, he shifted his focus to the season ahead.
"We're just trying to get the new guys up to speed, work our way and take baby steps," Stockard commented. "We're worrying about one goal at a time. Of course the NCAA Tournament is the ultimate goal… but especially with all the new guys, we've gotta make sure they're used to the system, getting them up to speed with how the college game is gonna go.
"I think it's gonna be tough to start. But once we get around to March we'll be playing our best basketball and that's when we're gonna be really tough for anyone who has to play us."