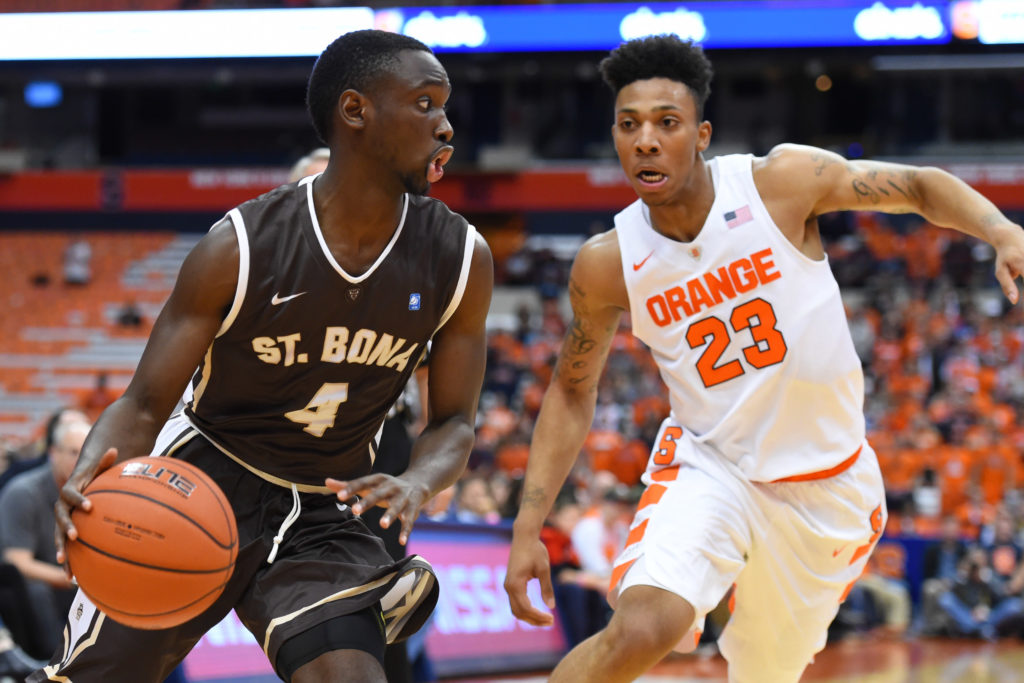 By CHUCKIE MAGGIO
One of my favorite websites during college basketball season is Sports-Reference.com. The site is a hoops nerd's paradise with an unparalleled wealth of information, from yearly records since the 19th century to all 79 NCAA Tournament brackets. If you're looking for a stat or piece of information, Sports Reference usually delivers.
We can use these numbers to inform, evaluate or entertain. None of them tell the whole story about a player, coach or team, yet we couldn't watch (or cover) the games without them.
As the St. Bonaventure men's basketball team opens practice on Friday, here's a grab bag of 15 stats and facts about the program and its players.
1. Since Davidson entered the Atlantic 10 for the 2014-15 season and gave the league its current structure, St. Bonaventure has won 49 conference games. Only Dayton and Rhode Island (50 each) have won more. VCU has also won 49.
2. SBU's largest A-10 winning streaks are against Saint Louis (eight games) and UMass (six games). Its only conference losing streak is against Dayton (three games).
3. Bonaventure has won 53 true road games this decade. The Bonnies won 67 road games in the 1990s and 2000s combined.
4. Bonaventure is one of three schools to have three different players score 40 points in a game since 2010, along with Eastern Washington and VMI.
5. With an average listed height of 77.08 inches (6-foot-5), this is Bonaventure's tallest active roster since the 2013-14 season (77.2 inches). Last season's team was the shortest in that span (75.92 inches).
6. Since Duquesne guard Derrick Colter's buzzer-beating three beat Bonaventure in 2014, the Bonnies have won five straight games that were decided by a buzzer-beater as time expired: Jordan Gathers against Saint Louis in the 2014 A-10 quarterfinals, Marcus Posley against Davidson in 2015, Posley against VCU in 2015, Jaylen Adams against Saint Louis in 2016 and Matt Mobley against Vermont in 2017.
7. Bonnies coach Mark Schmidt is second in school history with 192 wins, 10 victories behind Larry Weise. Schmidt and Weise are the only coaches to lead SBU to two NCAA Tournament appearances.
8. Bonaventure has never made back-to-back NCAA Tournaments. Its best post-tourney season was the 1970-71 campaign, which ended with a third place finish in the NIT.
9. Player X averaged 21.8 points per game after Feb. 15 last season, while Player Y averaged 21.1 and Player Z averaged 20.7.
Player X is Courtney Stockard. Player Y is Trae Young. Player Z is Marvin Bagley III.
10. Stockard needs 587 points to become the 16th Bonnie to score 1,000 points in two seasons. If the Bonnies only played the minimum 32 games this season, he would need to average a little over 18 points per game to reach that mark.
11. Nelson Kaputo has played 1,021 minutes in a Bona uniform and has turned the ball over just 58 times.
12. Tshiefu Ngalakulondi's 2017-18: 18 games played, four minutes per game, 2.3 points per game, 1.3 rebounds per game.
Dion Wright's 2012-13: 13 games played, six minutes per game, 2.8 points per game, 1.9 rebounds per game.
Wright's 2013-14: 33 games played, 22 minutes per game, 8.7 points per game, 4.8 rebounds per game.
13. Two of the last three players to win the A-10 Most Improved Player Award and return to school made an all-conference team before their careers ended. LaDarien Griffin shared the award with UMass guard Luwane Pipkins in March.
14. Griffin blocked 40 shots last season and committed just 85 fouls, the lowest amount of personal fouls for a Bonnie with 30-plus blocks since Michael Lee in the 2005-06 season.
15. Amadi Ikpeze's January 2018 averages: 8.2 minutes, two points, 2.2 rebounds. No starts. Bonnies went 4-4.
Amadi Ikpeze's February 2018 averages: 17.5 minutes, 5.6 points, 4.2 rebounds. Five starts. Bonnies went 8-0.