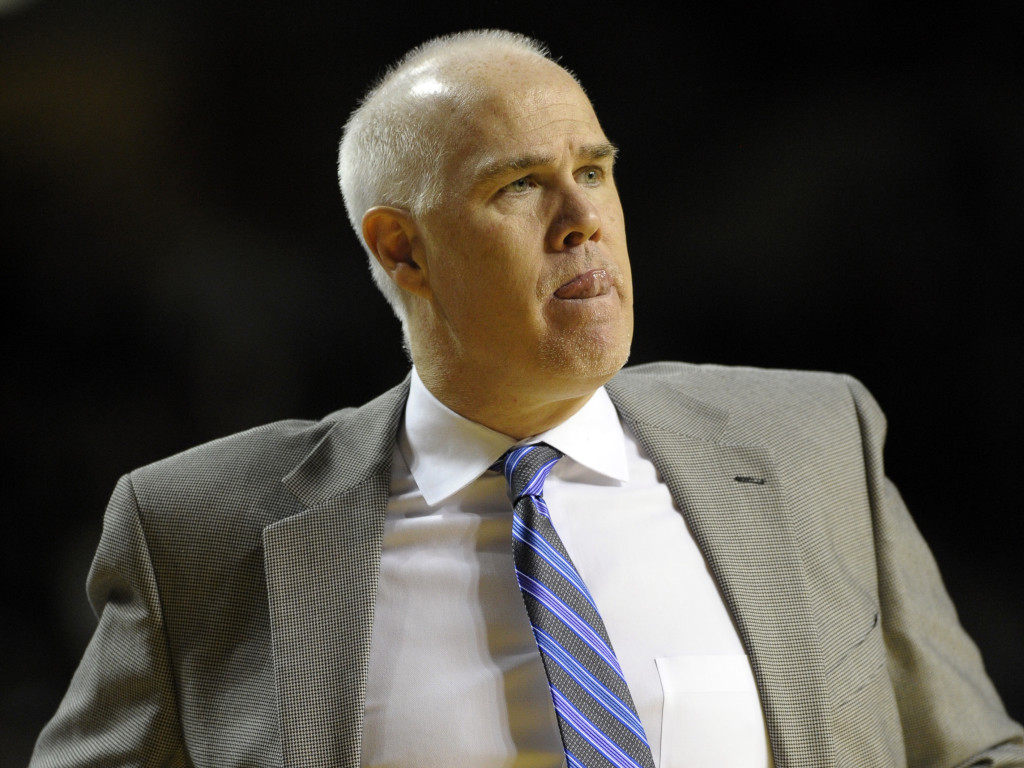 By CHUCKIE MAGGIO
In the first decade of his tenure at St. Bonaventure, men's basketball coach Mark Schmidt carved out his niche as a diamond cutter, finding unheralded high schoolers and turning them into all-conference, occasionally All-American players.
The second-winningest coach in program history is developing a new niche now: sign as many Putnam Science Academy talents as you can.
Putnam, an all-male school in Putnam, Conn., had 179 students last school year. Two of them, Kyle Lofton and Osun Osunniyi, committed to play at Bonaventure in the spring and are a month and a half away from their first action in Bonnies uniforms. On Monday Lofton and Osunniyi welcomed 2019 forward Justin Winston, who enrolled at Putnam this fall for his senior year and will join Bona in the 2019-20 season.
Winston chose the brown and white over 10 other offers, including power-conference schools UConn and Minnesota and Atlantic 10 foes La Salle, St. Joseph's and UMass. After he visited the SBU campus and scrimmaged with the current Bonnies over the weekend, Schmidt visited him at Putnam workouts on Monday and closed the deal.
ESPN rates Winston as a four-star recruit and the No. 28 power forward in the Class of 2019. Winston is slotted one spot ahead of Kenyon Martin Jr., whose father played 15 NBA seasons. Other ESPN four-stars in the East region include Putnam teammate Akok Akok, Syracuse shooting guard commit Brycen Goodline and Glens Falls scoring machine Joe Girard.
Schmidt is past the point of merely mixing it up with college basketball royalty; he is actively pulling recruits away from the big boys. And while fans of those perennial powerhouses may dismiss Bona's signings as low-priority, the power-conference offers are indirect endorsements of Schmidt's recruiting ability.
A Bonaventure commitment announcement, before social media and before the Bonnies were a relevant basketball team again, used to be an understated affair. The school would issue a press release to announce the new recruit, the local newspaper would acknowledge the news with a few paragraphs and most fans wouldn't see or think about the player until November.
Under Schmidt, each signing has evolved into a diehard's holiday. Early moments after the announcement are used to scour Youtube for highlight videos, scan recruiting websites for offer lists and follow the athlete's social media accounts. As the level of ballplayer has elevated, so has the level of elation. Putnam has done its part with stellar self-promotion this offseason: a steady stream of tweets, daily updates on coaches visiting workouts and a Periscope to showcase Osunnyi's decision.
By now, Schmidt and PSA coach Tom Espinosa have formed a mutually fruitful connection, with Schmidt offering Espinosa's players full rides to play ball and Espinosa preparing talented hoopsters to win with Schmidt. The Mustangs won the National Prep Championship in March and are a safe bet to be a premier team for years to come. With the pipeline established between Connecticut's small prep power and the Southern Tier's small A-10 contender, you can also bet on more Putnam players flocking to Olean. If two more alums join Bona in the next three years, they can fill a starting five.
Still, the line has to end somewhere. The possibility of Akok spurning Syracuse and Providence to become the fourth former Mustang on next year's roster is too far-fetched to even consider in this space. Isn't it?