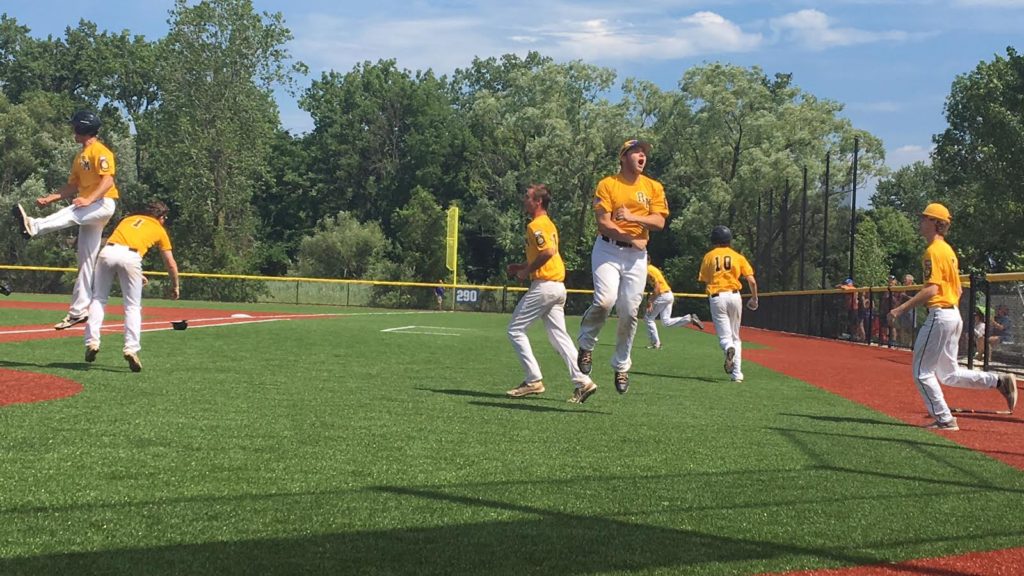 By BILLY HEYEN
What:
New York state American Legion baseball tournament
When:
Rayson Miller's first game: Saturday, July 28 at 12 noon; double-elimination with one game each day for RM until two losses ends tournament; championship on Wednesday, August 1
Where:
Murnane Field in Utica, New York
Who:
District 7 champions Rayson Miller v. District 4 champions Clinton County Mariners
How they got here:
Rayson Miller survived a rubber match game three against Greece Post in the District 7 semifinals. Then, Kevin Sheppard shutdown Irondequoit Post in game one of the finals. That set up madness in game two, when Rayson Miller took a four-run lead into the seventh, trailed by one after the top half, but came back to walk-off in the bottom half of the seventh and head to states.
Clinton County Mariners faced a three-game series against North County Nationals for a berth in the state tournament. The Mariners took game one, 12-4, behind a six-run sixth inning. Then, North County pulled off a 5-4 win in a 13-inning barnburner in game two to set up a decisive third game. With both teams thin on pitching at that point, Clinton County won a slugfest, 13-8, to head to the state tournament.
Pitching:
Clinton County head coach Gary Duquette announced that Ben Champagne will get the start for the Mariners. He's worked a 1.17 ERA and 1.17 WHIP in the Legion season, along with 39 strikeouts in 36 innings. The last time Champagne pitched, he was relieved by Zach Miner, who has a 2.30 ERA and 27 strikeouts in 24.1 innings.
Rayson Miller has not announced a starting pitcher yet. Five Rayson Miller arms have thrown more than 20 innings this season, and all five have an ERA less than 3.00.
Big bats:
Clinton County rosters six players with at least 86 plate appearances that are hitting over .300. Izaiah Browne and Dyllon Bougor lead the way with both hitting .381. Brady Pennington has the most extra-base thump, hitting .356 with 15 doubles and two home runs.
Rayson Miller has three regulars enter the state tournament batting over .400: Lukas Haefner, Jason Bocklage and Owen VanNewkirk. Bocklage has hit safely in all of Rayson Miller's postseason games thus far, including a home run and the walk-off hit in the clincher last Saturday. Cleanup hitter Maxx Countryman and catcher Jourdan Plaisted have also swung hot bats in the postseason for Rayson Miller.
What they're saying:
Rayson Miller head coach Tom Sapienza: "I kind of think I've 1a, 1b, 1c, 1d, and 1e. I got five good arms. I'm not sure, you never know what the other districts will look like. But boy I'll be surprised if there's another district that has five decent arms like we do."
"I'll tell you what. Somebody wins it. And you think I'm going east not to win it, you're wrong, and same with my guys. We're in it to win it."