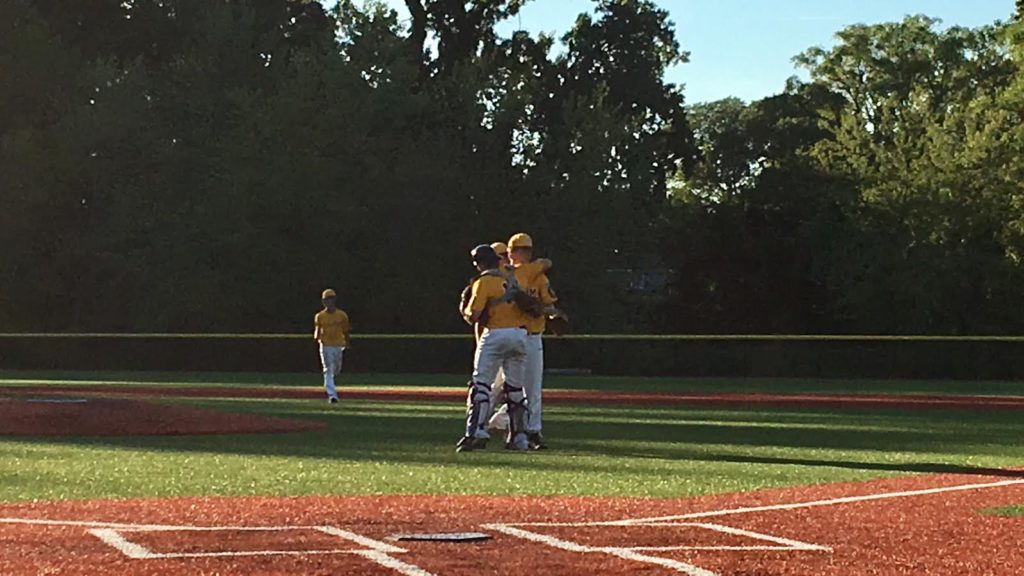 By BILLY HEYEN
EAST IRONDEQUOIT, N.Y. — Irondequoit Post's Chad Gartland ripped the 2-2 pitch from Rayson Miller's Kevin Sheppard back up the middle. He couldn't have hit it much harder, right at the right hip of Sheppard.
But Sheppard had his glove in the right place at the right time, snaring the ball backhanded for the sixth inning's second out. It was just one of those days where it seemed everything went right for Sheppard and Rayson Miller.
"I like barely saw it, but my glove was already there," Sheppard said. "I didn't really have time to react, but it was just right in my glove."
Behind a complete game, one-run allowed outing from Sheppard, Rayson Miller beat Irondequoit Post, 3-1, in game one of the District 7 championship series. He was supported by two run-scoring hits from Maxx Countryman. The win for Rayson Miller means that the best-of-three series can be clinched in game two by the top seed on Saturday morning. Even if Irondequoit Post takes game two, Rayson Miller has given itself two shots at a berth in the state tournament.
"Get to keep playing. That's the best feeling," Countryman said. "Just, baseball."
Sheppard started the game strong, allowing a lone hit in the first and ending the top half with high heat for a swinging strikeout. In the bottom half, Jason Bocklage walked and stole second, setting up Countryman with two outs and a man on second.
On the day he was named the New York State Class C Player of the Year, Countryman delivered in the clutch. He lined a 1-2 fastball through the right side and Bocklage sprinted home with the game's first run.
"Good things happen when you put the bat on the ball, and it did," Countryman said.
In his first at bat since being named NYS POY, Maxx Countryman lines an RBI single the other way. Scores @JBocklage2 , who walked and stole. 1-0 Rayson Miller after one in game one. @PickinSplinters @livcosports pic.twitter.com/aiz0UIpMJw

— Billy Heyen (@Wheyen3) July 19, 2018
Sheppard continued to put up zeros, which set up Countryman to expand the lead in the bottom of the third. Bocklage led off the frame with a lasered triple over the centerfielder. After a popout, there was one out and Bocklage on third as Countryman stepped in.
After the game, Countryman recalled the one time he had bunted in his whole career before Thursday.
"I bunted once, but it's because I missed the sign," Countryman said. "This was in like 12U. I thought he gave me the bunt. He didn't. Never bunted before."
Naturally, Rayson Miller head coach Tom Sapienza called for the squeeze. Countryman bunted the first pitch foul, back to the backstop. He got the sign again, put in a high leg kick to try and fool the defense, and bunted the ball straight toward the mound. It hung in the air for a second, but dropped between the pitcher and home plate. Bocklage made it home. Countryman made it to first.
Maxx Countryman looks a little awkward on the squeeze but it works, he reaches. 2-0 Rayson Miller. @PickinSplinters @livcosports pic.twitter.com/0dJqLMPCwo

— Billy Heyen (@Wheyen3) July 19, 2018
In a game that Rayson Miller won 3-1, Countryman came through on the first time in his career he was actually called to bunt. Given that it's the postseason, and that Countryman has made three state final fours and won the 2018 Class C state championship at Avon, that was no surprise to Countryman.
"I really like being in these games," Countryman said. "I know there's a lot of tension both teams, a lot of nerves. I keep that in my mind that they're nervous too. That kind of gives me a sort of confidence out there, knowing that it's just a game."
The rest of the game was about Sheppard, who pounded the strike zone and benefited from a bit of luck. In the second, he picked Anthony Quinones off third before he was tagged out in a run-down. In the fourth, Irondequoit Post had runners on second and third, but a line drive double play ended the inning. Then, there was Sheppard's snag on the ball right back at him in the sixth.
Unlike Countryman, Sheppard's outing was quite the contrast to his high school season. At McQuaid, he said he hasn't really gotten a playoff opportunity like he did on Thursday. Sapienza said afterwards that although that may be the case, Sheppard has been big for Rayson Miller all season.
"We've come to him at winning time," Sapienza said. "And if you're familiar with our stats, he doesn't walk anybody. That was the big charge tonight, I said Shep, don't walk them, make them hit. And he did. So we're very proud of him."
After every game, Sapienza gathers his team together in a postgame huddle. The players and coaches take turns summing up things they thought went well or what went poorly. Sapienza hands out coupons for ice cream to players, nominated by their teammates, who made big contributions that day.
At the end of Thursday's huddle, Sapienza had a chance to say something he hadn't yet had the chance to say this season. Before Thursday, it wouldn't have been true. But with Thursday's game one win, Rayson Miller is one game away from a state tournament berth. Sapienza made sure his team knew what that meant.
"It's not every day you get to wake up with the chance to win a championship," Sapienza told his team. "Saturday, you have that chance."