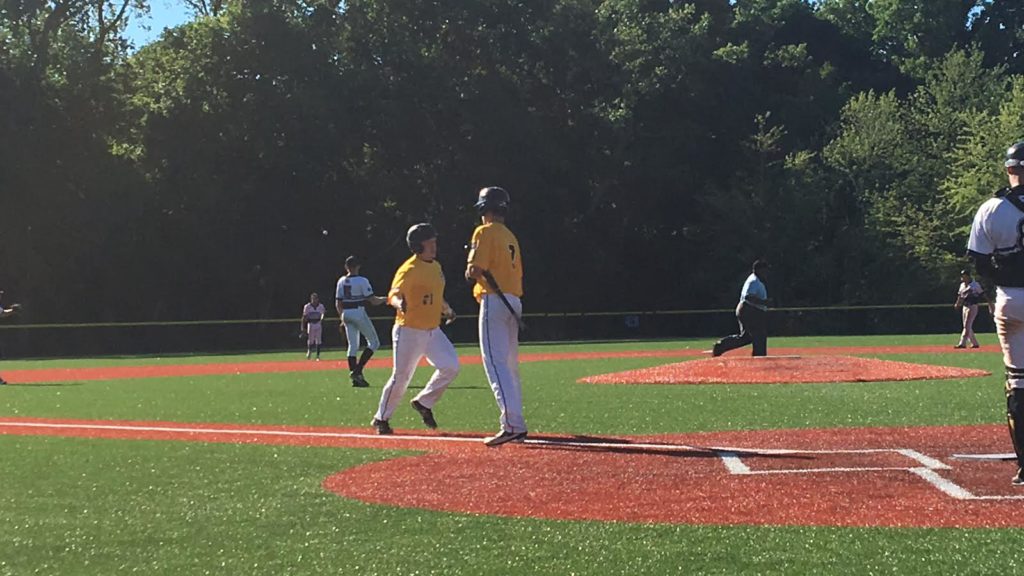 By BILLY HEYEN
EAST IRONDEQUOIT, N.Y. — Greece Post's Michael Mule turned on a ball and sent it to deep right field. He'd been hitting line drives all postseason. But on Tuesday, the game wasn't about Mule. It was about the guy in right field, Rayson Miller's Jason Bocklage.
Bocklage turned and took off as soon as the ball left the bat. The right-field foul pole at Eastridge High School is just 290 feet away, and it looked like Mule may have gotten enough. But as Bocklage reached the warning track, he stuck his glove up and snagged the ball. He crashed into the wall, bounced right off and pumped his fist. He'd denied Mule an RBI and extra bases.
"I told him in the dugout, 'I like when they hit it to you, J-Bock,'" Rayson Miller starter Maxx Countryman recalled. "'I know you got it. And you make it look good.'"
Michael Mule stays hot but @JBocklage2 hurts the wall with this robbery deep in right. 3-0 Rayson Miller after one and a half. @PickinSplinters pic.twitter.com/LBNdybCov1

— Billy Heyen (@Wheyen3) July 17, 2018
Rayson Miller didn't encounter many more threats as it won, 5-2, over Greece Post in game three of the District 7 semifinals. The win sends the top seed onto the finals against two-seed Irondequoit Post. And again, just as he did Sunday, Bocklage put Rayson Miller on his back in the victory, finishing 2-for-3 with a double, two RBI, a steal, a walk and two great plays in right. His big day supported 6.1 one-run innings for Countryman and got top-seeded Rayson Miller where it wanted to be all along.
"I think we expected to win two easy," Bocklage said. "I'm feeling a little shakier that we had to go to a game three. But we played that game really well, and I think if we can continue to play like we have then we'll do well."
Bocklage didn't waste any time continuing a season that now sees his average sitting at .427. After Lukas Haefner walked to lead off the first, Bocklage lasered a ball over Mule's head in center. It scored Haefner, but Bocklage was just late in trying to stretch it into a triple. Rayson Miller was on the board first, though, something it hadn't done on Sunday against Greece Post. And Rayson Miller wouldn't trail all game, tacking on two more runs to lead 3-0 after one.
Rayson Miller gets on the board first. @JBocklage2 tattoos a ball to center and Haefner comes in to score. Good relay by GP to get an out at third. @PickinSplinters pic.twitter.com/wX38uEW245

— Billy Heyen (@Wheyen3) July 17, 2018
The next half inning, Bocklage made the wall-thumping catch. In the bottom of the second, he made his only negative play of the day, grounding into a double play. His next opportunity came in the bottom of the fourth, and he didn't squander it.
After the game, Bocklage spoke about how he'd begun his varsity career at Rush-Henrietta as a pull hitter. Over his time there, though, he learned to hit the other way, he said. And in the last few days, that ability has been on full display. With a runner on second in the fourth, the lefty Bocklage lined a ball through the left side to score Haefner.
"Now I just try to go with the pitch," Bocklage said. "If it's middle-out, I go middle-out with it. If it's inside, I try to turn on it."
More @JBocklage2 oppo action. Rips a single through the left side. 4-0 Rayson Miller in the fourth. @PickinSplinters pic.twitter.com/sUBmPaj7ev

— Billy Heyen (@Wheyen3) July 17, 2018
After that knock, Bocklage tried to steal second. But Greece Post anticipated it and pitched out. The throw from Ryan Ballard beat Bocklage to the bag easily.
"I saw the pitchout and then the ball beat me, and I was like well, I've got to do something," Bocklage said. "I'm pretty sure there was two outs. I didn't want to make the third out getting caught stealing."
He didn't. As he slid head-first, the fielder tried to tag Bocklage's left arm. But he lifted that arm up and over the glove, utilizing a swim-move tactic that has become popular in the major leagues in recent years. As the glove just hit air, Bocklage brought his left hand back down in time to touch the bag and be safe.
By that point, Countryman had put up four zeros. It wasn't the cleanest of days for the righthander from Avon, as he fell behind in counts time and again. He couldn't seem to throw his curveball for strikes. But by the end of it, there was only one run against his line.
"Yeah, I didn't have a lot going for me there," Countryman said. "It makes it kind of a battle. But that's what the game is. Can't give up, give in. Those 3-0 counts, you've got to fight back. At least make it a challenge for them, don't give them anything free."
Bocklage helped Countryman out again in the fifth against Mule, who ripped a ball down the right-field line. Bocklage sprinted over, and maybe after just drifting into foul territory, jumped to catch the ball.
The last plate appearance for Bocklage came with two on in the bottom of the sixth. But he was patient and just waited out a walk. Greece Post scored its only two runs of the game in the seventh, but it was not enough to overcome the standout performance of Bocklage and the grind-it-out start from Countryman.
Bocklage didn't play baseball in the past year because he was playing rugby at Stony Brook. Countryman spent his high school career playing for a small school, Avon, flying under the radar of many of the big-school players he faces in Legion. After being two of the best players in District 7 all season, for top-seeded Rayson Miller, neither flies under the radar anymore. They'll be center stage in the district championship series beginning Thursday.
"I think we've got the momentum going into Irondequoit," Countryman said. "I think we've got it in us, so let's keep it going."