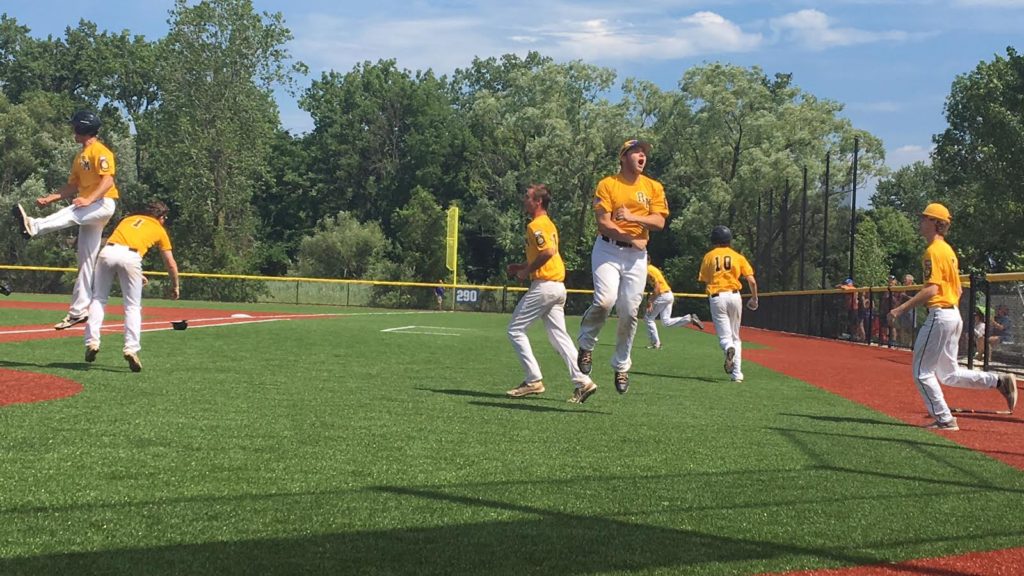 By BILLY HEYEN
EAST IRONDEQUOIT, N.Y. — Bases loaded. Two outs. Bottom of the seventh. Winning run on third. Rayson Miller couldn't have asked for a better spot for the hottest hitter in District 7, Jason Bocklage, to come to the plate with a chance to send his team to the state tournament.
"J Bock has been clutch all season," said Rayson Miller first baseman Owen VanNewkirk. "In that situation, him to come up, we knew he was gonna hit a ball hard. It was just a matter of whether they were gonna make a play on it."
Bocklage hit it hard, back up the middle, just out of reach of the shortstop. AJ Nestler sprinter home, his right arm raised as he crossed the plate. The whole Rayson Miller team turned and ran out to pile onto Bocklage on the infield.
And @JBocklage2 sends Rayson Miller to the state tournament with an 8-7 win over Irondequoit. What a ball game. @PickinSplinters pic.twitter.com/kCUxEfslyP

— Billy Heyen (@Wheyen3) July 21, 2018
After six innings, last inning heroics from Bocklage didn't seem like they'd be necessary. But a furious comeback by Irondequoit Post forced Rayson Miller's bats to come alive once more, and they did. The Bocklage single walked-off an 8-7 win for Rayson Miller at Eastridge High School on Saturday morning. It sends Rayson Miller to the state tournament, which kicks off in double-elimination format next Saturday in Utica.
"That is a really fun way to end this tournament," Bocklage said.
After having dropped Thursday's game one, Irondequoit Post needed to come out firing, and it did in the top of the first. Jayden Fayad and Matt Brennan delivered RBI hits to spot Irondequoit ace AJ Gartland a two-run lead. But it was not to be on Saturday for the lefty.
Rayson Miller got one run back in the first after Colin Smith singled, Maxx Countryman doubled off the left-field wall and VanNewkirk drove in Smith with a single into right, all with two outs.
"I knew he was throwing fastballs away," VanNewkirk said. "So I was trying to get something that I could drive to rightfield."
Owen VanNewkirk drives in Bocklage, 2-1 Irondequoit now. @PickinSplinters pic.twitter.com/yizx9qdTQi

— Billy Heyen (@Wheyen3) July 21, 2018
Then, in the bottom of the second, Rayson Miller tacked on five more runs. Irondequoit booted a few balls. Most of the scoring again came with two outs, with the biggest blow being a Bocklage two-run homer to right field. It came on a hit-and-run, he said, in a spot where normally he'd try to shoot the ball the other way, through the hole. But he got an inside slider and decided to turn on it.
"I was like all right, got a good piece of that one," Bocklage said. "Then I saw it keep going up, and I was like all right. About halfway down the baseline, I was like yeah it's probably over. That's definitely what you dream of as a kid, getting to be in a situation like this."
As I was preparing to tape the second pitch of this at bat, @JBocklage2 homered on the first. Two run shot and it's 4-2 Rayson Miller. @PickinSplinters pic.twitter.com/RbZgkQTnz1

— Billy Heyen (@Wheyen3) July 21, 2018
VanNewkirk followed a few hitters later with a two-run double to give Rayson Miller a 6-2 lead. And for the next four innings, Rayson Miller held Irondequoit Post scoreless as the result seemed to become a foregone conclusion.
But in the top of the seventh, Irondequoit Post found life. Leadoff hitter Caleb Delly worked a walk to start the frame. Fayad flew out, but then Chad Gartland singled through the left side. Sapienza brought in Lukas Haefner, who has been battling back issues, and he just couldn't find it, walking two guys and then giving up a run-scoring hit to Brennan.
At that point, Sapienza didn't have much in the way of pitching options, between the substitutions he'd already made and pitch-count rules. So he called in his centerfielder, Colin Smith, for just his second pitching appearance of the season. Smith allowed a sacrifice fly to get the second out and make it a 6-5 game, then he hit a batter to load the bases.
In stepped Shawn Brooks, who had spent most of the postseason bunting for hits. He'd have to swing away with two outs and the bases loaded, down a run. He worked the count to 3-2 and then dribbled one back to Smith, who overthrew VanNewKirk at first to allow two runs to score and Irondequoit to take the lead.
"The fact that he threw the thing away, the baseball gods are funny," Sapienza said.
After the furious comeback, a third game in the best-of-three series was on the horizon. After the first batter in the bottom of the seventh grounded out, it seemed closer. But Jourdan Plaisted was hit on the arm by a pitch, then Sam Cestra walked, then Nestler was also hit by a pitch. With the bases loaded and one out, Sapienza called on Joe Butler to pinch-hit.
"Joey has been a spot player for us," Sapienza said. "Was there ever a bigger at bat than his?"
Sapienza called for the squeeze. Butler delivered. Tie game.
Rayson Miller scores on a squeeze. Then a 6-3 our. Two outs bases loaded. Quinones vs Bocklage. 7-7. @PickinSplinters pic.twitter.com/GytUhBsQfm

— Billy Heyen (@Wheyen3) July 21, 2018
After Lukas Haefner grounded out, it all came down to Bocklage, and to the surprise of no one, he came through.
"He mashes," Sapienza said of Bocklage. "He mashes. He absolutey mashes."
Sapienza began coaching Rayson Miller in 1973 and has coached every summer since. This was his fourth district title. He's never won the whole thing — the last District 7 team to win states was Ely Fagan in 1969.
"I figure every decade we're gonna win (districts)," Sapienza said. "Now, every 45 years we win the states, how's that?"
For the players, the state tournament was a worry for next weekend. When it was time to hand the trophy out, Sapienza told Cestra and Smith to go out to receive it. They called Bocklage over to be the first one to raise it. Then, the players made sure to pose for photos with the large trophy they received as district champs.
And as the players left the field to head home, Haefner walked away with the trophy and yelled, "I'm taking this baby home." There'll be one more trophy for Rayson Miller to try take home next weekend.
"I think there were some happy faces and guys will be grinning quite a bit," Sapienza said. "Now I'm looking forward to getting this group over there and getting them on task and see what we can do."