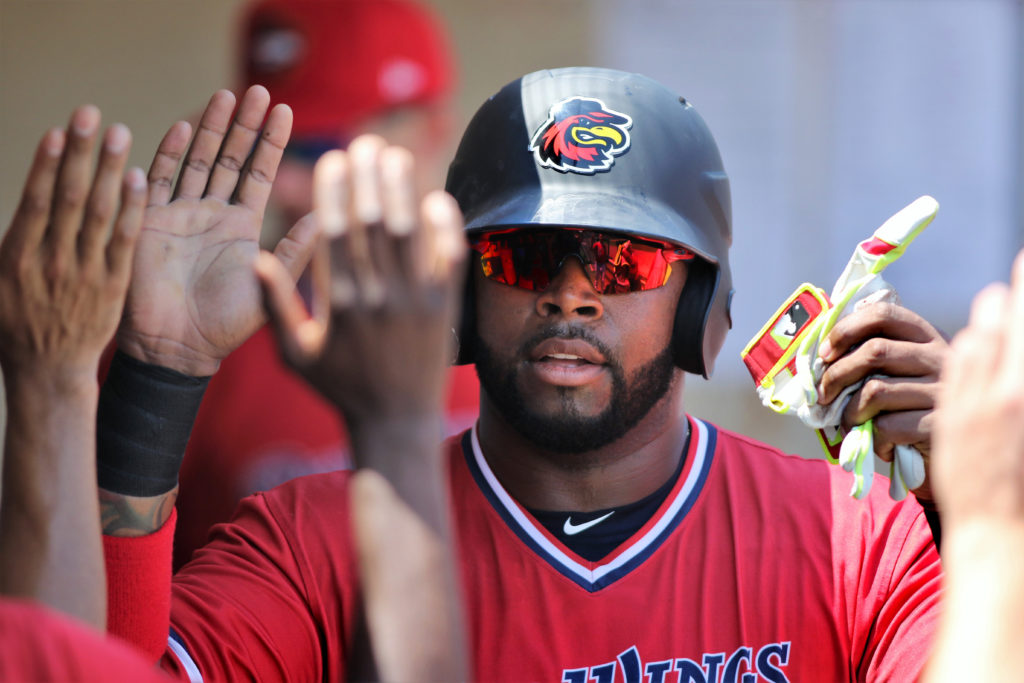 By PAUL GOTHAM
ROCHESTER, N.Y. — If ever the Rochester Red Wings needed an offensive micro-burst, Sunday afternoon was the time. Hours after squandering an otherwise solid pitching performance from Saturday starter Aaron Slegers, Rochester put crooked numbers on the board in three different innings. Something the Wings had not done in any single inning during their previous two games.
No single run loomed larger than a one-out solo shot in the eighth off the bat of Wings catcher Cameron Rupp.
"That was good," Rupp said of his home run which tied the game at six in a Wings 7-6 victory over IL North-leading Lehigh Valley. "That was nice to get a barrel on the ball. It's been a while. I've kinda struggled since I've been here."
Rupp's blast, his second in a Wings uniform and first since June 12th, was estimated at 441 feet. He connected on an 0-1 off-speed pitch from IronPigs reliever Tom Windle. The drive caromed off the upper half of the scoreboard in left center with a thud that pulsed through the crowd of 3,699 at a sweltering Frontier Field.
"He left a breaking ball out over the plate and I got it," Rupp noted. "Something coming right into my barrel."
Windle got Rupp to pop up when the two faced each other Friday night in Lehigh Valley's 2-1 win. Rupp had that at bat in mind when he walked to the plate Sunday.
"I knew his fastball played a little bit better than what the radar gun showed, so I had to be ready to hit," the Texas Longhorn said. "The velocity, it gets on you a little bit quicker. If it says 91 it probably plays about 93. Everybody's 91 or 92 is different. Everybody's 95 or 98 is different."
VIEW MORE JOE TERRITO PHOTOS HERE. 
Four batters and one out later, the Wings had their margin of victory when Nick Gordon singled to score Gregorio Petit.
"It was good to come out and salvage a getaway day and get a win and go to Pawtucket," Rupp said referring to Rochester upcoming two-game set at McCoy Stadium in Rhode Island.
Petit reached when he swung at a slider in the dirt for what should have been the third out of the inning. The pitch eluded IronPigs catcher Nick Rickles, and the Wings second baseman scampered down to first. Byron Buxton followed with his second hit of the day, and Gordon, whose home run lifted Rochester to a doubleheader sweep of Syracuse on Thursday, delivered with a base hit.
"That one went our way," said skipper Joel Skinner who pointed out the Wings had a two-out walk in the seventh followed by a runner reaching on an error that went to waste. "Any time you can create baserunners we don't care how. That's what happened today."
Kohl Stewart made his first Triple-A start of the season and went six innings. The right-hander's most significant stat was the one base on balls he allowed. On a day where the game time temperature registered at 93 degrees, Stewart created a defensive rhythm.
"He gave up a lot of hits but he threw it over," Skinner said of his starter.  "What you don't want from a defensive standpoint on a day like today is to walk people. Then guys are standing around not involved. Sure they were getting base hits and scoring a few runs here, but it wasn't like where you're just standing there watching pitchers throw balls. That's a different pace of game."
Nick Anderson worked two innings for the win. Alan Busenitz, making his first appearance since returning from Minnesota, hurled a scoreless ninth.
The win snapped a two-game skid which saw the Wings fall 6-2 on Saturday in a game where Slegers struck out eight and allowed four hits over six innings. But the Wings right-hander surrendered a three-run home run as one of those hits and gave up four runs on the night.
"Slegers pitched really well for us last night and gave us a chance to win a ball game," Rupp added.
Kennys Vargas finished 2-for-4 on the day with a pair of doubles. The first baseman sparked a three-run second with his first two-bagger of the game. Vargas also led a two-run sixth with his eighth double of the season.
Chris Carter doubled, drove in a pair and scored twice.
Lehigh Valley's Damek Tomscha was 2-for-4 with three RBI and a run scored. Alexi Amarista went 3-for-4 with two RBI and two runs scored.
Rochester (39-40) trails Lehigh Valley by seven in the standings. The Wings return home Wednesday, July 4th when they host Pawtucket.