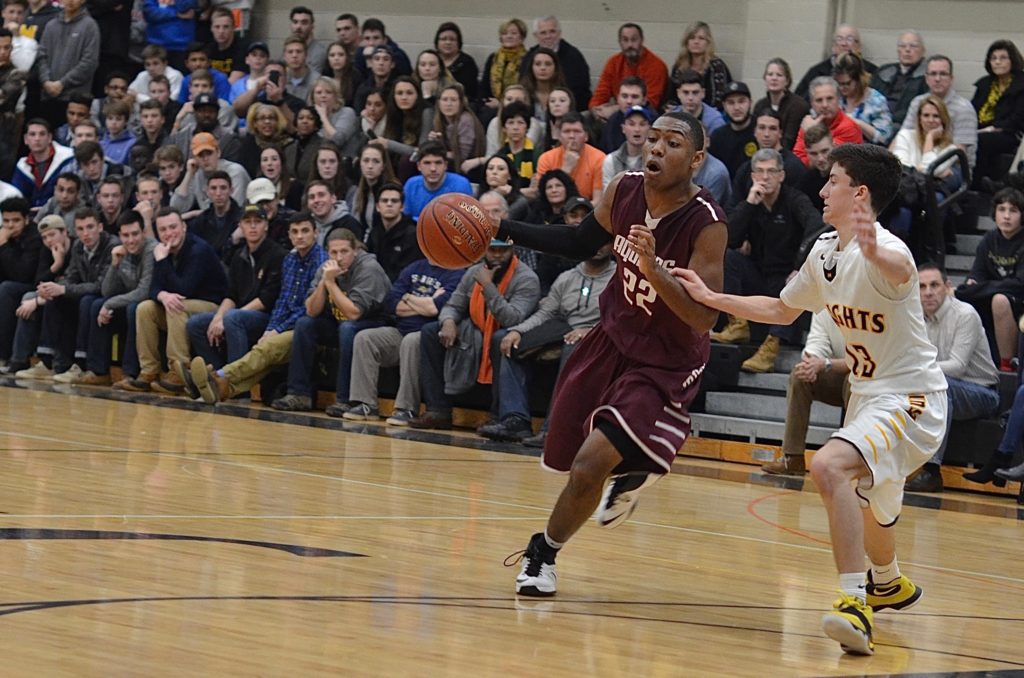 By PAUL GOTHAM
"So the last shall be the first."
As the 2016-17 boys high school season waned on, one truth became unavoidable: while other Section V stars saw their futures come into focus, Jalen Pickett did not. The Aquinas Institute star who as a junior helped lead the Li'l Irish to Section V and NYSPHSAA Class AA titles did not get any offers from Division I schools.
That all changed earlier this spring when Pickett committed to Siena College and coach Jamion Christian.
"It's awesome," Pickett said by phone Friday. "To finally be able to get the school that I wanted, it was really a relief."
Siena hired Christian on May 2nd. The following week Pickett became the first recruit to sign under the newly-hired coach.
"It's an honor," Pickett said of being his head coach's first recruit. "But at the same time, all of the recruits matter. We're all trying to get the same goal. Whether you're first or last, it doesn't matter."
Pickett earned All-Tournament team honors as a junior when AQ won the Section V title under then head coach Mike Grosodonia. He was named MVP when Aquinas won the program's first state title in a run which included a win over reigning champ Shenendehowa and recent NBA draft pick Kevin Huerter. He earned another All-Tournament nod in the Federation Tournament of Champions when the Li'l Irish fell in the final to Jefferson, 72-65.
The 6-foot-4 guard averaged 19.6 points and grabbed nine rebounds per game during his senior season. He watched as AAU teammates and fellow Section V athletes Nahziah Carter (Bishop Kearney) and Jeenathan Williams (UPrep) received scholarship offers.
"Those two guys are really exceptional talents," Pickett said. "They work on their game. They just had the God-given abilities. I had to work hard at mine, but I was always happy for those guys. They earned those scholarships. I just knew my time was coming. I just had to keep working for it."
Pickett credited Carter with the encouragement to succeed.
"Naz always believed in me and told me I could play Division I. We played on the EYBL Circuit. He knew what I could do. He was just saying college is a lot faster than high school and the guys are way more explosive. (He told me) I just got to believe in myself and put in the work and he said I should be fine."
He spent the past year at SPIRE Institute in Ohio. It was a year getting bigger, faster and stronger. He worked on his jump shot and decision making. More than that, though, he worked on the defensive side of the ball – an area which was always seen as a strength for the guard who could defend multiple positions on the floor and never hesitated when he had the chance to cover the opposing team's biggest player.
"You can always find room to get better. The next level there's going to be a lot of guys who are just more explosive and way stronger, so I had just had to get physically right to be able to guard those guys.
"Just try to grind it out on the defensive side. Getting faster at sliding and recognizing what the offense is trying to do and adjust to the level of speed it will take for me to play in college."
Pickett joins a Siena squad which finished 8-24 under former head coach Jimmy Patsos. It was the program's third straight losing season. Siena last reached the NCAA Tournament in 2010 under current Iowa Hawkeye coach Fran McCaffery.
Christian spent the past six seasons at Mount St. Mary's where he led his alma mater to NCAA Tournament spots in 2014 and 2017. His teams play an up-tempo style.
"We're coming at you. We're going to be in attack mode," Christian said in his introductory press conference.
That fits Pickett well.
"Everybody's excited for it. It's a new coach so everyone wants to show what they can do. We're bringing in a lot of great new recruits."
Pickett joins Williams who will play at Buffalo as well as Brian Fobbs (Towson State via Bishop Kearney) and Keith McGee (New Mexico via Greece Arcadia) who will start their Division I careers in 2018-19.