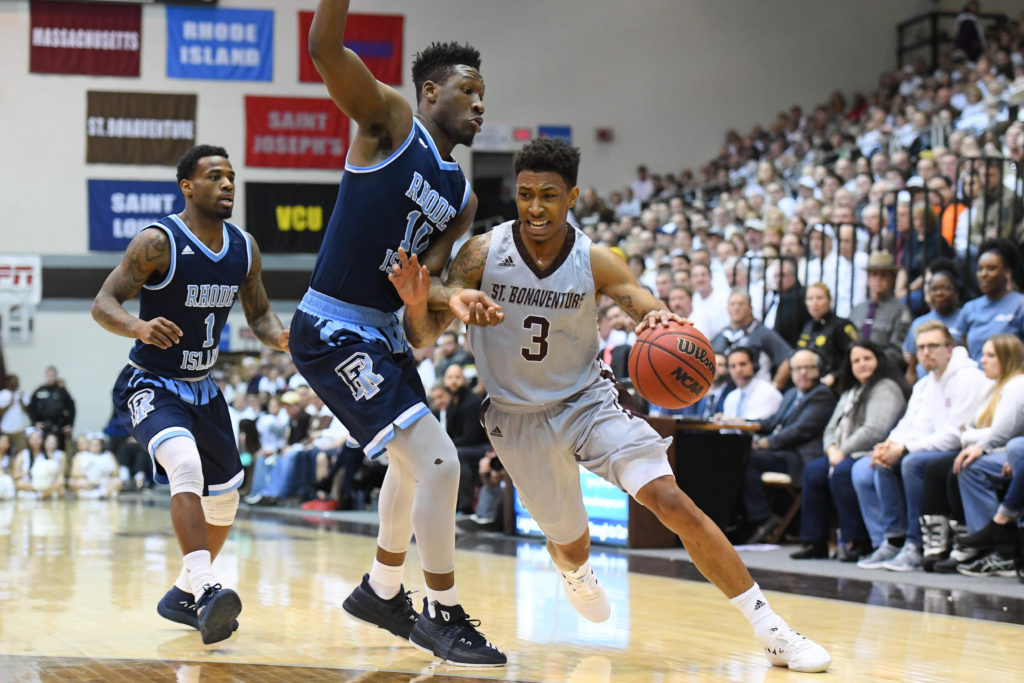 By CHUCKIE MAGGIO
Regular season NBA results rarely ever stick with me for an extended amount of time, but I knew I was going to hear about the Boston Celtics' loss to the Chicago Bulls on Feb. 16, 2017.
I've been a Celtics fan for as long as I've followed the sport. I was annoyed when officials called a phantom foul call on Marcus Smart with a second left that gave Bulls guard Jimmy Butler the winning free throws. But I had another reason to shake my head at the loss, in the form of Jaylen Adams's pre-Dayton media availability the next day.
"D-Wade and them Bulls, Chuck," Adams said with a smirk the moment he exited the locker room in his practice uniform.
"Refs gave them that one," I replied, to which he laughed and shook his head.
I covered Adams's entire career, from his first official practice at St. Bonaventure to the NCAA Tournament. He is the greatest point guard I've seen play for St. Bonaventure and the second-best Atlantic 10 player in the last half-decade, behind only DeAndre' Bembry. The only question in regards to his future jersey retirement will be which number goes into the rafters: the No. 10 he established himself in or the No. 3 he wore when he solidified his legendary place in school history?
The Adams everyone saw shot almost strictly NBA-range three-pointers and made nearly half of them. He executed some brilliant passes, including an off-the-backboard assist to LaDarien Griffin in traffic at Virginia Commonwealth that will go down as one of the most astonishing plays of his career. He became such a superstar collegian that moods of grown alumni hinged on his playing status.
The Adams not everyone sees is a basketball junkie, a voracious student of the game. While a large section of pro hoops fans roots for whichever team LeBron James plays on, Adams has followed Miami Heat guard Dwyane Wade. When he wasn't in the Reilly Center training, he was either watching live games or watching film of elite NBA guards like Stephen Curry, Kyrie Irving, Isaiah Thomas, Russell Westbrook and CJ McCollum.
Clips of Curry lighting up teams at Davidson led Adams to a sound assessment of being an undersized guard that closely applies to his own career. You had to be a little crazy to drive to the basket against those big men on a consistent basis, he said. Making it in The Association, especially as an All-Star, required a component of fearlessness.
One of the themes of Adams's pre-draft workout interviews was maturity, how four years at Bonaventure allowed him to grow up as a basketball player and person. His comfort level as the "quarterback" of a complicated Mark Schmidt offense increased each season, to the point where he was an All-America honorable mention. Watching film of NBA stars wasn't the reason for his success, but analyzing the game's best sure didn't hurt his progression.
My Celtics fandom always led to fun debates with Adams and other players like Denzel Gregg, Nelson Kaputo and Matt Mobley; we argued about the NBA every chance we got, especially around playoff time. The Celtics were always getting swept or losing in five, according to them. Who was guarding LeBron, Jae Crowder or Marcus Smart? Had I lost my mind?
I was always outnumbered- none of them really ever took Boston's side- but the conversations were always "healthy," as Adams put it. I'd like to think I was a worthy, albeit biased, adversary. Even if I wasn't, the debates were always fun.
Adams and Mobley are potentially less than 24 hours from the first step of their respective NBA futures, making this an exciting time for them, their families and the Bonaventure community that enjoyed watching them play so much.
The best-case scenario for both players is to hear their names called by deputy commissioner Mark Tatum as second round picks. If they aren't one of the 60 selections, however, they will land with NBA Summer League squads and hope to perform well enough to make a training camp roster. 2015 Bonaventure graduate Youssou Ndoye took that route, playing three preseason games with the San Antonio Spurs before having a successful season with the Austin Spurs in the NBA's Developmental League.
Draft day comes with so much chaos and so many unknowns, but one thing's for sure: The NBA team that scoops up Jaylen Adams is getting a high basketball IQ along with a talented point guard. After attempting to match wits with him on so many NBA topics these last four years, I know that as well as anybody.