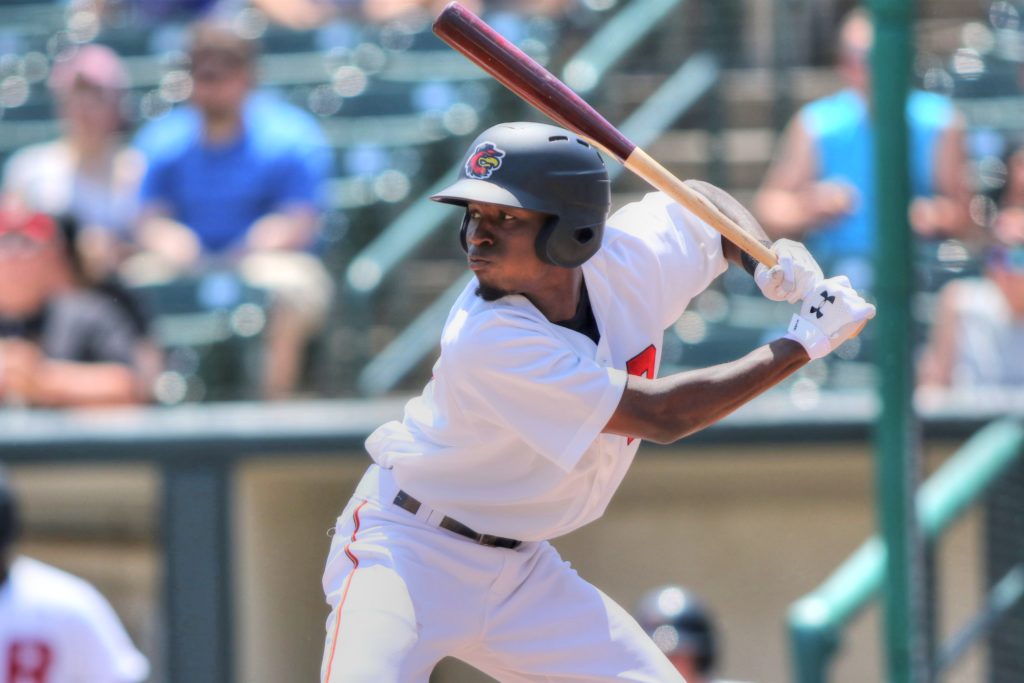 By BILLY HEYEN
ROCHESTER, N.Y. — The Rochester Red Wings will be glad to get a chance to play a team other than the Buffalo Bisons. The Wings and Bisons played six times over the past four days. Buffalo won five of the six.
A doubleheader Friday featured a Buffalo sweep. Rochester pulled out Saturday's game, but Buffalo came right back to sweep another doubleheader on Sunday. And on Memorial Day Monday, the Red Wings couldn't put much together and the Bisons bats did enough.
"It wasn't like we kicked the ball around or anything like that," Red Wings manager Joel Skinner said. "We just fell short."
Monday's 4-2 loss to the Bisons puts the Red Wings (24-23) just a game over .500 before traveling to Durham and then Norfolk for two road series. Nick Gordon was really the only Rochester bat who found much success on Monday, putting together a 3-for-4 ballgame. Rochester's starter, Zack Littell, felt that he rediscovered his curveball, but Buffalo figured him out in the sixth, scoring two decisive runs in that inning. The Bisons, which have won seven of their last 10, showed why they're on a roll in Monday's crucial moments.
"I think that's a pretty hot team right now, I'd say," Littell said. "Swinging it well, I think they're seeing just about everybody well."
After five innings, the game was knotted at one-apiece. Reese McGuire came around to score for Buffalo in the third after reaching on a hit-by-pitch. The Red Wings struck back with a Wynston Sawyer single, Nick Buss double and Jermaine Curtis sacrifice fly in the fifth. But in the next half inning, Buffalo solved Littell.
VIEW MORE JOE TERRITO PHOTOS HERE. 
Up until that point, Littell had stifled the Bisons hitters with fastballs up in the zone and a curveball that he said he "really found" Monday to keep Buffalo off balance. He felt he threw all four pitches well today. In the sixth, though, Buffalo did what Rochester couldn't do on Memorial Day — string hits together.
Richard Urena, a switch-hitter batting left, led off with a sharp single into right field. Dalton Pompey, batting left as well, turned on another ball and sent it down the right-field line. Rochester's Jake Cave cut it off to prevent Urena from scoring but the Bisons had second and third with none out.
"Every inning's the same," Littell said. "Whether we score 10 or don't score any, you gotta go out and put a zero up. I think that's the bottom line."
With those two runners in scoring position, though, Danny Jansen — who after a 2-for-3 day now leads the International League in hitting at .331 — lined a ball the other way, keeping Cave active. Urena strolled home and Pompey's speed beat the ball home, too, as Cave's throw trailed up the third-base line. Littell stayed in to retire three of the next four batters and get out of the inning. But Rochester wouldn't be able to equal the three runs that Buffalo now had on the board.
The Red Wings put two on with two out in the seventh, and its thus-far perfect at the dish Nick Gordon stepped in. He'd already lined three singles on the day, including two hit very hard back up the box.
"It takes a little while to get comfortable," Gordon, a recent call-up to Triple-A, said. "It's just the same game. Just trying to stay with the same things I've been doing and get better."
But his fourth time up, he lofted a lazy fly ball to right field. Buffalo's Ian Parmley settled under it to make the catch. The Wings wouldn't put another runner in scoring position in the final two innings.
Skinner put it simply after the game, saying "what went bad was they scored more than we did." Neither he nor Gordon thought the Wings had played poorly on a weekend when they dropped five of six. Instead, Gordon summed it up as just being "the game of baseball."
"We're fighting," Gordon said. "We don't give up… We're gonna find some hits to fall and get some key outs and things like that. It's two teams playing, they're hoping the same thing as well. We definitely played well, we fought hard, that's all we can ask for."