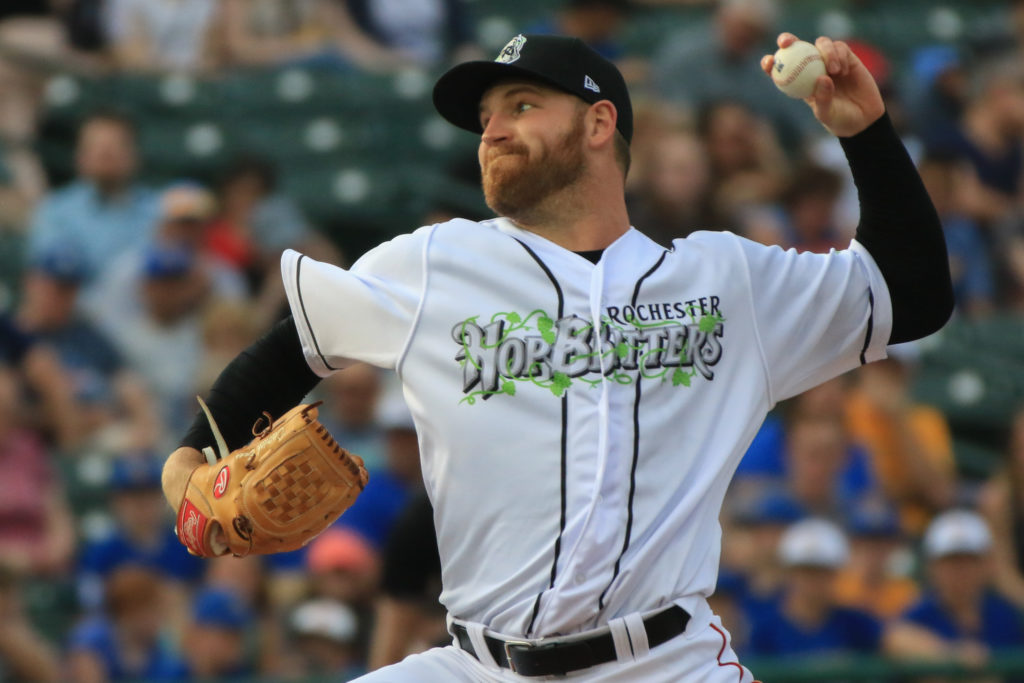 By KEVIN OKLOBZIJA
At the moment, Dietrich Enns' most notable Major League Baseball feat as a pitcher for the Minnesota Twins came not with his left arm but with his bat.
While making his MLB debut in August, Enns delivered a third-inning single, becoming the first Twins pitcher since Hal Haydel in 1970 to record a hit in his first big-league appearance.
The objective for Enns now is to get back to the Twins and show what he can do with his arm.
The former New York Yankees prospect was on top of his game on Saturday night, pitching 5 2/3 scoreless innings to lead the Rochester Red Wings past the Buffalo Bisons 2-0 on Hop Bitters Night at Frontier Field.
"His arm was working good, his release point was good, he mixed his pitches up and his command was good," Wings manager Joel Skinner said. "You put all that together and good things happen."
It was the type of performance Enns needed. He entered the game with a 2-5 record and 6.03 ERA. He didn't get out of the fourth inning in his previous start, allowing five runs and a career-high three homers in a 6-2 loss at Lehigh Valley on Monday.
Three starts back, he didn't escape the third inning, allowing five runs in a 7-0 loss at Buffalo on May 9.
"It's been a little bit of a bumpy road the last month, month and a half," he said. "I just haven't had the right mindset. I've been getting away from the focus of just competing."
He's had plenty to think about the past month. The Twins designated him for assignment and/or release when they removed him from the 40-man roster on May 1 to make room for infielder Gregorio Petit. His assignment turned out to be right back with the Wings, since no team claimed him.
But he's trying not to think about what the future holds and instead wants to make decisions for those who are watching.
Mechanics are important and the release point is critical, but they're not something he wants to be concentrating on when he's in his wind-up.
"When I'm on the mound I'm trying not to focus on anything except competing," Enns said.
That strategy worked quite well on Saturday night, when the Wings wore the uniform of the Hop Bitters, Rochester's professional baseball team in 1879 and 1880.
"He threw a lot of first-pitch strikes, he was getting ahead and was able to establish his curve ball early," said catcher Wynston Sawyer, whose second-inning single drove home the game's first run. Nick Gordon's fifth-inning single produced the second run.
For any pitcher, working ahead makes the task at hand so much easier.
"That's just the key to pitching," Enns said. "Getting ahead 0-1, 0-2, it's a lot easier. You get hitters on their toes a little bit and kind of in swing mode."
Enns allowed three hits, walked two and struck out five in lowering his ERA to 5.11 while improving to 3-5 as the Wings bettered their record to 20-19.
When he handed the ball off to the bullpen, he had great help. Alan Busenitz pitched 2 1/3 strong innings, allowing just a hit while fanning four. Nick Anderson then struck out two in a perfect ninth for his third save.