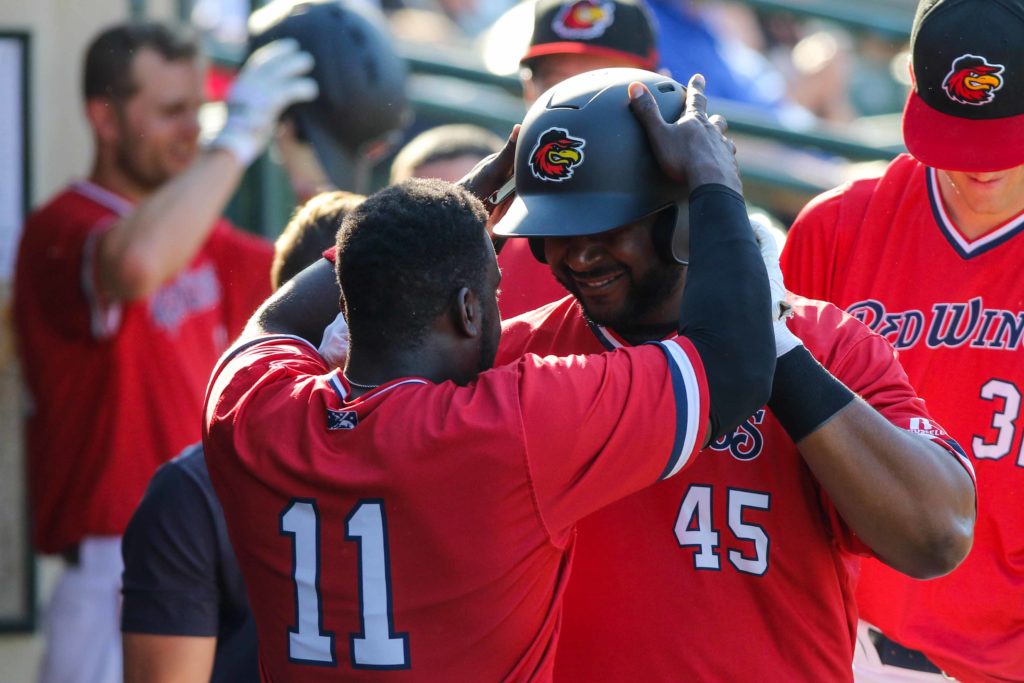 By KEVIN OKLOBZIJA
After a trying 2017 season that saw him start the year in Yankee pinstripes and end it in Triple-A Nashville, all was going quite well for Chris Carter in 2018.
No, he wasn't back in Major League Baseball, but he was hitting with consistency and authority for the Salt Lake Bees of the Pacific Coast League.
The power-hitting first baseman and designated hitter sat second in the PCL in home runs at 13, led the league in RBIs with 43 and had a .255 batting average and .929 OPS for the Los Angeles Angels' Triple-A affiliate.
And then, just like that, he was on a plane headed to Rochester, N.Y. The Minnesota Twins acquired the 31-year-old Carter for cash considerations on Tuesday and assigned him to the Red Wings.
"I just got a call and was told I got traded," said Carter, who tied for the National League HR lead in 2016 when he hit 41 for the Milwaukee Brewers.
Carter arrived Thursday night and made his Wings debut Friday night by playing both games of a doubleheader. He went 2-for-3 with three runs and a mammoth 479-foot home run in game one as the designated hitter, a 9-8 loss, then went 0-for-2 in the nightcap when he played first base in a 2-1 loss.
"It's always good to have another power hitter in front of me," said Kennys Vargas, who hit a pair of three-run homers in the opener. "He has a lot of experience and hopefully I can learn a lot from him."
The acquisition of Carter came pretty much out of the blue. While the Red Wings had little power in their lineup, the Twins weren't expected to go out and find them a big bat.
But with Joe Mauer on the disabled list because of a cervical strain and concussion-like symptoms, perhaps the Twins needed to be sure they had an experienced first baseman available should Mauer miss extended time.
Carter said he wasn't trying to read into anything. "I still have to play the same game," he said.
That power game he was known for disappeared with the Yankees last summer. Over the previous four seasons, between 2013 and 2016, he hit 131 homers (29. 37, 24 and 41).
With New York, he hit just 8, drove in 26 runs and hit only .201 in 62 games and 208 plate appearances before his July 11 release. He struck out 76 times.
"I just feel like I didn't get the consistent at-bats," he said.
Strikeouts have been a part of his game. While hitting those 131 homers between 2013 and 2016, he also fanned 751 times, topping 200 twice.
But over the winter, Carter said he concentrated on making more contact.
"I worked this off-season to cut my swing down and just make better contact, hit pitches I should be hitting," he said.
Notes: Aaron Slegers took the loss in Game 1. He entered with a 5-1 record and 1.97 ERA but allowed 11 hits and nine earned runs in just 4 2/3 innings. Yes, the wind was gusting out to left — Wings manager Joel Skinner called it a 3- to 4-club wind — but he wasn't sharp.
"He just wasn't commanding the ball like he normally does," Skinner said.
The Wings will play Saturday as the Hop Bitters, a salute to the Rochester professional team that played in 1879 and 1880. The limited supply of Hop Bitters merchandise goes on sale when gates open at 6 p.m.