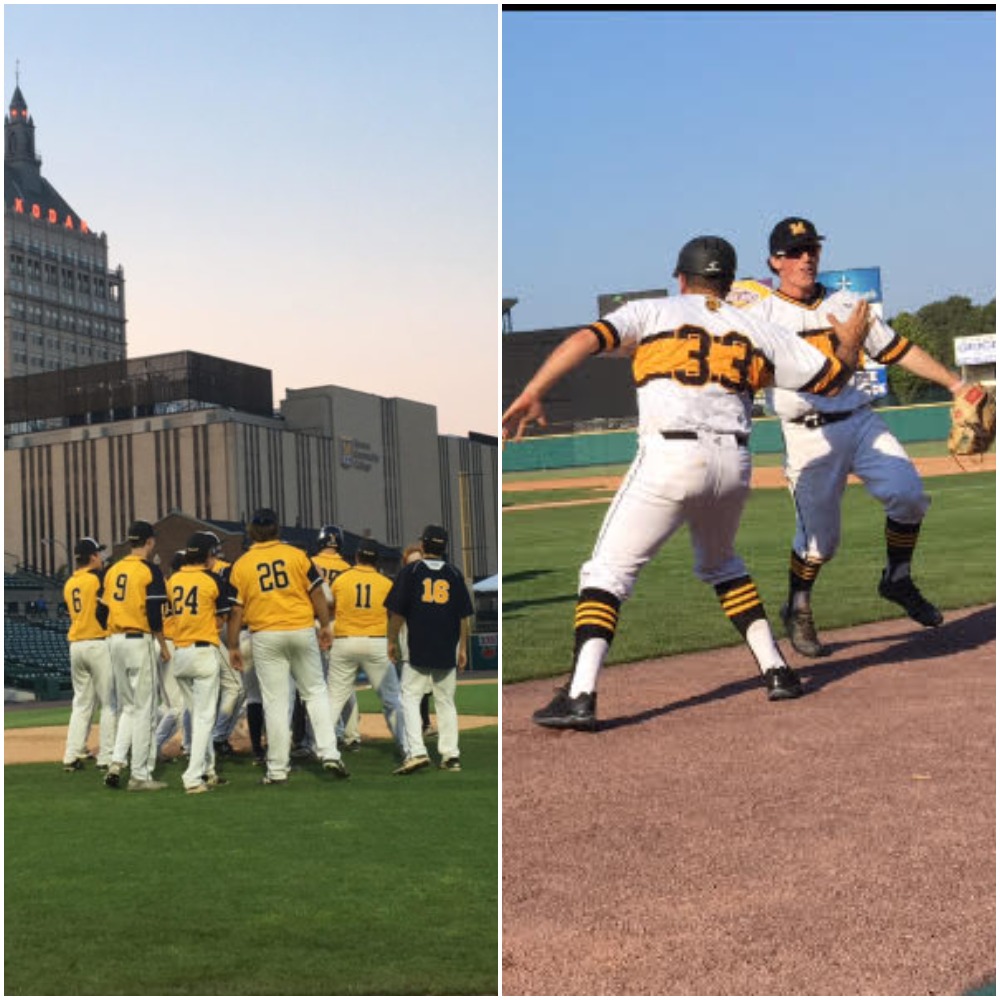 What: Section V Class AA sectional final
Who: No. 1 seed Victor Blue Devils (17-5) vs. No. 2 seed McQuaid Knights (16-6)
When: Saturday, May 26 at 10 a.m.
Where: Frontier Field
Probable starters
Senior righthander Andrew Westbrook will start for Victor, Blue Devils head coach Sean Rucker said after their semifinal win

Rucker speculated that lefthander Erik Johnson will start for McQuaid;

Johnson last pitched Tuesday in the quarterfinal

, lining him up for the Saturday start
By the numbers
McQuaid: .323 batting average / 2.71 ERA / 6.36 runs per game / 3.82 runs allowed per game
Victor: .325 batting average / 2.18 ERA / 8.64 runs per game / 3.09 runs allowed per game
Last postseason meeting between Victor and McQuaid
The 2017 Class AA sectional semifinals. McQuaid won the game, 12-8, and went on to win the sectional final as well. Victor scored six runs in the top of the first inning of that ballgame before the Knights came back to win. A seven-run fourth inning was the largest part of that comeback for McQuaid. Hunter Walsh, who won't be able to pitch after throwing six and a third on Thursday, was taken out of the game and then re-entered, settling in after his rough start.
How they got here
McQuaid
The Knights opened sectional play in the quarterfinal round against Rush Henrietta and won, 8-4. They gave up three first inning runs to the Royal Comets before Erik Johnson bore down and allowed just one in the final six innings. Tyler Griggs supplied the biggest blow for McQuaid's offense with a bases-clearing double.
McQuaid matched up with Penfield in the sectional semifinals and Hunter Walsh pitched six and a third innings with nine strikeouts in a 3-1 win. Defense was the order of the day for the Knights, as Jarrett Odorisi and Griggs made standout plays before a bases-loaded double play ball ended the game.
Victor
The Blue Devils led 5-0 over Hilton and seemed to be in cruise control in the sectional quarterfinals. But then the Cadets came back with five runs in the top of the fourth inning. The game's last run would be scored in the bottom of the fourth as Santino Rosso scored on a single by Ryan Lukas so that Victor could escape with the win.
The semifinals would not be as close for Victor, which came out with eight first inning runs in an offensive explosion. Chris Varone homered and tripled, Ryan Lukas went 4-for-4 and the Blue Devils beat up on Webster Schroeder, 15-2.
What they're saying
Victor senior Chris Varone: "McQuaid beat us last year so it's nice to get to play them again… We've just been waiting ever since then. We knew we were gonna get our shot at them. So now's our time, we've got to come out and play again."
Victor junior Ryan Lukas: "Everyone on our team is pretty gritty and wants to get to the sectional final and beat McQuaid."
Victor head coach Sean Rucker: "McQuaid is very talented. They'll have the lefthander pitching, defensively so solid. Very scary offensively and they can run all over you on the bases."
McQuaid head coach Tony Fuller: "Our guys are prepared, it's not easy. We're looking forward to being back and trying to defend our title."
Fuller: "The regular season might have been a little bit more of a grind. I think they were waiting for this big stage. It's here and they're performing."
McQuaid third baseman Tyler Griggs: "Got one year under my belt in the sectional final, got a lot of returners that were here from last year. We're just ready."
McQuaid pitcher Hunter Walsh: "Last year I've never been a part of something so special, (Ben Beauchamp) coming up with a big home run, all those events that led up to it, all of our comebacks, it was crazy. This year again, being back here, I can't wait to see what we do on Saturday."