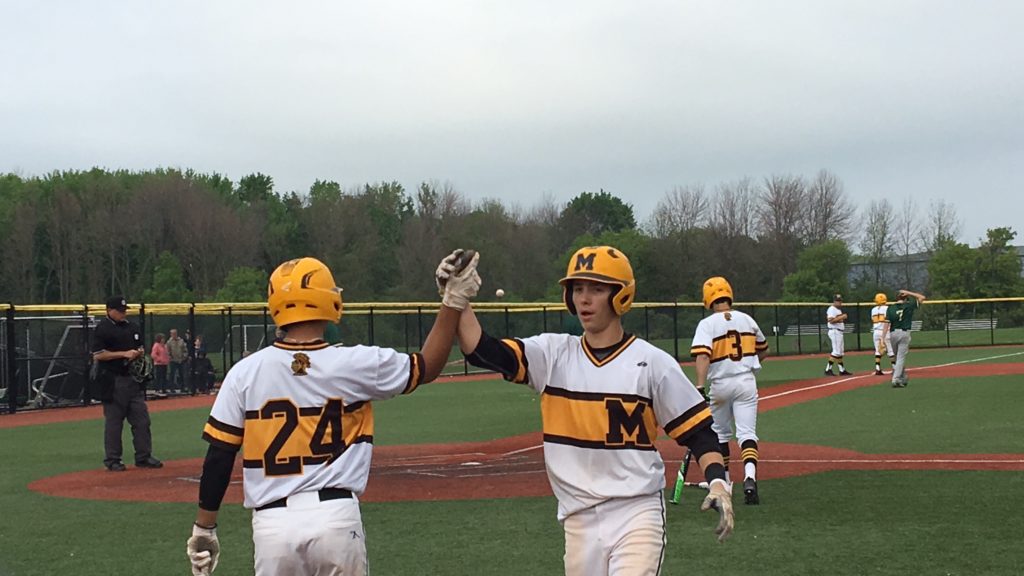 AA QUARTERFINALS
(1) VICTOR 6
(9) HILTON 5
Owen Delforte pitched 4 innings of relief giving up just 3 hits and striking out 7 – the last strike out coming to end the game with a base runner on third – to ensure top-seeded Victor's season stayed alive and pace the Blue Devils to a 6-5 victory over #9 Hilton in Class AA Quarterfinal action.
With Victor seemingly in complete control leading 5-0 heading into the top of the fourth inning, the Cadets struck for 5 runs, chasing starting pitcher Andrew Westbrook. The first 6 batters in the inning reached safely on one walk, three singles and two doubles. Morgan Kunigan, Collin Nelson, Jackson DiPalma each had RBI singles in the inning while John Cavallaro drove in two with a double to centerfield to knot the game at 5-all.
Victor plated what would eventually be the winning run in the bottom of the fourth as Santino Rosso singled to lead off the inning, reached second on a single by Chris Varone, and eventually scored on an infield single by Ryan Lukas. On the play, Varone was thrown out trying to score on the play as Hilton first baseman Nicholas Rohloff delivered a perfect strike to Cavallaro who applied the tag.
Hilton, who defeated 8th seed Franklin 16-2 on Monday, found itself in an early hole as Victor scored two runs in the first and three in the second. In the opening inning, Lukas delivered a two-RBI single and in the third and in the second, Varone's double scored two and Zack Carpin immediately drove Varone in with a single.
Victor (16-5) survived and advanced to play the Fairport-Webster Schroeder winner on Thursday. Wednesday's Fairport-Schroeder was postponed until Wednesday due to weather.
Hilton's season ends at 9-13.
For the game, Lukas and Carpin each 2-for-3 while Rosso and Varone reached safely twice in four at-bats. Lukas and Varone each had 2 RBI. The Cadets were led by Cavallaro and Kunigan who had 2 hits in 3 at-bats. Cavallaro had 2 RBI.
(2) McQUAID 8
(7) RUSH-HENRIETTA 4
McQuaid's Erik Johnson cruised through the game's final six innings after allowing three first-inning runs. Tyler Griggs blew it open with a three-run double in the third. READ MORE.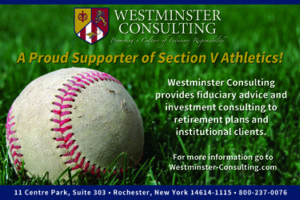 A1 QUARTERFINALS
(2) PITTSFORD-MENDON 4
(10) GREECE ARCADIA 2
Mendon pitcher Hudson Bockmier induced a pop-up to end the game with the bases loaded and second-seeded Pittsford Mendon escaped upset-minded Greece Arcadia, 4-2, in a Class A1 Quarterfinal tilt.
The 10th-seeded Titans loaded the bases with two outs  in the top of the seventh after Nathan Yantz drew a 7-pitch walk, Ben Bell singled and Kyle Blum reached on an error. But the threat ended there as a short pop up was corralled by left fielder Skyler Baakman to end the game.
Neither team could muster much offense after the first inning, which saw the Vikings take a 2-1 lead. In the opening at bat, Yantz laid down a perfect bunt to score Drew Southcott streaking in from home. But Mendon answered in the second as Bockmier delivered a 2-out, 2-RBI single to score Kyle Wallman and Jake Ring.
Mendon increased the lead to 4-1 with a single tally in the third – a solo home run by Jared Petrichick – and an RBI single by Jacob Wilson in the fourth.
Arcadia cut the lead to 4-2 as Justin Augustine scored on an error but Mendon made up for it on the play by firing home to catch Isaac Yorkey who was attempting to score.
Hits were at a premium for both teams, as Mendon only notched four hits and Arcadia five.
Nic Ferreira earned the win for Mendon, pitching 4.2 innings and giving up four hits. Bockmier earned the save allowing just one hit over the final 2.1 innings. Ray Mineo took the loss, despite a strong outing scattering four hits over four innings,
Arcadia, which upset Eastridge 9-5 on Monday, finishes 5-16. Mendon is 15-6 and plays the winner of Brockport-Pittsford Sutherland on Thursday. Wednesday's Brockport-Sutherland game was postponed due to weather.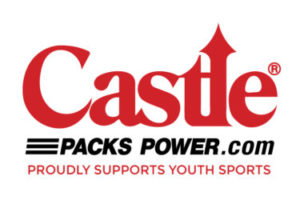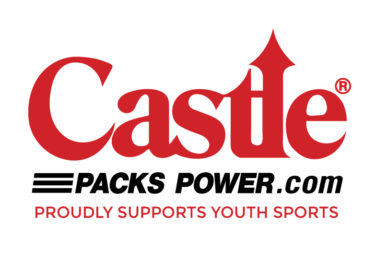 (4) IRONDEQUOIT 1
(5) GREECE ATHENA 8
James Sciortino struck out six and walked one. He retired seven of eight from the end of the third to the beginning of the sixth and set down 9 of the last 12 batters he faced. READ MORE.
CLASS B QUARTERFINALS
(1) NEWARK 12
(8) HORNELL 3
Julius Teabout allowed  two runs on four hits over 5 strong innings to pick up the win. Teabout struck out four and did not issue a walk. Caden Murray led the Newark offense going 2-for-4 including a bases-clearing doubled which highlighted a 6-run Newark second inning. Murray finished with 5 RBI on the day. Jayden Cintron sparked a six-run 6th inning with a leadoff double. Landon Berrios was 2-for-3. Lucas DeVito doubled and drove in a run. Ben Cowles finished 1-for-2 with an RBI and two stolen bases. Newark (16-5) plays the winner of the Penn Yan vs. Bath game on Thursday at a neutral site in the Class B semi finals.
CLASS C2
(2) GENESEO 3
(7) CALEDONIA-MUMFORD 0
Jason Valentine scattered six hits in a complete-game shutout. Valentine struck out eight, walked none and threw first-pitch strikes to 20 of 27 batters faced. Luke Harris broke a scoreless tie in the fifth when he plated Owens Lyons with a one-out single. Lyons reached on a dropped third strike and stole second before coming home with the eventual game winner. Later in the frame, Valentine drove in Harris with a sacrifice fly. Cole Flint finished 2-for-2 on the day with a walk and an RBI. Geneseo (14-5) will play the South Seneca/Romulus winner in the Thursday's semifinal.
CLASS C1
(5) PEMBROKE 15
(4) SODUS 5
CLASS D1
(5) FILLMORE 11
(13) PAVILION 0
(2) BOLIVAR-RICHBURG 11
(7) CG FINNEY 0
CLASS D2
(1) BELFAST 4
(8) PRATTSBURGH 0
(3) AVOCA 5
(6) BRADFORD 4