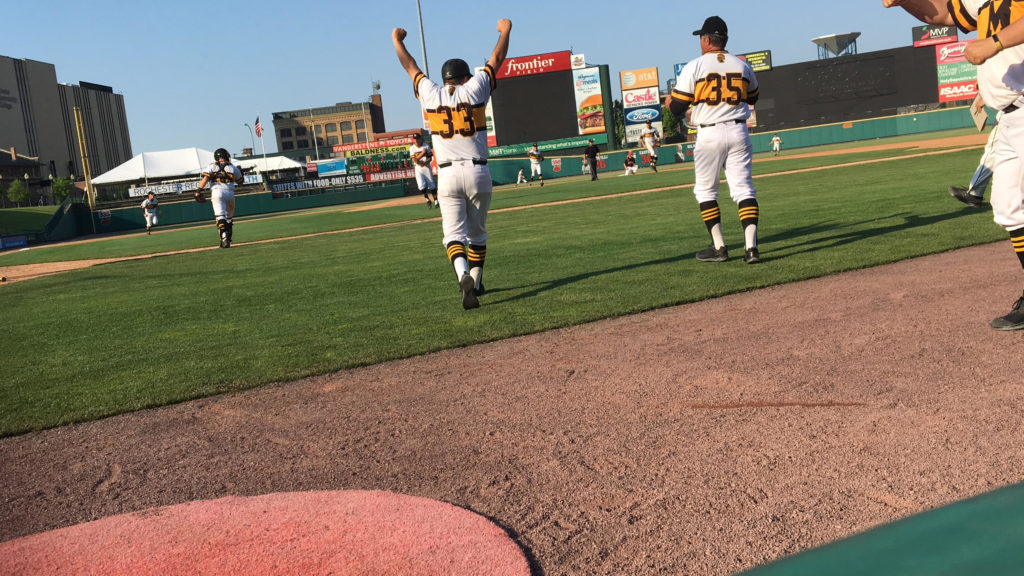 By BILLY HEYEN
ROCHESTER, N.Y. — For the third time, McQuaid head coach Tony Fuller burst out of the dugout. He raised both arms skyward. The Knights were heading back to the sectional finals.
Ryan O'Mara, on to close the game, faced a bases loaded situation with one out. The tying run was on second. But a groundball to Noah Campanelli at shortstop started a 6-4-3 double play. The Knights escaped, in large part because of two huge defensive plays that Fuller got to celebrate earlier.
"I'm fiery," Fuller said. "Especially in big games. I'm competitive. People always tell me I wear my emotions on my sleeve and I know no other way. I can't stop it now."
A 6-4-3 double play ends it. (2) @McQuaidBaseball wins over (3) Penfield, 3-1. The Knights relied on a few standout defensive plays to move on to Saturday's Class AA sectional final. They'll play the winner of tonight's Schroeder/Victor game. @PickinSplinters pic.twitter.com/zBHmpqQYOf

— Billy Heyen (@Wheyen3) May 24, 2018
The double play, along with standout fielding from Tyler Griggs and Jarrett Odorisi, set the tone for the Knights in a 3-1 win over Penfield in the Class AA sectional semifinal at Frontier Field on Thursday night. Hunter Walsh relied on his defense and fastball command to last six and a third strong innings on the mound. And three runs in the first three innings held up for two-seed McQuaid. The Knights will face the winner of the nightcap between Webster Schroeder and Victor on Saturday morning in the Class AA Section V final.
"Our guys are prepared," Fuller said. "It's not easy. We're looking forward to being back and trying to defend our title."
The runs all came before McQuaid's defense was forced to make its few big time plays. A Ben Beauchamp leadoff single in the bottom of the first, followed by a steal of second and move to third on an overthrow, scored on an O'Mara groundout to get the Knights on the board.
In the bottom of the third, McQuaid got its final two runs. Odorisi, batting out of the nine hole, led off with a walk and stole second. The Knights moved into a first and third situation when Beauchamp reached on a fielders' choice that didn't record an out. Campanelli grounded out to the second baseman to bring home Odorisi. Then Griggs delivered the biggest blow.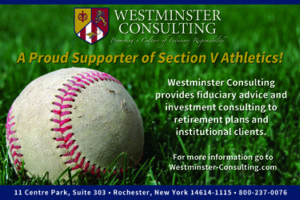 After striking out his first time, for the second-straight game saying he was "so anxious," Griggs went for an opposite-field approach against Penfield freshman Gage Ziehl. It worked, as he lofted a ball deep down the leftfield line that hit a diving outfielder's glove but fell for a run-scoring double.
"You're gonna have games like that," Fuller said, "where facing a kid, I know he's a freshman, one of the best in the area. You gotta grind out victories with good pitchers like that."
McQuaid had done its scoring, "grinding" as much as it could against Ziehl, who pitched his final three innings without allowing a run. It just needed to shut down the Patriots. And in the fifth, Penfield looked to mount a comeback.
Andrew Ebersol stroked an opposite field double with one out and moved to third on an error. A wild pitch scored him, and the Patriots had life. Walsh used his fastball to strikeout Daniel Stapleton on a foul tip for the second out. Then, Brendan Miller rolled a ball through the left side.
On charged Odorisi. Penfield had just pinch run for its catcher, so Patriots head coach Nick Marcin didn't hesitate to wave his guy home. Odorisi made sure it wouldn't be close, firing a one-hop strike to Beauchamp, who completed the play with a tag. Fuller unleashed some screams and a few fist pumps.
"I can't say enough about Jarrett Odorisi," Fuller said. "Senior, nine hole. He's a bigtime hero in this game. That throw at the plate was enormous."
Jarrett Odorisi just gunned a runner at the plate to end the top of the fifth for @McQuaidBaseball. McQuaid leads 3-1 after four and a half. Odorisi leads the bottom half off. @PickinSplinters pic.twitter.com/IlWVrgRxHr

— Billy Heyen (@Wheyen3) May 24, 2018
In the top of the sixth, Penfield again put a runner on third. With two outs, Robert Bradley rolled over toward Griggs, playing just behind the third base bag. He charged, gloved and threw sidearm. Out by a hair.
Griggs kept his sprint going right at his head coach, who again pounced out of the dugout in excitement. They slapped low five as the team celebrated with Griggs, who said he was "ecstatic."
Tyler Griggs throws out Bradley on this slow dribbler, Tony Fuller gets fired up again and we head to the bottom of the sixth. @McQuaidBaseball stays up 3-1. @PickinSplinters pic.twitter.com/95G9aeZ9ba

— Billy Heyen (@Wheyen3) May 24, 2018
The bottom of Penfield's order made it interesting in the seventh. But O'Mara's double play ball ended it and ensured McQuaid would get a shot to defend its Class AA Section V title.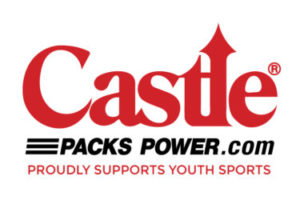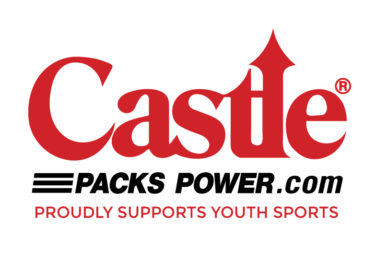 Last year, McQuaid had to comeback with a Beauchamp home run and an extra-innings walkoff to claim the title. This year, many of the players have now been there before. Walsh said he's never been a part of something so special as last season. Griggs said he knows now that he'll be anxious, so he's just going to try and relax.
And Fuller, who said this team is "fiery" and not changed much from last year, thought the regular season may have been a bit of a grind for the Knights. It's hard to compare regular season baseball to a state tournament run. But he sees what he saw last year again.
"I think they were waiting for this big stage," Fuller said. "It's here and they're performing."