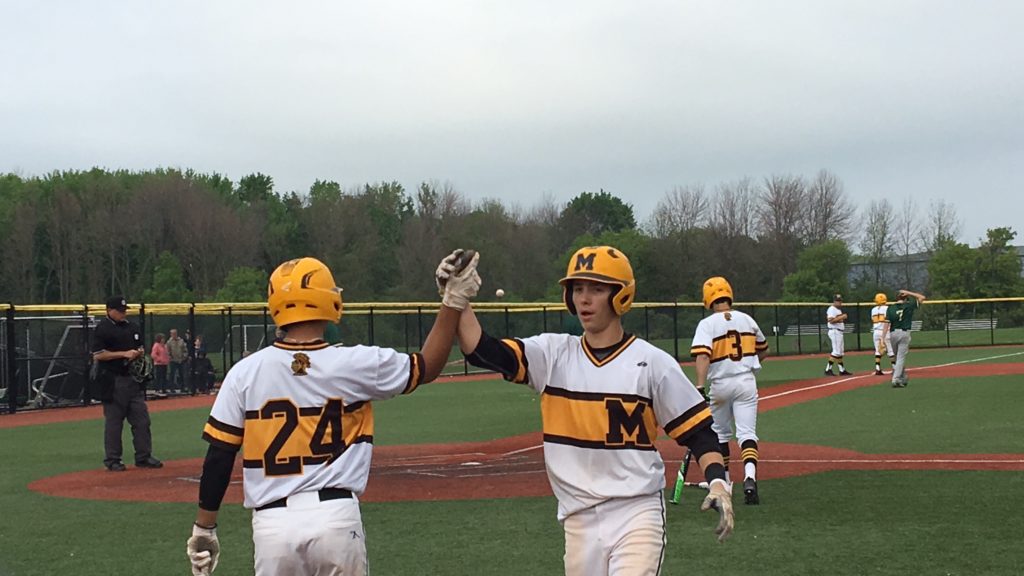 ROCHESTER, N.Y. — To win last year's Class AA sectional title, McQuaid needed to comeback against Rush Henrietta. This year, to survive the quarterfinal round, the No. 2-seeded Knights had to dig out of an early hole against the Royal Comets, again.
"I don't think we've been ahead in a sectional game in two years," McQuaid coach Tony Fuller joked. "So these guys are used to it."
The guys Fuller said are used to it showed just that. McQuaid's Erik Johnson cruised through the game's final six innings after allowing three first-inning runs. Tyler Griggs blew it open with a three-run double in the third. An 8-4 comeback win on Tuesday at Monroe Community College sets McQuaid up for the Class AA semifinal on Thursday against the winner of Wednesday's Churchville Chili versus Penfield game.
And as the last six Rush Henrietta batters were retired by Johnson, the Knights were right back on the trail they paved en route to last year's sectional title, that of the comeback win.
There needed to be a deficit to continue that trend, though, and the Royal Comets jumped on Johnson early, something that Fuller said happens often and inexplicably to his tall lefthander. Lukas Haefner laced a leadoff double. Two more singles followed before Andrew Sanchez drove in R-H's second and third runs with a booming triple into left-centerfield, his lone hit in three at bats.
Fuller credited his assistant coaches for sticking in his ear and reminding him that Johnson often gets down early. It paid off with the way Johnson threw in the final six innings.
"True to form, Erik gives up three in the first and then kind of cruises the rest of the way," Fuller said. "We can't figure out why but that's kind of what he's done all year."
In the bottom of the third, McQuaid was primed to take the lead for itself. The bases loaded up on three singles, including one by Thomas Manno, who finished the game 2-for-3. Up stepped Tyler Griggs, McQuaid's three hitter who had missed the last four games with a leg injury. There were two outs, and he was amped.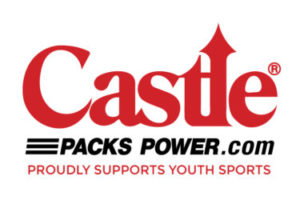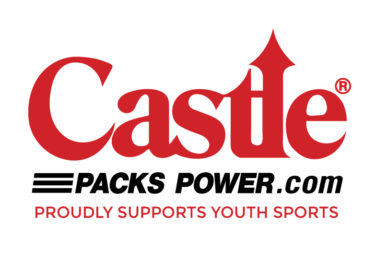 Recalling the at bat, Griggs said that first pitch he swung all out at a hanging curveball. He fouled it off. Then he chased a high fastball and missed, saying he was "so anxious." Griggs stepped out and told himself to calm down. He fouled off two pitches to remain down 0-2. Then the lefty-hitting Griggs ripped the ball into the left-centerfield gap to score all three runs. He wound up on second with a double, his only hit of the day since he was intentionally walked twice afterwards.
"I was able to step out and just calm myself down and sit on the pitch he threw me," Griggs said.
After McQuaid tacked on a fourth run in that frame, Johnson went back out to the mound with his first lead of the day. As voices on McQuaid's bench encouraged a "shutdown" inning out of the Knights' lanky lefty, he didn't disappoint. He blew a fastball by the first hitter for a strikeout. Groundouts to third and first followed. He walked back off the mound, his infielders sprinting by him whooping it up, Johnson a face of stoicism and calm amidst the excitement.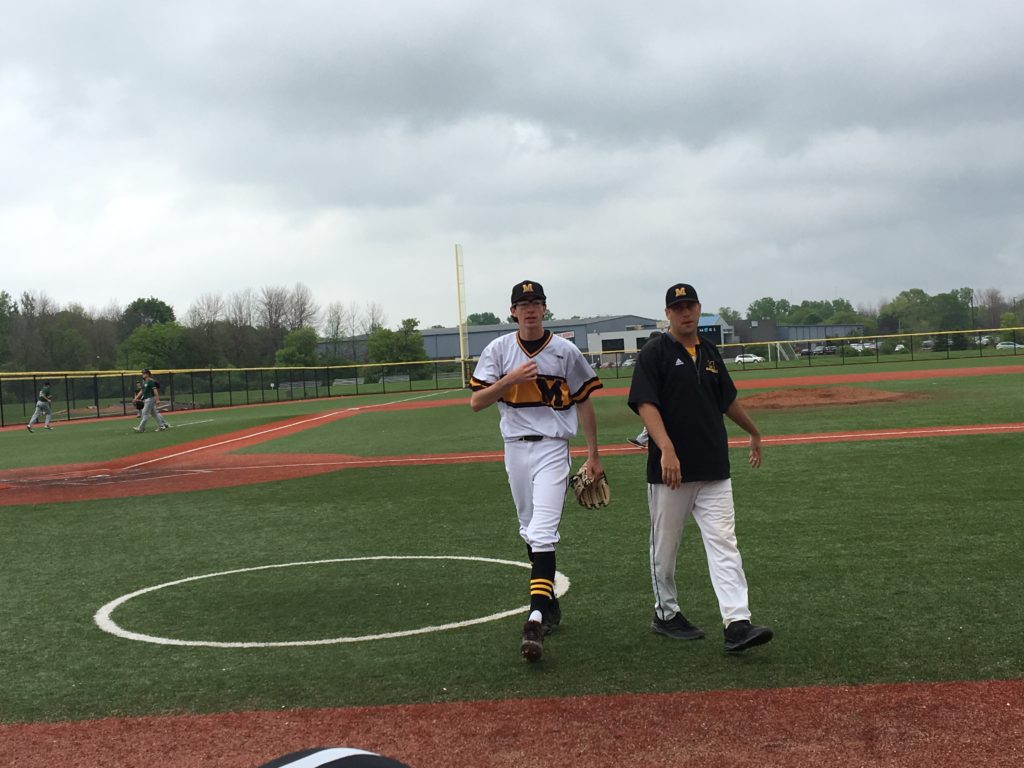 From there, it was all Knights. They added a run in the fourth before one more big inning in the fifth. Unlike McQuaid's four-run third, when it tallied five hits, there would be only one hit in the bottom of the fifth. It came from leadoff hitter Ben Beauchamp, who singled through the left side as part of a 2-for-3 day.
Then came the small ball. After the Beauchamp single, the next two batters tried to sacrifice. Neither needed to give themselves up, as it turned out.
Noah Campanelli was hit by a curveball, and then the Royal Comets eventually put Griggs on first intentionally. Another walk followed, and after a strikeout, McQuaid's AJ Fina laid down a safety squeeze bunt with the bases loaded and one out. It worked, as R-H's catcher vacated home plate so a toss there didn't get anyone out. A sacrifice fly followed to give the Knights their eighth and final run.
McQuaid went for the one out bases loaded bunt to score another run. It's 8-4 then after a sac fly following that. @PickinSplinters pic.twitter.com/EBpDZrUGsD

— Billy Heyen (@Wheyen3) May 22, 2018
"We run well," Fuller said. "We bunt well. And we also got guys that can swing it in the gaps. So we're a pretty complete offense and I think we showed it today. We can do a lot of different things, and we're pretty good with our execution of it."
Once McQuaid had put those three final runs on the board, Johnson didn't mess around. Strikeout, groundout, lineout in the sixth. Flyout, groundout, groundout in the seventh.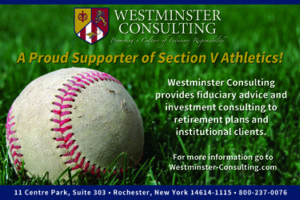 Postgame, Johnson said he wasn't sure whether he'd be able to go the distance after the first inning ended. He found the right mindset, though, and the final six innings were a relative breeze.

"It's like, we're settled in now," Johnson said of his mindset after the first inning. "Just find your groove and put it in cruise control and finish the game."
Now, McQuaid heads to the semifinals, where the Knights are guaranteed to play a team they haven't yet this season. Even with an unfamiliar opponent, if McQuaid gets down early, panic won't set in. The Knights are too used to coming back.
"Last year we were a comeback team," Griggs said. "We came back like every single game. Just gives us something to play for when we get down."