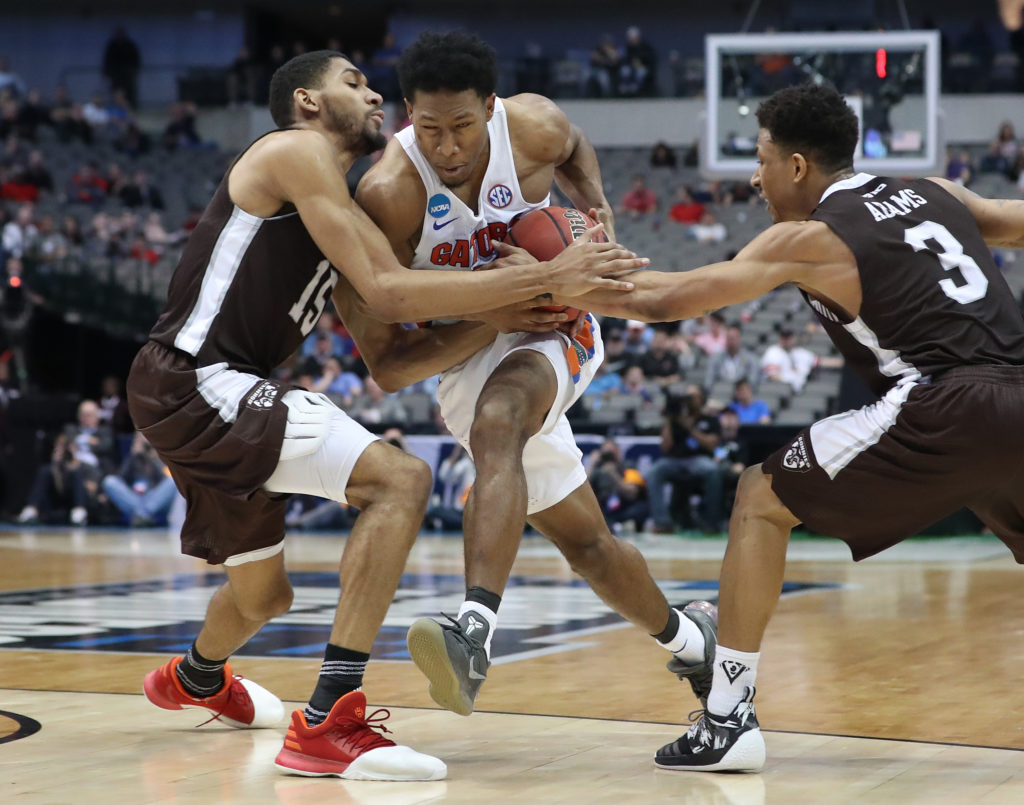 By JOE CERAULO          
  DALLAS – When a school with less than 1,700 undergraduate students has members of their student body travel over 1,300 miles to meet with alumni from all over the country in Dallas for a common cause, something special must be brewing.
            That something special was St. Bonaventure's round-of-64 NCAA tournament game Thursday night, in which they fell to the University of Florida 77-62.
            Although the game was close for the first 20 minutes, the Bonnies couldn't connect from beyond the arc to make up ground when they needed to, making just three of 19 shots from deep.
            After a poor offensive performance Tuesday, senior guard Jaylen Adams got on the score sheet early for the Bonnies in this one due to his ability to get to the line in the game's opening minutes. However, down 20-9 with just over 10 minutes remaining in the first, Adams was forced to the bench with his third personal foul.
            With Adams sidelined, guards Matt Mobley and Nelson Kaputo chipped into the Gators' lead. The team also played drastically better defense, holding Florida scoreless for over five minutes while scoring 10 unanswered since switching to the same zone defense that forced 20 UCLA turnovers earlier in the week.
            Mobley capped off the 10-0 run with an emphatic two-hand slam off a feed from sophomore center Amadi Ikpeze in transition.
            The dunk, followed by a Gators offensive foul, electrified the scattered but deafening Bonaventure crowd.
            Then, something that seemed unlikely just minutes before happened.
            With three minutes left in the half, a free throw from Idris Taqqee put the Bonnies up 22-21, giving them their first lead since being up 5-4 in the first four minutes. Florida guard Mike Okauru quickly answered with a three to regain that lead for the Gators, one they would not squander again.
            Another three by Egor Koulechov extended the Gators' lead to five and silenced an otherwise raucous Bonaventure crowd, forcing Mark Schmidt to use his team's first timeout with 1:15 left in the half.
            The Bonnies went into the locker room trailing 27-22 at the half, without Adams for the final 10:14 of play.
            The Gators came out of the half aggressively, never giving St. Bonaventure a chance to redeem themselves.
             Four quick turnovers and a 7-0 Florida run forced an early timeout by Schmidt, as St. Bonaventure faced their largest deficit thus far, down 34-22, less than two minutes into the second half.
             "They came out, punched us in the mouth and we couldn't get over the hump after that," said Mobley of Florida's second half.
            After St. Bonaventure chipped away briefly from the line, Florida regained control and forced the Bonnies to use yet another timeout with 12:21 remaining in the game down 14.
            By that timeout, the Gators had managed to outscore St. Bonaventure 38-19 with Adams in the game, making many wonder if the Bonnies chances at coming back would be better with him on the bench.
            Adams stayed on the floor, and the Bonnies never recovered.
            Every time the lead was cut into, the Gators seemed to answer with an immediate run, never allowing the Bonnies to compete in the final 20 minutes of play.
            "It's hard to look at it right now," said Adams of the loss. "It was a historic season, and I couldn't be prouder of my teammates and the way we fought all year. From losing that first game to our 2-4 start in conference play, we battled all year. It's a tough way to go out, but I'm proud of my guys."
            The best performance for St. Bonaventure may have come from Taqqee, who despite standing at just six-foot-three-inches, grabbed 13 rebounds, more than anyone on the court.
           "He's one of the most unselfish players I've ever coached," Schmidt said of his senior guard. "He never complains, guards the hardest guy offensively, and if you look at tonight, he had 13 rebounds. He wasn't going to quit. He epitomizes the toughness, grit and blue-collar approach we try to play with."
            Schmidt's praise of Taqqee didn't end there.
           "He's the glue of our team, he brings us together. He's all about winning, and he's going to have a lot of success in his career because of that."
            While the Bonnies' season has concluded, the Gators will go on to face the No. 3 seed in the East region, Texas Tech, Saturday night in Dallas.
            Florida's coach, Mike White, acknowledged that last year's meeting with the Bonnies, a much closer game, helped his team's preparation for this matchup.
            "It was to our advantage to understand how good they (Adams and Mobley) are," White said. "If this was the first time we played them we definitely wouldn't have been as defensively prepared."
            St. Bonaventure finished the season with a school-record 26 wins. Although it ended sooner than many had hoped, it was the school's most successful season since its 1970 Final Four appearance and certainly a year that will never be forgotten.