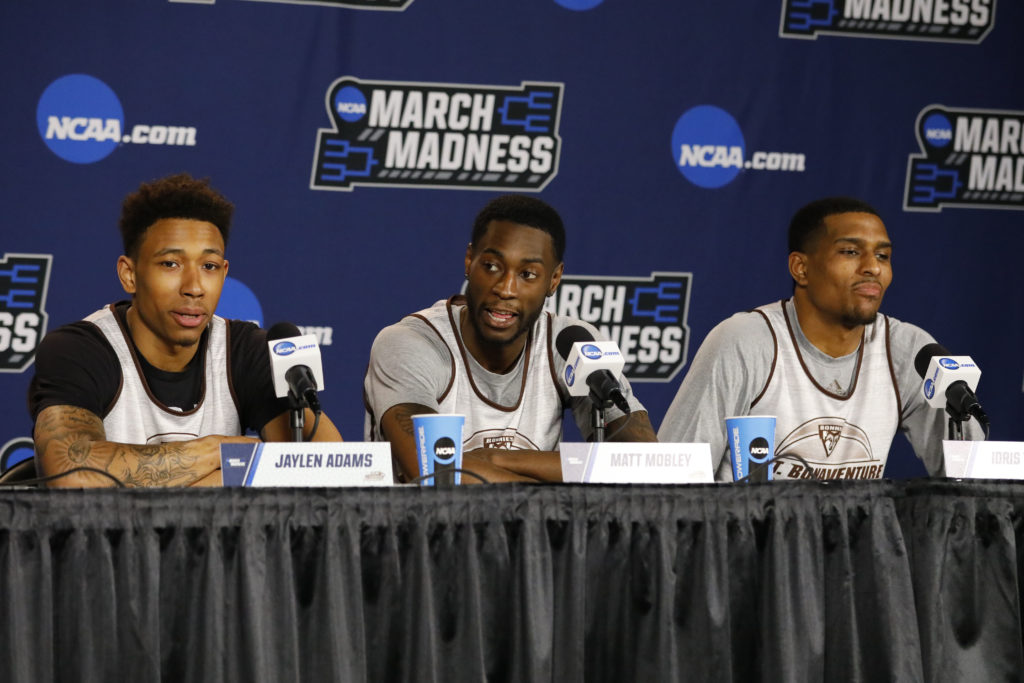 By PAUL GOTHAM
St. Bonaventure's only road win over a ranked opponent in program history occurred at the University of Dayton Arena with Jaylen Adams in the lineup. That's not the sole reason to like SBU's chances when the ball goes up Tuesday night.
Despite the grumblings about Bona being relegated to a perceived "play-in game"  the Brown and White's trip to central Ohio has possibility of reaping dividends beyond Tuesday night.
In the seven years of its existence, the First Four, played annually at UD Arena, has produced one team a year that has advanced past the field of 64 including a Final Four squad and a pair of Sweet Sixteen teams.
(Necessary Sidebar – because Bona nation tends to look at a 3/4-full pint glass as close to empty – before doing the simple math that gives Bona a 25 percent chance of maintaining the streak, bear in mind two of the four games played over the next two nights involve matchups of 16-seeds. That has also been the ongoing format for the First Four. You just doubled your chances. Bottoms up.)
Sidebar ended.
Yes, starting with VCU (then of the Colonial Athletic Association) in 2011, First Four teams have made like that snowball on a downward trajectory.
Shaka Smart's Rams beat USC in the 2011 First Four, 59-46. Two days later they toppled sixth-seeded Georgetown (74-56) before knocking off Purdue (94-76), Florida State (72-71) and Kansas (71-61) to reach the Final Four where they lost to Butler (70-62).
The following year Stan Heath's South Florida Bulls beat the Cal Bears and the Temple Owl two days later.
Before there was the "Southwest Philly Floater" in 2013, Atlantic 10 rival La Salle opened with a win over Boise State. The Explorers then ousted No. 4 seed Kansas State before Tyrone Garland's aptly named game-winner grabbed Dr. John Giannini's club a Sweet Sixteen spot.
"It helped us a lot," Giannini said in 2015 interview. "If you can win that first game, you go into the second with all of the understandable jitters out and just a lot of confidence. I think those teams just play a lot looser and more confidently than the people playing their first game of the week."
Tennessee continued the trend in 2014 with their own trip to the regional semi-finals. Dayton took advantage of a de facto home game in 2015 and moved into the round of 32 with wins over Boise State and Providence. Wichita State won two games in 2016 including a victory over No. 6 Arizona, and USC beat Providence a year ago to advance before eliminating SMU.
Bona is no stranger to central Ohio where they have been traveling for games against their A10 foe since the mid-90s.
"If we have an advantage, it is that we played here a number of times," coach Mark Schmidt said during Monday's media sessions. "Our guys know the floor, the rims. So, yeah, there's a comfort.
"And I know that since we're playing in an Atlantic 10 arena, we know that we'll have a lot of fan support, not just from the Bonnies but from the Dayton people. So it should be a good night. It should be a great environment. And looking forward to it."
Bona struggled last time they visited Dayton in early January. Darrell Davis scored 28, and the Flyers handed SBU an 82-72 defeat. Chalk it up to a road loss in conference play.
Focus on 2016 when Jaylen Adams connected on five of nine from behind the 3-point arc and finished with 31 points to lead Bona past then No. 15 Dayton, 79-72.
"It's a little added comfort," Adams said Monday. "It will be nice to have some fans on our side in this building for once. I'm going to enjoy it a little bit. So, yeah, I think my comfort level is definitely up."
Adams combined with backcourt mate Matt Mobley to score more than 38 points per game this season. They have averaged 7.9 assists and hit 41.4 percent (115-271) from behind the 3-point arc.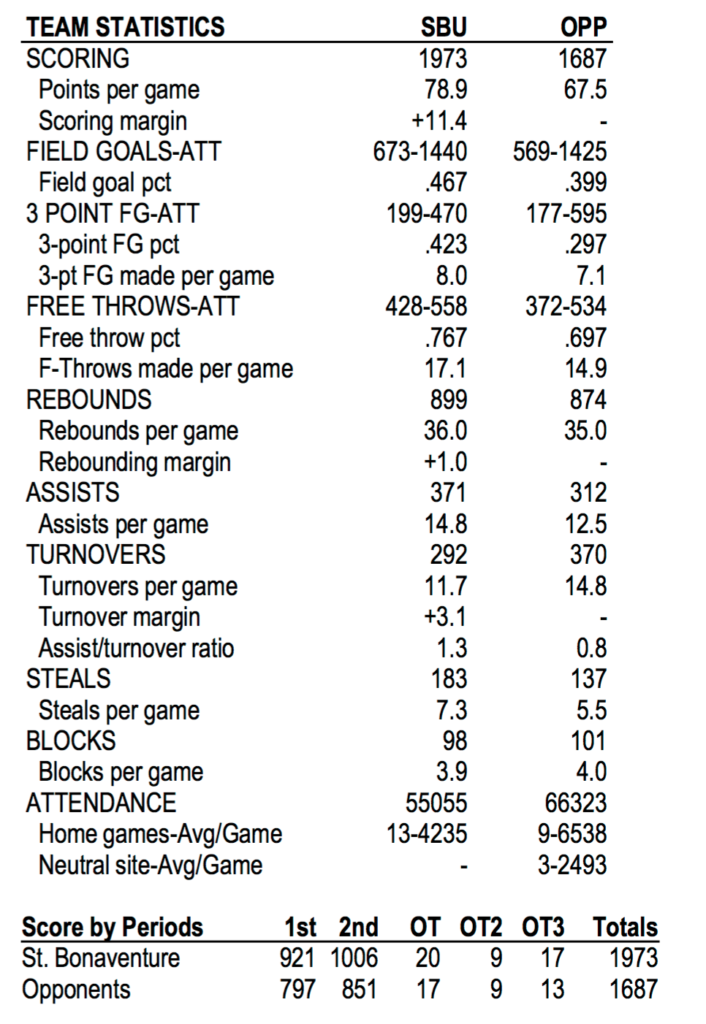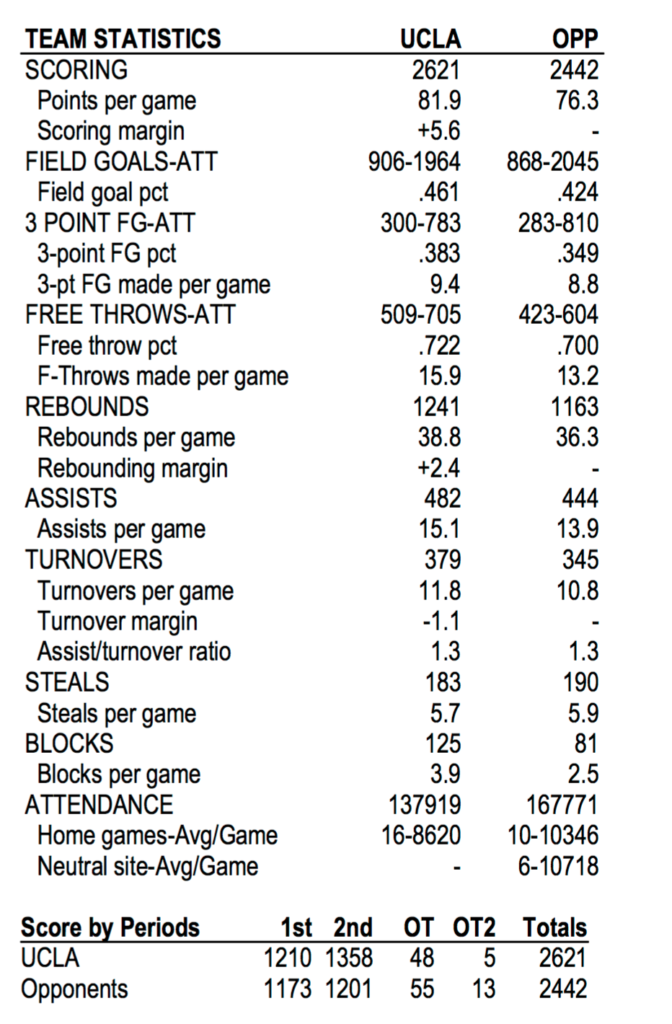 "Yeah, we have a lot of experience here," Mobley added. "Everybody here is used to the rims. We're used to the atmosphere. We know how loud it gets. We know the court. So I feel like it's an advantage, and we're going to take the most of that."
Add in the fact that Bona's opponent, UCLA, will cross to two zones to get to the game site, and things gets interesting.
Aaron Holiday (20.3 ppg/5.8 apg) leads a UCLA (21-11) squad which is 4-3 over its last seven games.
"They're a really good team," Holiday said St. Bonaventure. "I think they finished second in their conference. So we obviously know how good they are. But at the end of the day we've got to go in there and control what we can and just go out there and hoop. That's pretty much it."
Bona and UCLA tip off at 9:10. The game will be televised on TruTv. The winner gets No. 6 seed Florida in the East Region.