By JOE CERAULO
OLEAN, N.Y. – So much for a win in the Carrier Dome being the highlight of this season for St. Bonaventure.
The milestones keep piling up for the Bonnies, who ended the University of Rhode Island's nation-leading 16-game win streak with a 77-74 victory in front of a sold-out Reilly Center crowd Friday night.
The atmosphere seemed to get to the Rams early, as a shot clock violation with 12:45 to go in the first proved to be just one of the team's costly 17 turnovers, a season high.
URI head coach Dan Hurley acknowledged the atmosphere after the game.
"Coming in we knew we were playing an NCAA-caliber team in an unbelievable environment," said Hurley. "We knew we'd have to go to Hell and back to win this game."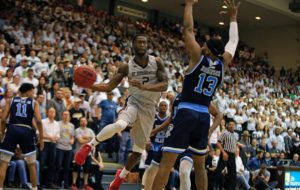 With just over five minutes left in the half an Amadi Ikpeze block led to a three by Matt Mobley. The basket put SBU up 29-26, causing the crowd to erupt and resulting in an altercation at half court involving Mobley, URI guard Stanford Robinson, and Hurley.
This wouldn't be the first time Hurley was on the court.
Nearly halfway through the second half, while URI's sophomore big Cyril Langevine was shooting free throws, a Bonaventure student launched an empty plastic shooter of Fireball onto the court.
This caused a fuming Hurley to storm onto the court, pick up the bottle and demand a technical foul from the officials.
His wish was granted.
The technical free throw by senior guard Jared Terrell tied the game at 48 and could have proved costly for the Bonnies.
Terrell lit up the first half with 17 points but finished with just 23 after being silenced in the second.
"I don't know what happened," said a semi-sarcastic Mark Schmidt. "Maybe it slipped out of someone's hand, but it could have been huge."
Despite Terrell's decline in the second half, senior guard E.C. Matthews stepped up after being held scoreless in the first.
He finished with 14 points, including a four-point play that put the Rams up 63-59 with 8:47 left to play.
"We need E.C. to get going," said Hurley after the game. "He's been in a little bit of a funk, and if I got two halves out of him like that second half I might be in a different mood right now."
Rhode Island held on to the lead for a few minutes, and with a chance to expand it, Courtney Stockard picked off a pass, went coast-to-coast and threw it down to cut the lead to four, reenergizing the crowd.
"It was huge," said Schmidt. "If they score they're up by eight, maybe nine, but he cut it down and the crowd got back involved."
Jaylen Adams had a quiet night offensively, shooting just 2-12 from the field. He scored his first bucket of the second half with 3:28 left in the game, a layup with some English on it that pulled the Bonnies within three.
Despite scoring just 10 points, his eight assists in an "off night" showed a lot about his maturity as a point guard.
"One of the main reasons we won is that Jay was able to get eight assists and a number of Matt's points came from him," said Schmidt.
"We told each other last year that both of us can't have an off game. If one of us is down the other has to pick him up," said Mobley. "I had the hot hand and he did a great job of finding me, especially in transition,"
Mobley's 26 points led all scorers, but it was junior forward LaDarien Griffin down the stretch who secured the victory for the brown and white.
Griffin gave the Bonnies the lead back twice in the final two minutes.
The first time came with just under two to play. After missing a point-blank shot, he secured his own offensive rebound and got the put back to go.
The second time caused the whited-out Reilly Center crowd to be the loudest I've ever heard.
Down one with 20 seconds left, Adams drew three defenders as he seemed to be looking for a shot around the top of the key.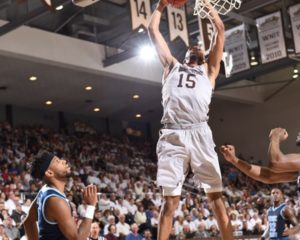 Noticing the defensive lapse, Griffin cut into the pain, was fed by Adams and slammed it home with two hands.
Asked what was going through his head as he received the pass from his guard he kept his answer short…
"Don't miss!"
A couple of Mobley free throws later, and fans were able to storm the court just like they did a year ago against a tournament-bound VCU team, only this time the Bonnies had sealed the deal.
After the game, Schmidt was asked about the obvious tournament implications this nationally televised matchup held.
"There was a sense of urgency," he said. "We knew it was a big game, that Rhode Island is going to win the league, and it was a barometer to find out where we were playing against the top dog."
The win gave St. Bonaventure 20 on the year, marking the third straight 20-win season for Schmidt and this program, a feat that has only been accomplished one other time in school history.
"I'm proud of what we've accomplished," said Schmidt regarding the milestone. "But we're not done.
The Bonnies' next game is Wednesday, Feb. 21 at 7 p.m. in the Reilly Center, a rematch with Duquense.