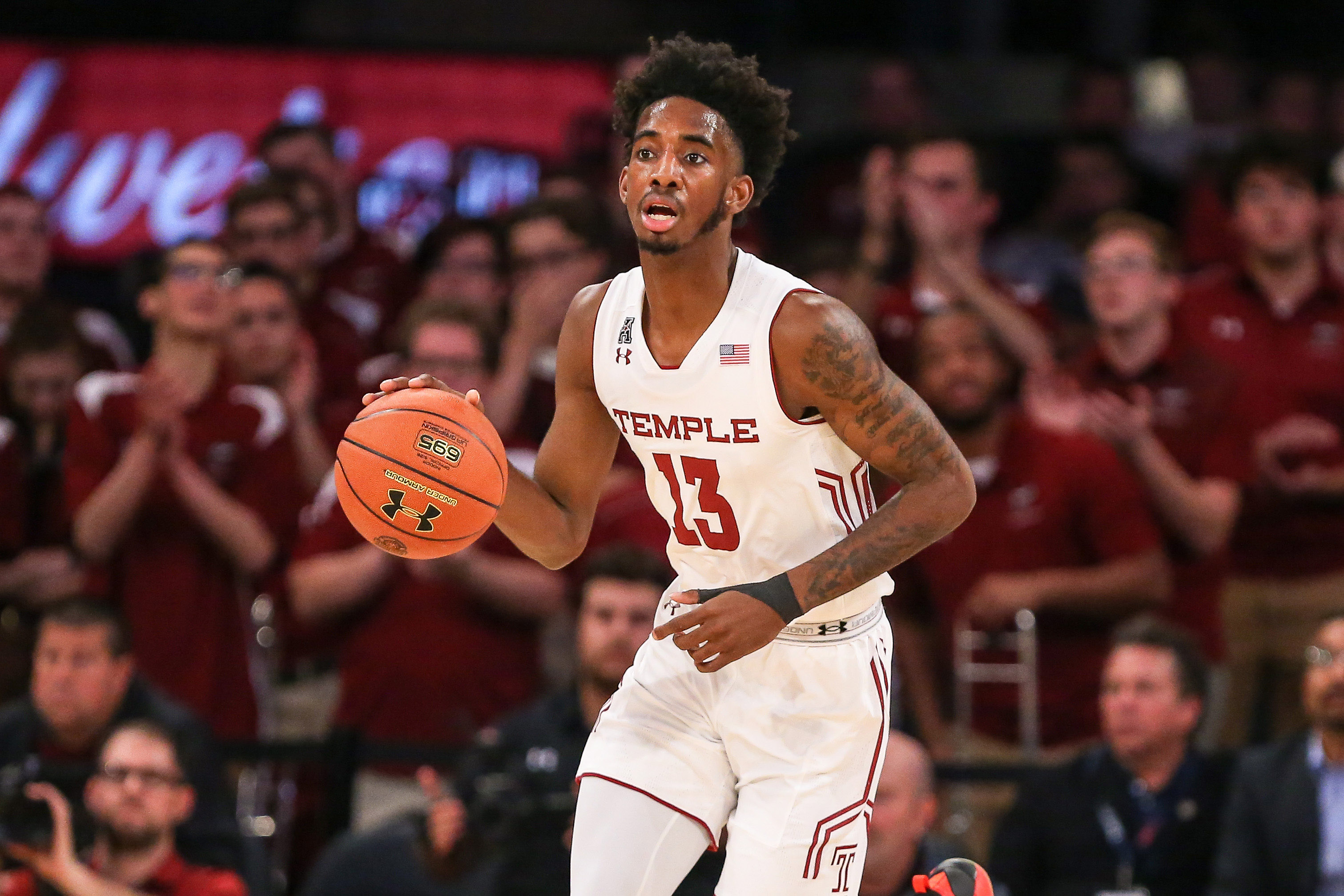 Courtesy of OwlSports.com
NEW YORK – Sophomores Damion Moore and Quinton Rose combined for 44 points to lead Temple men's basketball to a 76-60 win over South Carolina (5-2), a team that advanced to the 2017 NCAA Final Four. The Owls (4-1) played strong team defense and were in control for the final 30 minutes of the game at Madison Square Garden.
Keys to the Game
> The Gamecocks led 10-9 early, but an 11-0 run helped the Owls pull away for good. Temple led by as many as 23 points with six minutes remaining.
> Temple had its way in the paint all game long, scoring 76 points despite hitting an uncharacteristically low four three-pointers in the contest.
> The Owls had 13 players enter the game, including all four freshmen.
Individual Highlights
> Rose scored a season-high 24 points on 10-of-13 shooting from the field.
> Moore had a career game, scoring 20 points on 8-of-11 shooting to surpass his previous career high by nine. He added a game and career-high 10 rebounds for his first career double-double.
> Senior Obi Enechionyia had a huge second half, scoring 13 of his 15 total points. Overall, he hit 6-of-8 field goals and went 3-for-3 at the line.
> With six blocks, Enechionyia led all players and tied his career high. Enechionyia and Shizz Alston, Jr. tied for game-high honors with three steals apiece.
First Half
> South Carolina led 10-9 after a back and forth first seven minutes, but it was almost all Temple the rest of the way.
> The Owls exploded for an 11-0 run that turned into a 21-4 run, eventually taking a 16-point, 30-14 lead with 4:11 to go.
> Early in the run, Rose threw what was intended to be an alley-oop pass, from well beyond the half court line, that ended up in the net for an unlikely three-pointer.
> The Gamecocks made three of their four first-half treys in the final two minutes, briefly cutting the Owls' lead to single digits.
> Senior Josh Brown beat the buzzer with a long jumper to give Temple a 38-27 lead at the break. READ MORE.