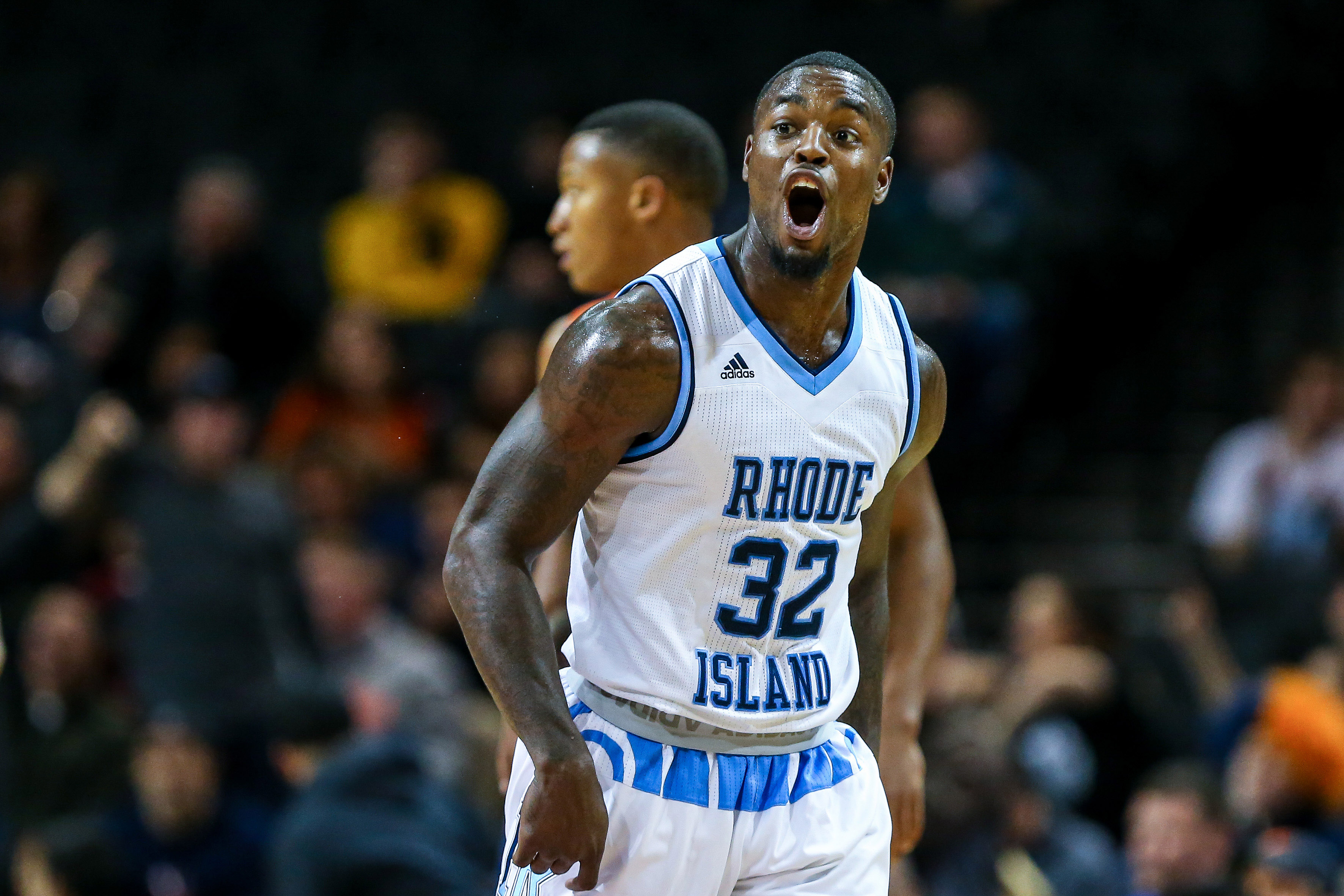 Courtesy of Atlantic10.com
NEWPORT NEWS, Va. – Rhode Island senior Jared Terrell was chosen as the Atlantic 10 Men's Basketball Player of the Week, while Richmond freshman Grant Golden was selected the league's Rookie of the Week. The awards, announced Monday are for games played Nov. 20-26.
Terrell scored a career-high 32 points and had the game-winning basket with five seconds remaining to carry Rhode Island past No. 20/22 Seton Hall in the opening game of the NIT Season Tip-Off. The forward from Weymouth, Mass., was a perfect 10-for-10 at the free throw line, 4-of-6 (.667) from 3-point range and 9-of-17 (.529) from the floor in the win. He followed that up with 11 points, six assists and two steals the next night against No. 25 Virginia. For the week, he averaged 21.5 points, 3.5 assists, 2.5 rebounds and 1.5 steals per game, was 6-for-8 (.750) from 3-point range and 11-for-11 (1.000) from the free throw line over two games. He was named to the NIT Season Tip-Off All-Tournament Team.
Golden averaged 19.5 points and 6.3 rebounds in four games during the week, all while shooting 59 percent from the field. He scored 26 points on Monday, doubling his previous career high of 13 points, and then nearly matched that twice with 24-point outputs on Wednesday and Saturday. The forward from Winchester, Va., also shot 58.9 percent for the week, hitting 71.4 percent of his shots (10-of-14) against Louisiana and 10-or -15 (.667) versus Georgetown. In one week, Golden had his first 3 career 20-point games, his first career double-double (24 points, 10 rebounds vs. Georgetown), and made the All-Tournament Team at the Cayman Islands Classic.
---
WEEKLY HONOR ROLL
Dayton's Josh Cunningham led the Flyers with a 20-point, 16-rebounds performance in a win over Akron, shooitng 7-of-10 from the field … Flyer freshman Jordan Davis had 14 points in the win over the Zips, hitting 4-of-7 (.571) from 3-point range … Mason freshman Goanar Mar scored 34 points in two games for Mason last week, with 14 rebounds, three assists and three steals …  B.J. Johnson had a monster week with a 16-point, 16-rebound double-double against No. 11 Miami, followed by 25 points in a win over rival Temple, 19 of which came in the second half … Rhode Island freshman Fatts Russell tallied a career-high eight points, including two key 3-pointers for Rhode Island in the win over No. 20/22 Seton Hall … Matt Mobleyaveraged 17.7 points and 4.7 assists for St. Bonaventure in a 2-1 week, tallying 16 points in a victory over Maryland … Bonnies freshman Izaiah Brockington had 18 points and five assists in SBU's win over Maryland-Eastern Shore and 20 points against TCU in the Emerald Coast Classic title game, earning a spot on the All-Tournament Team … Saint Joseph's Taylor Funk scored 11 points and had nine rebounds against Harvard, and followed that with 15 points and six rebounds in a win over Sacramento State … Saint Louis' Jalen Johnson had 24 points on 8-of-15 shooting (.533) against Detroit Mercy … SLU freshman Hasahn French had a 13-point, 11-rebound, five block performance against Detroit Mercy.