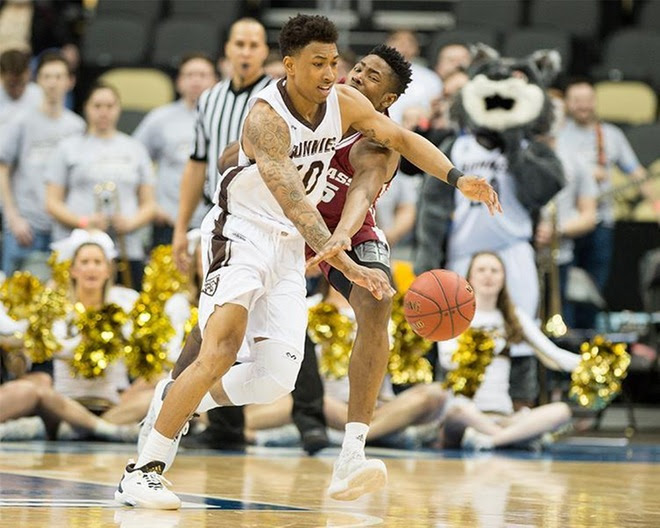 Courtesy of GoBonnies.com
ST. BONAVENTURE, N.Y. – St. Bonaventure senior point guard Jaylen Adams is one of 50 NCAA Division I players who have been named to the watch list for the 2017-18 Citizen Naismith Trophy for the National Player the Year as selected by the Atlanta Tipoff Club.
This is the 50th year of the Naismith Trophy. The list for the honor will be trimmed to 30 in February.
Adams has now made the watch lists for two national player of the year awards. He is also on the 32-player list for the Oscar Robertson Trophy, which is presented by the U.S. Basketball Writers Association.
Adams did not play in St. Bonaventure's season-opening loss to Niagara last Friday due to a sprained left ankle.
As a junior, Adams was the only Division I player to rank in the top 25 nationally in scoring (24th at 20.5 points per game) and the top 10 in assists (seventh at 6.5 per game).
Adams made the First Team All-Atlantic 10 each of the past two seasons. Last year, he also was named to the National Association of Basketball Coaches District 4 First Team and the USBWA All-District II team. Over his three seasons, Adams has scored 1,377 points, which ranks 21st in program history. He has led the Bonnies to back-to-back 20-win seasons the past two years.
For the full list of the players on the Naismith watch list, click here.