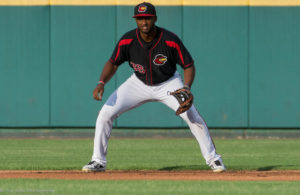 Courtesy of RedWingsBaseball.com
Niko Goodrum drove in a career-high six runs, the most RBI by a Red Wing since 2010, as Rochester scored 10 unanswered runs to beat the Louisville Bats 10-5 Saturday night at Louisville Slugger Field.
D'Angelo Jimenez was the last player to drive in six runs for the Red Wings (73-53). He did so on August 3, 2010 at Charlotte.
Rochester extended its lead in the Wild Card to 3.0 games after Charlotte knocked off Lehigh Valley for a second straight night.
The game did not start well for the Wings and starter Chris Heston. Sebastian Elizalde delivered a two-run single in the first to give the Bats (49-76) a 2-0 lead. Louisville would three more in the third as former Wing Adam Brett Walker just missed a home run and settled for a two-run triple. He scored one batter later on Elizalde's third RBI of the night and Rochester trailed 5-0.
ByungHo Park put the Wings on the board with an infield RBI single in the fourth against Bats starter Amir Garrett. Rochester would add three more in the fifth as Goodrum drove in his first run with sac fly, Daniel Palka beat out a potential double play ball to score another and Kennys Vargas made it 5-4 with an RBI single with two outs.
Neither starter would factor in the decision as Heston allowed five runs on 10 hits and a walk with one strikeout over 5.0 innings and Garrett was charged for four runs on nine hits and a walk with four strikeouts over 5.2 innings.
The Red Wings appeared in business against Ariel Hernandez (1-2) in the seventh after putting two runners on to begin the inning but two strikeouts and a groundout ended the frame.
Alex Wimmers (6-3) fired 2.0 perfect innings in relief of Heston.
Tommy Field opened the eighth with a double on an 0-2 pitch against Hernandez and Leonardo Reginatto was hit by a pitch and the go-ahead run was aboard. Carlos Paulino, in his first game with the Wings this season, executed a perfect sacrifice bunt to move the runners into scoring position. After a strikeout, Goodrum blooped a broken-bat single into center to give the Red Wings their first lead at 6-5. Goodrum stole second and scored on Matt Hague's RBI single to make it 7-5.
Louisville tried to rally in the bottom of the eighth as Scott Van Slyke doubled and Hernan Iribarren walked, both with two outs against Buddy Boshers. Jake Reed entered from the bullpen and got a groundout to end the inning.
Goodrum added a three-run homer in the 9th to cap the scoring at 10-5. Reed pitched a scoreless ninth to secure his fourth save.
Rochester matched a season-high with 17 hits in the win as each starter had at least one hit, Goodrum and Palka had three hits apiece and four other Wins recorded multi-hit games.
Next Home Game: The Red Wings begin a crucial seven-game homestand with a four-game set against Scranton/Wilkes-Barre (Yankees) on Monday, August 21 at 7:05 p.m. at Frontier Field.
Tickets: Order tickets online, anytime at RedWingsBaseball.com/Tickets or call 423-WING (9464) to charge by phone, Mon-Fri. 9 am-5 pm and weekend game days starting at 10 a.m.