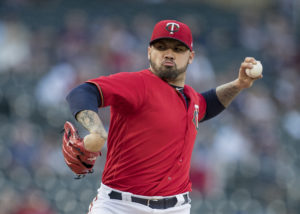 By CHUCKIE MAGGIO
ROCHESTER, N.Y. — Two Minnesota Twins regulars pitched rehab assignments for the Rochester Red Wings in Wednesday afternoon's series finale with the Buffalo Bisons, so naturally the main topic of conversation in the aftermath of the Wings' 3-1 victory was… the official scorer?
An otherwise relaxed Frontier Field crowd of 5,090 fans enjoyed the first official day of summer and series sweep, but was not pleased when Bisons outfielder Jake Elmore hit a ground ball to short in the seventh inning that took a bad hop and nearly hit Bengie Gonzalez in the face.
Up to that point, five Red Wing pitchers were combining for a no-hitter, but the official scorekeeper did not hesitate to rule the play a base hit. The ruling was immediately announced in the press box, but the left field scoreboard mistakenly showed error.
When the error popped up, the crowd cheered. When the correct scoring appeared, boos rained down from the stands. Atypical? Of course, but the game was destined to be unusual from the beginning.
Hector Santiago started for Rochester, his only scheduled rehab start for a shoulder strain before he is expected to rejoin Minnesota in Boston for a Monday start against the Red Sox. The Twins' plan was for the 29-year-old, who won 13 major league games last year, to throw either four full innings or 60 pitches.
Santiago threw 57 pitches in three innings, resulting in the hook from Wings manager Mike Quade, but he had a fine outing, striking out two batters and allowing just two baserunners via walks.
"I felt good," Santiago said. "I felt like I could've went back out there for the fourth, but pitch count kind of bites you right there. They fouled off a bunch of good pitches, but I came out of it good, felt good. So hopefully, on to the next one.
"I think (what worked was) just throwing strike one, besides the two walks. Just mixing off-speed, a good mix of change-ups, some good fastball command… overall, everything was working."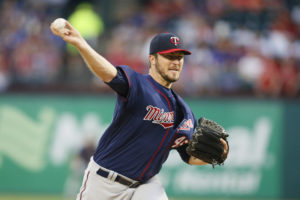 A few pitchers later (Kam Mickolio left the game after two batters with shoulder tightness and was replaced by eventual winning pitcher Mason Melotakis), Phil Hughes had his first inning of live action since a loss to the Kansas City Royals on May 21. Hughes, who won 18 games with the Yankees in 2010, had been sidelined with a buildup of scar tissue in his right shoulder.
Despite walking a batter, the 30-year-old kept the no-hit performance going in an otherwise spotless fifth inning. He threw 19 pitches, 10 for strikes.
"Neither one of them was locked in; I didn't expect them to be," Quade said of Santiago and Hughes. "But I don't know, four innings of no-hit ball? We'll take that as major league tune-ups.
"I wasn't really sure how I was gonna feel coming out of this," Hughes recalled. "I've only thrown two (bullpen sessions) and it's been awfully close to a month. I felt pretty good in the 'pen warming up and then coming in it was kind of just trying to feel my way through some things. Command was a little bit spotty but overall I accomplished what I wanted to do."
Hughes will rest the next two days before pitching on back-to-back days on Saturday and Sunday. Shutting down the International League-leading Lehigh Valley IronPigs will be no simple task.
"I think this week is gonna be the biggest test, throwing back-to-back days," Hughes said.
Pitching was the day's organizational focus, so much so that the lineup's home run showcase was overshadowed. All three runs were solo homers, with the "Killer Gs" (Mitch Garver, Niko Goodrum and Zack Granite) going yard.
D.J. Baxendale and Trevor Hildenberger closed out the six-pitcher effort. Baxendale allowed an RBI single to Mike Ohlman but held the lead while Hildenberger got two outs in the eighth and three more in the ninth to earn the save, his sixth of the year.
The Twins are in the American League playoff race, trailing the Indians by 1.5 games in the Central Division at 35-33. The competitive natures of Santiago and Hughes have made the rehab process a frustrating waiting game at times.
"It's tough to watch the guys you've been grinding with all spring training and the beginning of the season out there competing without you," Santiago said. "You feel bad the situation happened, obviously; Phil's in the same situation. But you'd rather take a 10-day break here and be able to finish the year strong instead of missing three months and not being able to compete for the rest of the year. I think that's what we did: take a step back, and hopefully we can compete with those guys for the rest of the year."
"I get to enjoy the town through the weekend," Hughes said with a smile, "and hopefully if all goes well I'll get out of here. No offense."
The Rochester media didn't take offense, and Roemon Fields's single in the eighth ensured the game's spectators, who were starting to think about witnessing history before Elmore's chopper to Gonzalez, wouldn't have a problem with the official scorer.
"I have a beef once in a while with a scorer, and if I'm adamant about things then I really get upset," Quade noted. "I know it was a no-hitter, (but) I've been around, that's a hit. (The scoreboard operator) put an error up at first and you get it, you kind of understand, but that's a hit.
"And at the risk at them scoring some runs, I was glad they got the second hit so we don't have to talk about that for very long."