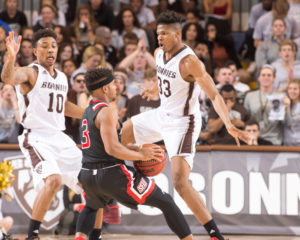 By PAUL GOTHAM
OLEAN, N.Y. — It played out like a scene from a soon-to-be-favorite rerun. St. Bonaventure's Josh Ayeni flashed to the free throw line, caught the ball, pivoted and found twine.
With his teammates connecting from long range, Ayeni found a soft spot in the University at Buffalo Bulls defense and took advantage. The freshman forward matched a season-high with 10 points as Bona outlasted UB 90-84 in Big 4 action at the Reilly Center.
"It's really important," Bona head coach Mark Schmidt said of Ayeni's impact on the outcome of the game. "They were downing screens meaning forcing the ball down to the baseline. That's the shot that's open. Those seam passes to the elbow – if you don't hit those, then they're going to stay down in those screens."
With the Bonnies leading by one midway through the first half, Ayeni took a feed from teammate Matt Mobley and connected for the first time in the contest. Before going into the locker room at half time, the 6-foot-8 native of Nigeria converted two more opportunities from 15 feet.
"It's kinda something we do, and we might give up," UB coach Nate Oats explained. "But the way we were guarding the other guys we didn't get a stunt from the back side on him."
His teammates had hit 6 of 11 three-point attempts. Ayeni balanced the effort knocking down three of Bona's 10 field goals inside the arc.
"It's like a zone," Schmidt added. "If you're not hitting jump shots against the zone, they're going to stay in the zone. It forced them to do other things…That's what you need to do against that type of defense to counteract it."
Ayeni opened the second-half scoring with a simple rebound and putback. He finished the day 4 of 11 from the floor and two of four from the free throw line. He grabbed five rebounds in 25 minutes of work.
Simple might be the best word to describe Ayeni's efforts in that he looks to keep his play basic. Ayeni's 11 shots all came from 15 feet or closer. His 10 points matched a career high that he set in the season opener against St. Francis (Pa.) and repeated versus Central Michigan. The difference Saturday afternoon was the influence his offensive production had on the outcome of the game.
Bona led St. Francis by 12 at half and eventually won 92-82. The Red Flash made it a three-point game with 6:42 remaining. Less than a minute later, it was a nine-point affair and the advantage increased to 10 soon after that. Bona beat Central Michigan, 102-71.
On Saturday, the Bonnies led by just two points with 25 seconds remaining. Ayeni was part of a larger effort which saw Bona's role players shoulder an increased scoring load.
"They're going to look at our team, and they're going to try and take away our guards," Schmidt said of opposing teams. "Those role guys have to step up. We certainly have a lot of confidence that they can."
UB limited Mobley (22.7 ppg), the Bonnies leading scorer, to nine points on 2 of 8 shooting. Bona's Jaylen Adams led all with 29 points. Denzel Gregg added 14. But Ayeni along with David Andoh (12 points) and Idris Taqqee (16) accounted for 18 points over their combined average.
"They got really good production from their role guys," Oats stated. "They had five guys that are not their leading scorer all in double figures."
Per KenPom,  with a True Shooting Percentage (metric which takes into account the difference in point value between 3-pointers, 2-pointers and free throws) of 54.4 Ayeni (54.4) trails only Adams (61.5) and Mobley (61.7) on the Bona roster. Sure the sample size is small. But it is an indicator of player embracing his role.
"When they (opponents) try to take something away, I think we have some other guys that we can go to," Schmidt added. "When they (Andoh, Ayeni and Taqqee) had success they had today, it can only help us go forward."
St. Bonaventure travels to play Hofstra on Tuesday. The Bonnies return home to host UNC-Wilmington next Saturday.