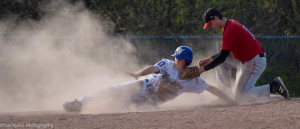 FAIRPORT 3 VICTOR 2
Connor Ewing was the winning pitcher for Fairport throwing a complete game allowing eight hits, one earned run and he struck out 10. The senior right-hander fanned four of the last six hitters he faced. Victor loaded the bases in the bottom of the sixth with no outs down by a run, but Ewing struck out two and forced a fly out to get out of the jam. Ben Clemens pitched five innings allowing seven hits, two earned runs and retired two on strikes. Riley White threw two innings of relief for Victor.
Aaron Schlarbaum and Louie Schafer had two hits apiece for Victor. Evan Newkirk was 2-for-3 with an RBI for Fairport.
Victor is 5-4 in league and 7-11 overall. The Blue Devils will travel to Penfield HS tomorrow to play at 4:30 because of inclement weather expected for Friday. Fairport improves to 13-7 and 5-5. The Red Raiders host Webster Thomas on Thursday.
AQUINAS 9 WAYNE 6
Aquinas scored all nine of their runs in the second inning as they went on to defeat Wayne 9-6 on senior day. The Little Irish received contributions from several seniors. James Maddison got the win while recording seven strike outs. Bryan Speranza had two hits and two RBI. Zach Mariani drove in one with two hits. Matt Carroll went 1-for-2 with a run scored and Max Swartz had two RBI. All seniors. AQ improves to 9-7 and travels to Batavia on Friday.
IRONDEQUOIT 3 HONEOYE FALLS-LIMA 0
AJ Gartland pitched a complete game 5-hitter while striking out 10. He also went 2-for-3 with an RBI. Matt Brennan and Charlie Eblacker also drove in runs for Irondequoit. Tyler Jones had 11 strikeouts for HFL in the loss.
WEBSTER SCHROEDER 4 PENFIELD 3
Shane Marshall capped a late-inning rally with a two-out walk-off single as Webster Schroeder snapped a two-game skid. READ MORE.
BROCKPORT 9 GATES-CHILI 0
Austin Perry went the distance for the Blue Devils with seven strike outs while allowing just three hits and one walk. Perry needed 96 pitches to complete the game. Perry also went 3-for-3 with three runs scored. Cole Penders drove in three with two hits. Riley Emmerson added two RBI with a hit.
PITTSFORD SUTHERLAND 1 CANANDAIGUA 0
HILTON 10 GREECE ATHENA 5
CHURCHVILLE-CHILI 6 SPENCERPORT 4
Churchville-Chili jumped out to a 5-0 lead and held off a Spencerport rally.
Scott Neu led off the game with a single on the first pitch he saw, stole second and scored on a Billy Sanborn RBI single to make it 1-0.
Churchville would add four more runs in the top of second highlighted by back-to-back doubles from Sanborn and Ben Martin.
Spencerport got on the board with a pair in the bottom of the second to make it 5-2 and tacked on two more in the bottom of the fourth on a two-out two-run single by Joshua Cuzzupoli.
Neu notched a complete game win with six strike outs. Sanborn 2-for4 three RBI. Neu and Christian Montanez added a pair of hits.
PITTSFORD MENDON 5 BRIGHTON 4 (8 INNINGS)
Joe Trabold scored two with a single in the eighth for Pittsford Mendon. Billy Dalton picked up the save. The Vikings have won nine straight.
VIEW MORE SUE KANE PHOTOS HERE.
RUSH-HENRIETTA 4 WEBSTER THOMAS 3
Casimer Sobaszek delivered a two-run walk-off single. Mitchell Hoffower went the distance for the win. The junior left-hander allowed six hits and struck out six.