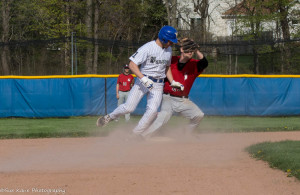 By PAUL GOTHAM
ROCHESTER, N.Y. — It's been two years since the Webster Schroeder Warriors lost back-to-back games. A three-game slide will have to wait for another day.
Shane Marshall capped a late-inning rally with a two-out walk-off single, and Webster Schroeder edged the Penfield Patriots, 4-3 in Monroe County League action, Wednesday.
Marshall's sinking line drive to center field scored Justin Graham from second as the Warriors erased a two-run sixth inning deficit.
"I knew he was going to throw fastballs because he didn't want anything in the dirt and move the runner to third," Marshall said of Penfield reliever Jack Burke. "I was hunting fastballs, and he gave me one right down the middle. I put it in center and it was over after that."
Graham reached on a two-out infield single to start the rally. After the senior shortstop stole second, Stephen Smith worked a base on balls and Marshall stepped to the plate.
"My team really set me up for a good situation there with Justin walking and Steve getting on. I was just looking for a base hit," Marshall noted. "I wasn't trying to hit a home run or anything because I knew that we needed one run."
The hit was the third of the day for the junior who produced all four of his team's runs with three RBI and a run scored.
"I don't think there's a better guy in the whole Rochester area that you could ask for in that position," Webster Schroeder coach Matt Knight said of Marshall's game winner. "He had a great game today defensively and offensively."
After managing just two hits from the second through the fifth inning off Penfield starter, Kyle Straube, the Warriors put a crooked number on the board in the sixth with four base raps.
"We have talked to these guys about having productive outs and battling with two strikes," Knight explained. "That's what our main focus was yesterday (in practice), our two-strike at bats. They're working at it. We're getting better and better. We're becoming tougher outs."
Graham started the sixth with a walk. Smith put runners on the corners with a base hit. Marshall plated Graham with a drive to right field. After Smith was thrown out at third, Marshall stole third and scored on an error. Sean O'Neill singled, and Nick Lawlor doubled before Jack DeRue came on to end the inning.
The win snapped a skid which saw Webster Schroeder fall to Fairport last Friday, 3-2 and to Victor on Monday, 4-3.
"We haven't had two losses in a row in two years," Knight stated. "Guys were feeling a little bit down on themselves last game…To see us come out here and stay in it mentally, and then come up with the win. That was huge for us."
Connor Bisaillon picked up the win in relief. The junior left-hander came on with one on and two outs in the sixth and picked off the runner at first. He struck out the first batter in the seventh before Graham at short and Marshall at third turned in a pair of sparkling defensive plays.
"I know my teammates are going to make plays behind me, and they made plays," Bisaillon said. "They made great plays out there. Really I was just trying to pitch to contact.
"Today the curve ball was working really good. I think I was able to keep them off-balance. I was working the outside corner really well. I was just throwing strikes. I was getting ahead in the count."
Marshall doubled home Graham to give the Warriors a 1-0 lead in the first inning.
VIEW MORE SUE KANE PHOTOS HERE.
Penfield wasted little time responding.
Luke Westervelt led the second with a single inside the third-base bag, and Ryan Kalbfus followed with an RBI double to straight away center.
Penfield took the lead in the second. Straube sent a one-out single to center. Burke walked, and one out later, Westervelt singled through the left side scoring Straube. The Patriots scored a run without a hit in the fourth when Burke was hit by a pitch with bases loaded.
Webster Schroeder hosts Rush-Henrietta on Thursday.
Penfield hosts Victor on Thursday.