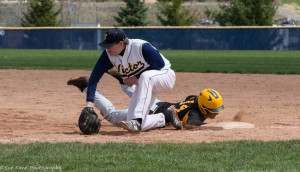 By PAUL GOTHAM
VICTOR, N.Y. — Donnie Moffatt hurled his second complete game in as many starts, and the McQuaid Jesuit Knights stole their way to a 6-4 come-from-behind win over the Victor Blue Devils in non-league action Saturday.
Moffatt struck out nine and walked two as McQuaid won its sixth straight game.
"He's in mid-season form and just throwing well," McQuaid coach Tony Fuller said. "Hitting his spots and is in a little bit of a groove."
The senior lefty was at is his best after Victor scored a pair of unearned runs to take a 4-2 lead in the fifth.
"His composure since we've been home has been awesome," Fuller said referring to the Knights spring break trip to Florida. "He doesn't let anything that goes on affect him. That makes it easy for him to hit the reset button and just go back to work."
Moffatt stranded a runner on second in the inning and tossed a pair of scoreless frames in the sixth and seventh to keep McQuaid in the game.
"His leadership has been unbelievable," Fuller added. "Guy makes a mistake in the field, he picks them right up. He's unfazed. It's pretty remarkable for a 17-18 year old kid."
Morrie Silver scored the winning run in the seventh. The senior first baseman reached when he was by a pitch. Sam Young moved the runner with a sacrifice bunt before Silver stole third and scored on Nick Tomei's ground ball to the left side of the infield.
"We run at every opportunity," Fuller explained. "Seven or eight stolen bases is pretty normal for us. We just continue to put the pressure on them. Those middle innings we didn't get on base a lot to have the opportunity to run, but when we get on base it's pretty fun to watch."
Tomei followed suit and swiped second and third. AJ Fina gave McQuaid an insurance with a base hit over a drawn infield.
"Morrie Silver and Nick Tomei stealing third base we're difference makers in that game," Fuller stated. "Being on second base with one out and being able to get to third base in that kind of situation for our hitter made the difference in the game. It's huge. That's why we preach stealing third base. We work on it constantly. It was a difference maker today."
Trailing by two, Christian Palawek led the Knights' sixth with a base on balls. Two outs later, Billy Kehrig caught up to a fastball on the outside middle of the plate and doubled to left field.
"Just trying to put the ball in play and make something happen," Kehrig said. "Luckily, I was able to get a good piece and drove it out to left."
Tyler Griggs beat out an infield single to score Palawek. Kehrig scampered home on an errant throw to first.
Andrew Westbrook started and went five innings for the Blue Devils. The sophomore left the game with the lead allowing three runs on five hits and one walk.
"Andrew Westbrook has gotten better and more experienced as the year has gone on," Victor coach Sean Rucker said.  "He didn't get the result that he probably deserved, but we're happy with his performance."
Twice Victor executed squeeze bunts to push across runs. Blake Hildman did a job in the third inning squaring up and getting Tommy Ryan home from third. Louie Schafer brought home Chris Varone with the first run in the three-run fifth.
"Squeeze if it's done properly you really can't defend it," Rucker noted. "It's something we've always done and hopefully we keep doing it well. It's just part of our game plan."
The win was the third on the season for Moffatt. He allowed an unearned run on six hits in McQuaid's 4-1 victory over Webster Schroeder on April 14th.
"All my pitches were working again," Moffatt said of his effort against Victor. "I found a groove early and that's what worked for me. I just like to forget about everything and focus on the next batter and worry about getting the next out."
McQuaid improved to 10-3 with the win. The Knights host Aquinas on Tuesday.
Victor hosts Gates-Chili on Monday.