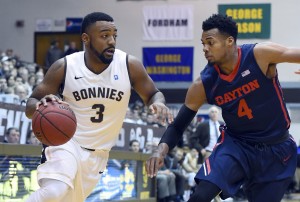 Quick thoughts after the University of Dayton's 85-79 victory over the St. Bonaventure Bonnies. 
By PAUL GOTHAM
How it happened
Charles Cooke and Dyshawn Pierre combined for 12 straight in a 19-0 first-half run, and the University of Dayton Flyers took a 45-18 lead into halftime before holding off a late Bona comeback. UD shot a scorching 17 for 26 from the floor including 5 for 7 for the first 20 minutes of the game. Dayton handed out 13 assists in the first half. Scoochie Smith and Kendall Pollard paced the generosity with three dimes apiece. The 18 points represent Bona's lowest first-half output of the season. Dayton held Bona scoreless for 10:10. The Flyers' lead eventually swelled to 31 at 56-25 with 13:07 remaining in the game. Marcus Posley connected four times behind the arc, and Jaylen Adams converted 11 of 12 free throws as the Bonnies outscored UD 61-40 in the second half.
About that scoring drought
Against Arkansas St., the #Bonnies went the final 10:01 of game action w/o a FG. They just went 10:10 without a FG vs. Dayton. Not too good

— Ryan Michael Lazo (@ByRyanLazo) January 20, 2016

So you're saying there's a chance
Triples from Adams, Posley and Nelson Kaputo keyed an 11-2 run midway through the second half. Bona trailed 58-36 with 11:06 on the clock. Who knew. The trio combined on another trifecta flurry highlighted by Posley stealing an inbound pass and finding the net from the top of the key for a single-digit deficit at 79-70.
Seen this before
Dayton's Archie Miller wasn't surprised by the comeback. "If you told me we would have got on the trip and came up here and played against that team, and we were able to get a win, we would celebrate for a long, long time," Miller said. "We have a lot of respect for St. Bonaventure's teams. Those guards are as any in the country."
Miller also knows his team. The Flyers led Arkansas 27-4 at home before defeating the Razorbacks in overtime. Against Iowa, UD held a 14-point second half advantage, fell behind and eventually won by five.
"Have you watched us play this year?" Miller joked. "'Til that horn sounded; we're never safe. Our team is just like that this year."
Leaders
Posley paced all with 31 points. Adams added 27 to go with a game-high six assists. Dion Wright had 10 points and a game-high eight rebounds. Cooke scored 21 for Dayton with Pierre getting 20. Both grabbed seven rebounds. Pollard chipped in with 11 points, six rebounds, four assists and one steal.
Get rhythm
UD came in 38th in the nation handing out 254 assists on 433 made field goals (59.5 percent). The Flyers dished out 18 helpers on 28 made field goals (64 percent), Tuesday night.
Fast break points
Dayton's 70.4 possessions a game ranks them at 199 or in the bottom half of the country as far as pace of play goes – at least according to that statistic. Per BBState, Colorado State plays the fastest at 87.2 possessions. Here's the thing Dayton outscored Bona 10-9 in fast break points. The Flyers (15-3) have topped all but four of their opponents in this category. UD tied La Salle (2-2) and Xavier (6-6). Only William and Mary (10-11) and Furman (5-2) have outpaced the Flyers in FBP. In case you're wondering, UD outscored Chattanooga 11-6 in FBP.  The Flyers 26 fast break points versus Arkansas represents the high-water mark for the season and a 12-point advantage (18-6) against North Florida is the largest margin.
Looking ahead:
Dayton (15-3/5-1) travels to Fordham (10-6/1-4) for a Sunday game.
St. Bonaventure (12-5/4-2) heads to VCU (13-5/5-0) on Saturday. The 2:30 game will be covered on NBCSN.