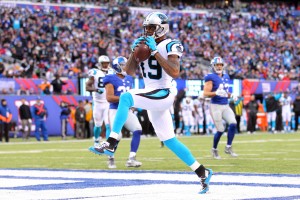 Courtesy of OhioStateBuckeyes.com
Columbus, Ohio—
Of the 12 teams that qualified for the postseason, seven of them have at least one former Ohio State football player on their roster:
Cincinnati Bengals: A.J. Hawk, Mike Nugent
Pittsburgh Steelers: Will Allen, Cameron Heyward, Ryan Shazier, Doran Grant
Houston Texans: John Simon
New England Patriots: Nate Ebner
Denver Broncos: Bradley Roby
Green Bay Packers: Corey Linsley
Carolina Panthers: Corey Brown, Andrew Norwell, Ted Ginn, Kurt Coleman
Nine Buckeyes will be in action this weekend, with the Broncos, Panthers and Patriots earning bye weeks. In last season's Wild Card round, 17 former Buckeyes suited up for postseason play and there was at least one on each of the eight teams.
Of the players listed above, only Hawk and Ebner have earned Super Bowl rings thus far: Hawk with the Packers in Super Bowl XLV and Ebner last season in Super Bowl XLIX.
The two AFC Wild Card games will be played on Saturday, Jan. 9 followed by the two NFL matchups on Sunday, Jan. 10. The Texans will host the Kansas City Chiefs at 4:35 ET (ESPN/ABC) on Saturday followed by the Steelers visiting the Bengals at 8:15 (CBS). On Sundaythe Seattle Seahawks and Minnesota Vikings will battle at 1:05 ET (NBC) before the Packers travel to play the Washington Redskins at 4:40 ET (FOX).